Help a Hungry Child: Incredible journey of food surplus diverted from landfills into school playgrounds
The Independent Christmas appeal aims to alleviate plight of estimated 500,000 children who go to school hungry across the country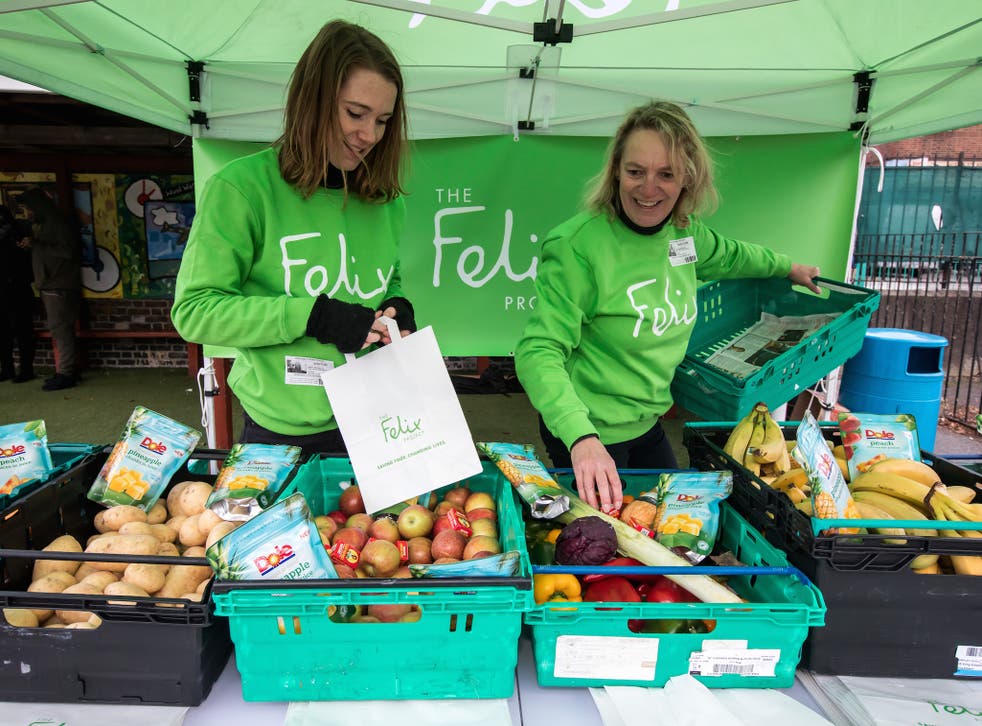 When the green Felix Project van arrives at Stanhope Primary a ripple of excitement runs through the school.
It is loaded with fresh food from some of the most exclusive suppliers in London, and nobody knows exactly what treasures it will hold.
Children excitedly queue in the playground to fill their Felix paper bags with chantenay carrots or purple sprouting broccoli – top quality food which would otherwise have been wasted as surplus.
The food has made an incredible journey to get to their playground, which started with the generosity of some of London's major food suppliers.
The Help a Hungry Child appeal has struck such a chord that suppliers have offered to do all they can to alleviate the plight of the estimated 500,000 youngsters who go to school hungry across the country.
MOMA has pledged to provide 12,000 pots of porridge, which will be handed out at the Felix market stalls being set up in more than 100 London schools and more across the country thanks to our campaign.
Sun-Maid has donated thousands of boxes of raisins, which are incredibly popular with the pupils.
And PAUL is making more than 400 briochettes every week for schoolchildren for the next six months.
This is on top of the regular donations to the Felix Project, which delivers food to charities across the capital.
The Felix Project – in pictures

Show all 10
Every week, Müller donates huge pallets of yoghurts to the Felix project, which are kept refrigerated in the Felix depots until they are sent out to charities across the capital, and the school market stalls.
Delighted children at the very first market stall set up as a result of our Christmas appeal were treated to a Müller yoghurt each, and they continue to enjoy the yoghurts every week.
Tilda donates massive pallets of rice to the Felix Project. The donation, which includes a huge number of different varieties of rice, is vital to the charity and is used with donations of fresh vegetables to create healthy meals.
"Good food and nutrition are key to Tilda's philosophy. Therefore, the great work The Felix Project do is close to our hearts. We are delighted to support their food provision initiatives, particularly making nutritious food for children more accessible," a spokesperson said.
Leading fruit and vegetable suppliers Mash Purveyors and Reynolds, which supply West End restaurants, also give their surplus food to the charity, along with Hello Fresh.
The Felix Project's depot in Park Royal is filled with produce that is of such high quality that it looks like a farmers' market. Crates of cucumbers, onions, aubergines, fennel and pumpkins are stacked in the building after being collected from supermarkets and shops across London.
Help A Hungry Child: Independent teams up with The Felix Project to tackle food poverty
Every item of the two tonnes which fills this small warehouse would have gone straight to landfill if it had not been intercepted by the food waste charity. Replace with surplus if poss please.
Volunteers in high-vis jackets sort and load the crates into the charity's fleet of green vans.
They then drive them out to be delivered to food banks, soup kitchens and refuges across the capital – and to our Help a Hungry Child school market stalls.
The Independent travelled with Allan Fitzgerald, one of Felix's dedicated volunteers, to collect food surplus from local supermarkets.
At his first stop, a small Sainsbury's in Hendon, he collected crates of freshly baked loaves of bread, croissants and pastries which the shop was unable to shift.
At another Sainsbury's he collected trays of perfectly formed bananas – no brown spots in sight – vegetables and five sacks of bread.
At Morrisons he was given tins of food, packets and bottled drinks.
His final stop was the Mash warehouse, which supplies food to all five of the UK's three Michelin-starred restaurants.
It is lined with rows and rows of jewel-coloured radishes, sprouting broccoli, peppers and tomatoes. It is all perfectly fresh, but staff know they will have to throw some of it away if they cannot sell it.
After his shift Mr Fitzgerald drove to the Park Royal depot where volunteers unloaded the food and sorted it into deliveries for different charities.
The van heading to Stanhope School's market stall was loaded with crates of food that will delight families waiting in the playground for its arrival, and provide dinner for children who may otherwise go to bed hungry.
Mr Fitzgerald said: "This is just such important work."
Join our new commenting forum
Join thought-provoking conversations, follow other Independent readers and see their replies