Help a Hungry Child: Bidding opens for charity auction with prizes from Stella McCartney clothes to Himalayan holiday
Charity auction in aid of The Independent's Christmas appeal offers the chance to bid on lots from designer fashion and signed football merchandise to meet and greet with Simon Cowell
Wednesday 29 November 2017 12:32
comments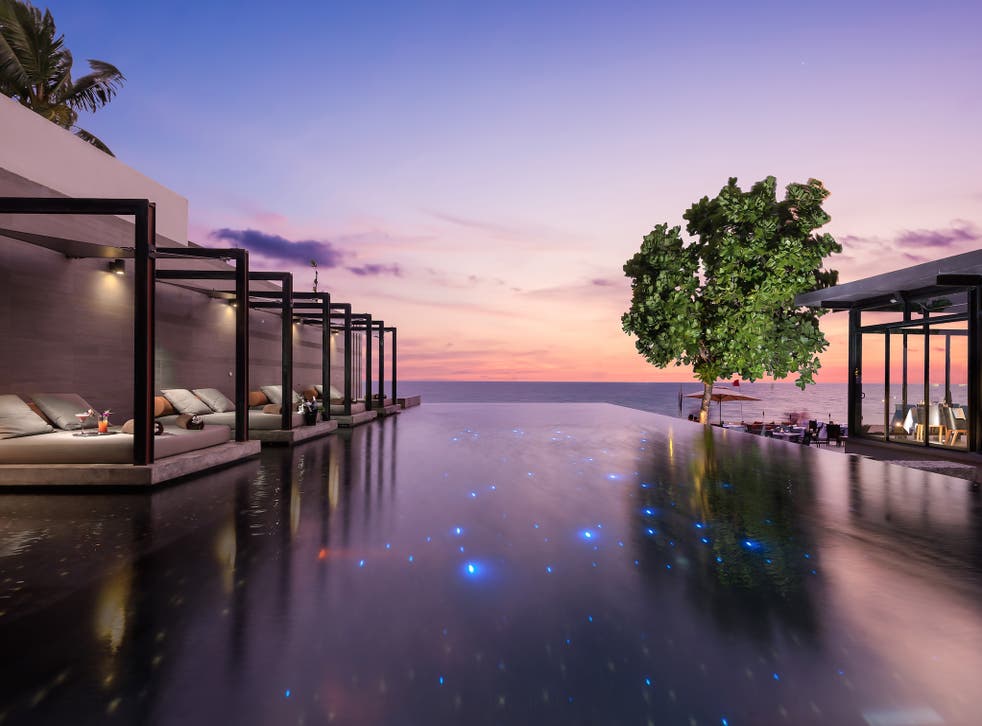 An online auction packed with stellar prizes readers can bid on to support our Christmas Appeal launches today – from debut Stella McCartney pieces to signed Arsenal and Tottenham merchandise and a "meet and greet" with Simon Cowell at the Britain's Got Talent semi-final.
A seven-night health retreat in the stunning surroundings of the Himalayas, followed by a night at a five-star hotel in New Delhi, is just one of the unique holiday experiences set to go to the highest bidder.
Other highlights from the lots, below, include a three night beach party extravaganza in Phuket and a signed riding top from Tour de France champion Chris Froome.
Arsenal first team members have signed a shirt, which can be hung on the wall or worn at the Emirates.
Those looking for a perfect way to bring in the New Year can bid for a private igloo experience on the Thames, including dining and ringside seats to the fireworks.
Angela Hartnett will cook and host a stunning dinner for 30 people in another eye-catching offer.
All proceeds will go towards our Help a Hungry Child appeal.
The Independent is raising funds for The Felix Project to ensure no child supported by the charity goes to bed hungry this Christmas.
Market-style stalls will, with your help, be set up in 120 schools across London over the next two years, with the scheme expected to be expanded further, giving disadvantaged children and their families a chance to take home a paper bag filled with healthy, nutritious food – items that would otherwise have ended up in landfill.
Our auction is powered by Givergy, an award-winning fundraising technology company that offers a range of cutting edge platforms to help charities raise more at fundraising events and online.
Bidding opens today and the auction closes at 10pm on 8 December.
To bid on the lots please visit givergy.com/charity/the-felix-project.
The lots in full
Ayurvedic Holiday in India and night at The Imperial
In an eye-opening combination, a lucky bidder can win Himalayan retreat Ananda's offering of a stunning and healthy escape from the capital followed by a night at The Imperial New Delhi Hotel. Ananda's Ayurvedic Rejuvenation stay involves yoga classes, meditation and world class organic cuisine. Two business class flights are included.
6 Night Phuket Holiday for 2
AKARYN Hotel Group is giving away three nights of dancing on the sand in Thailand at akyra Beach Club Phuket, followed by three days spent in sun-drenched infinity pools at Aleenta Phuket Resort for a party-loving pair.
4 Nights at Chateau Gutsch
Lucerne is renowned for its clean air and fine dining. Alexander Lebedev is offering a lucky couple the chance to take up his namesake suite at Chateau Gutsch, a luxury boutique hotel right on the lake. Flights are included and the suite boasts a marble-clad bath suspended in a tower with panoramic views.
Britain's Got Talent Semi-Final for 4
BGT fans have the once-in-a-lifetime chance to secure four sought-after tickets to the show's semi-final, during which they will have a moment to savour when they meet everybody's favourite judge, Simon Cowell, in person.
A Dave Brown Cartoon
The Independent's award-wining political cartoonist, Dave Brown, has donated one of his provocative creations to the auction. Bid to own a signed copy of an original work.
The Independent commemorative front page
Ever wondered whether you might make the headlines? Now you can ensure your name goes down in history with a personalised Independent front page, created for you as a one-off and featuring your story – perhaps commemorating a birthday, anniversary or other special occasion.
Simon Calder's travel masterclass
The Independent's resident travel guru will provide two hours of personal consultancy to help a bidder craft the perfect getaway – whether you want to aim for the ends of the earth, choose the ideal European city break or escape for a country weekend, Simon will guide you in your choices.
A Cricketer's Dream
Cricket fans can take up Middlesex County Cricket Club's offer of the chance for two guests to join them for a dream day at Lord's, including a four course meal in the committee dining room and the chance to meet Angus Fraser.
Christian Adams cartoon
Christian Adams' arrival at the Evening Standard this year heralded the return of the political cartoon to the paper's pages. His brilliant work, poking fun at the powerful and shining a light on inequity has regularly been the talk of social media and now you can take a published toon home.
Signed Arsenal shirt
Avid Gunners fans can snap up a home shirt signed by members of the Arsenal first team – keep it on the wall or risk damaging it in a weekly five-a-side match! It comes complete with a certificate of authenticity.
New Year's Igloo at The Coppa Club
The Coppa Club are giving a chance to snap up the most Instagrammable New Year location – a private igloo experience on the Thames. The package includes a three-course meal, a bar tab of up to £250 and ringside seats to the fireworks display.
Land Rover BAR Visit
Land Rover have donated a sensational two-hour experience on the waves with their Ben Ainslie Racing high performance team based in Old Portsmouth. Four people will get a unique insight into a day in the life of an America's Cup team, their technology and tactics.
Signed Spurs Ball
A keen Spurs fan can bid for a football signed by the north London club's first team. It comes in club colours and with a certificate of origin.
Private Lunch at Marianne Restaurant
Marianne Restaurant, a celebrity favourite nestled in Notting Hill, will solve Valentine's Day plans by opening just for two on Thursday 15th February. A five course tasting menu will be accompanied by a bespoke wine pairing and champagne.
Chris Froome Jersey
Team Sky are giving you the chance to ride to into the City looking like a cycling champion. A jersey signed by four-time Tour de France winner Chris Froome is up for grabs.
Stella McCartney Bundle
Stella McCartney has personally donated an ethical fashionista's dream bundle that comes complete with semi-rimless cat-eye sunglasses, POP perfume, a denim cruelty-free purse and a limited edition Adidas Essential Prima Loft Shell Jacket by Stella McCartney.
Pizza Mastercass at Radio Alice for 2
Pizza lovers should look no further than the chance to learn how to craft an on-trend sourdough base at Hoxton hotspot Radio Alice Pizzerias. The option is also available at the Clapham site.
Calcutta Cup tickets and behind scenes tour for 2
Scotland v England is the very genesis of international rugby. It's the oldest and most intense rivalry dating back to 1871 and Scottish Rugby have offered two supporters the chance to experience a unique behind the scenes tour at the upcoming clash in Edinburgh in February.
A Place in The Big Half, London's New Half Marathon – and broadcast of your finish!
Keen runners can secure a place on the fully subscribed new marathon event for London – The Big Half. The Evening Standard auction winner's crossing of the iconic finish line at Tower Bridge will be broadcast moment-by-moment on London Live to ensure a day of sporting celebrity.
Private Dinner by Angela Hartnett
Chef Angela Hartnett has offered the rare chance to experience her award-winning dishes at a private dinner for up to 30 people at Refettorio Felix, in west London. The one-off menu will comprise dishes created from ingredients that commonly end up as food waste and Hartnett will host the evening in person.
Luxury London stay
Auction holders Givergy have offered a weekend break package at one of the capital's top boutique hotels, the Como Metropolitan London in Mayfair, which offers in-room yoga and an on-site Nobu.
Spanish sun
A five star weekend break in Catalunya is up for grabs with a two-night stay at idyllic spot Hosta De La Gavina, which sits on the Spanish sea front.
Stocking for Him
The Evening Standard's features team will put their impeccable taste to the test in creating a bespoke Christmas stocking for a lucky man.
Stocking for Her
The Evening Standard Magazine beauty editor, Katie Service, will fill a stocking with the very best high-end brands and options seen on the market this year.
Cuff links and Studs from Jorie
Make a man in your life wear a shirt with glittering pride by opting for a set of 6 tuxedo studs and cuff links peppered with 14 full-cut emeralds. The 18-carat gold T-bars, donated by Jorie, are even tipped with four inverted diamonds.
Hayo'u Method Consultation
A two-hour private consultation with ground-breaking Chinese medicine practitioner, Katie Brindle, could change any Londoner's life. The award-winning specialist focuses on improving general health, beauty and on managing the effects of stress.
Villa Mamma's Lunch or Dinner
New Bahraini export Villa Mama restaurateur Roaya Saleh is offering a table for four at the upmarket, in-demand location, serving Mama's seasonal, home-style dishes combine flavours and culinary traditions from across the Khaleej, Persia and beyond.
To bid visit: givergy.com/charity/the-felix-project
Givergy is an award-winning fundraising technology company which offers a range of cutting edge platforms to help charities raise more at fundraising events and online.
With offices in London, New York, San Francisco, Toronto, Calgary, Vancouver, Hong Kong and Sydney, Givergy's ambition and purpose will always remain: To help charities raise as much money as possible for their incredible causes by encouraging giving through technology.
For more information on Givergy, visit givergy.com.
Follow Givergy on Twitter or Facebook to keep up to date on the latest auction lots and other news or sign up to the Givergy newsletter, via the website.
Join our new commenting forum
Join thought-provoking conversations, follow other Independent readers and see their replies