The Homeless Fund: Big Issue seller thanks Londoners for their kindness in moving New Year's message
'I'll remember the year for the good things – for the help I've received from the Big Issue and the public, who helped me a lot when I was in need'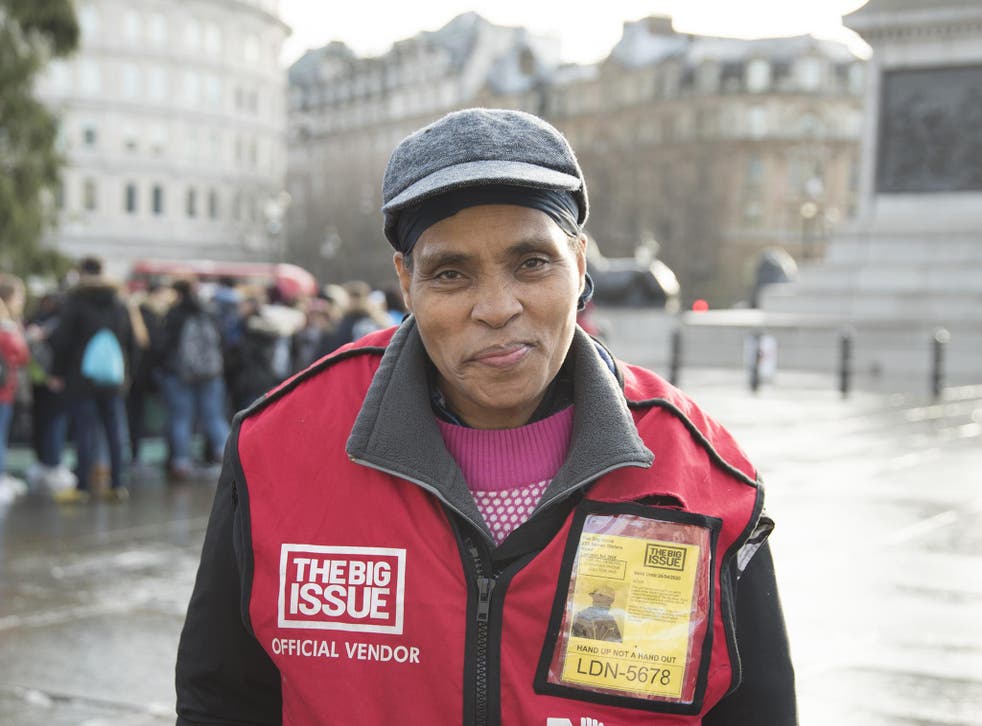 A Big Issue seller thanks her fellow Londoners for their ongoing support in this movingly earnest New Year's message.
Standing at the foot of Trafalgar Square's towering Christmas tree, Norma Jean Taylor wishes all viewers a Happy New Year, no matter what their background or circumstance.
Ms Taylor, a widow and grandmother who has been selling the street magazine for more than 10 years, later opened up to the The Independent about the hardships she has endured over the past decade.
But far from complain of her own troubles in her video address, she took the opportunity to thank anyone who has shown kindness to someone less fortunate in 2019.
"I'm thanking you very much and wishing you all a Happy New Year," she begins her unscripted and unrehearsed speech.
The Stats: Homelessness in the UK

Show all 10
Praising the public for their continued support of people living on the street, she then nods to the The Independent, the Big Issue and other homeless charities working to help the city's most vulnerable.
She ends her message with a plea to viewers to think of the homeless, not just in passing once in a while, but every day from now on.
"I'm asking you please to remember them in the New Year," she says, adding: "It's not just Christmas but every day that they'll need your help."
The Big Issue is one of 23 charities partnered with the The Independent on our most ambitious fundraising appeal to date.
Over two years, money donated to our Homeless Fund will push for an end to rough sleeping in the capital through specialised support services and programmes, and help at risk people like Ms Taylor.
After filming her brief but poignant speech, the 62-year-old reflected on 2019 – a year she defined less by personal struggles and more by heartwarming acts of generosity.
Here's how she responded to four big questions about the past year and the coming decade.
How will you remember 2019?
"It has been a struggle because my daughter has been very ill. Things have been hard since my husband died in 2002 and I had to stop working as a chef because of arthritis.
"But really I'll remember the year for the good things – for the help I've received from the Big Issue and the public, who helped me a lot when I was in need.
"You wouldn't believe what some of them do for me. Sometimes they'll go to the cash machine, hand me some money and say 'it's too cold, you should stop work for the day'. They don't know how much I appreciate that.
"And what I've realised is that you can interest them as much as they can help you. I know some of them are sad going home but you can make their day as much as they make yours."
What are your hopes for 2020?
"I hope that people on the street will try to help themselves with the support of the public and charities.
"I hope they'll thank these charities and try to look after themselves to show that they appreciate being looked after and don't take it for granted.
"And I hope they'll turn over a new leaf and will make an effort in life so they can turn back and say 'thank you for helping'.
"Your aim and your goal always has to be to live a better life, no matter who you are."
If you could send a message to the Prime Minister, what would it be?
"I really would like Boris Johnson to create free houses that people from the street can help build, live in and look after as if they were their own.
"And if I had enough money of my own I'd open a 24-hour care service for young and old because there are too many people suffering.
"But I think people are starting to care more. Many people stop and talk to homeless people and try to encourage them or offer them jobs.
"You don't know what it means to be acknowledged when you're in a situation like that."
Do you have a message for your fellow Londoners?
"Since moving here from Jamaica in 1967 as part of the so-called Windrush generation I've had my own problems but I've looked after myself and I've been well looked after, too.
"But I look around now and sometimes it feels like the mood has changed. Trafalgar Square isn't packed like it used to be around Christmas time – even the tree behind me is looking sad.
"Sometimes I think all the stresses and worries of money and Brexit try to dampen London's spirit, but we know they never can, they never will."
Join our new commenting forum
Join thought-provoking conversations, follow other Independent readers and see their replies