The Homeless Fund: Christmas dinners served to London's homeless in shelters across the city
Guests treated to everything from traditional turkey to ginger spice ice cream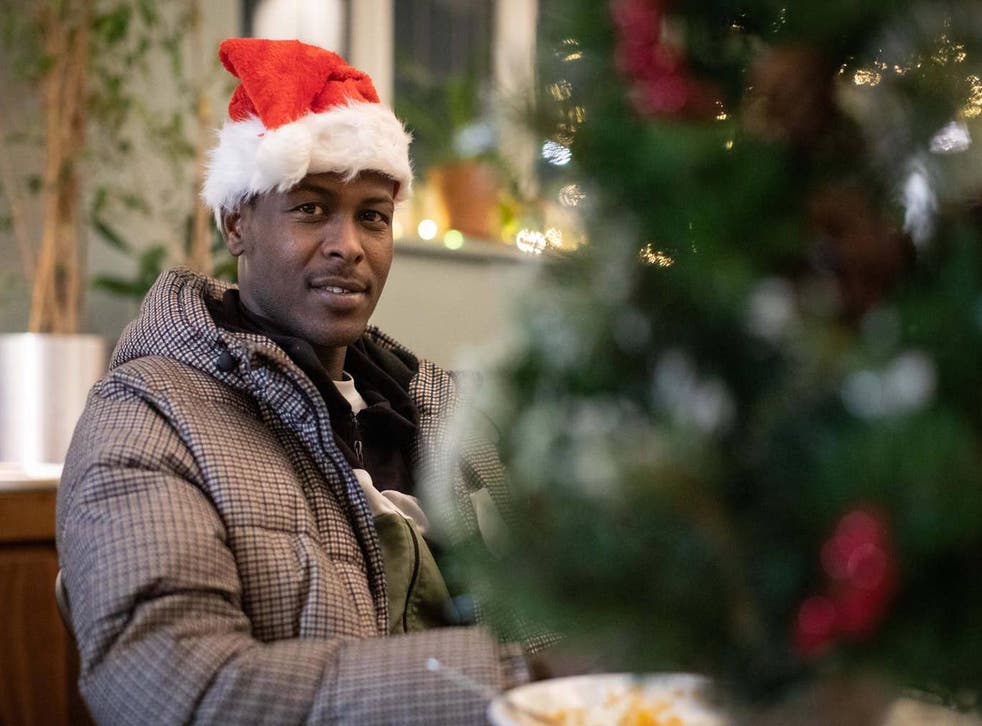 Homeless people across London sat down to lunch with all the trimmings on Wednesday as shelters in the capital filled with Christmas cheer.
Guests, volunteers and charity staff exchanged cracker jokes and Quality Street in a warm show of solidarity at what is a particularly tough time of year for the city's most vulnerable.
The Independent hopes fewer people will need to attend these lunches next year – with homes of their own in which to celebrate – as our fundraising appeal works to tackle homelessness in partnership with 23 frontline charities.
Among this coalition, united under the banner The London Homeless Collective, are the following three organisations which offered an insight into how they spent their Christmas Day.
The Stats: Homelessness in the UK

Show all 10
Glass Door
London's largest emergency winter night shelter network
Glass Door venues across the city opened their doors on Wednesday morning to homeless people of all ages to share a meal, pull some crackers and enjoy some "good banter".
At one such setting, St Mark's Church in Battersea, around 50 guests, volunteers and staff members sat down together to an alternative Christmas dinner of vegetable soup and sausage pasta bake followed by ginger spice ice cream for dessert.
Guest James attended one of the Glass Door lunches last year. He praised the gathering as a welcome antidote to December solitude, saying: "The hunger, the cold and the wet were bad but the loneliness at Christmas was overwhelming.
"You feel you're losing contact with the world when you're on the streets but in the shelter, everyone was in the same boat and there was loads of good banter."
Volunteer John G, who spent his first Christmas Day away from his family to help out, said: "I regularly help answer the phones in the main Glass Door office to register people for shelter.
"That's why I decided this year to give up my time both on Christmas Day and New Year to help at the shelter and be part of the great work that the charity does.
"It feels special to come here on Christmas Day and help out people who would otherwise have nowhere else to go."
New Horizon Youth Centre
Day centre working with 16-25-year-olds who are vulnerable, homeless or at risk
This Kings Cross-based centre welcomed in around 30 young people with nowhere safe to stay, many of whom have no family to celebrate with.
On Wednesday they marked Christmas Day in style, with presents under the tree – gifted by corporate sponsors and individual donors – and a turkey roast with all the trimmings.
The young guests were met by familiar faces, with usual staff members on hand, accompanied by a team of friendly volunteers.
Rico who attended last year and again this year said: "Christmas is tough for me and for many others here. We have no family to spend the day with.
"But coming to New Horizon at Christmas, and seeing people I know and who care makes it so much easier. I really like the nice food, and just playing board games together."
The charity's chief executive Phil Kerry said his team worked hard to create a supportive, relaxed and upbeat sanctuary for their guests at what is a notoriously difficult time for many of then.
He explained: "Christmas Day at New Horizon is not so different to celebrations in homes across London.
"We have the traditional lunch, pull crackers, open presents, and eat way too much. We do jigsaw puzzles and people are snoozing on the sofa.
"But it's very different, too, because unlike those other homes on Christmas Day, almost all the young people who come to us do so because they have nowhere else to stay or be with on this day."
The Connection at St Martin's in the Field
Charity providing shelter and support for thousands of homeless people and rough sleepers across London
A luxurious lunch of roast turkey and brie and mushroom Wellington was enjoyed in the centre overlooking Trafalgar Square.
Around 60 homeless people tucked into their slap-up dinner, which was cooked and served by four volunteers and a team of eager staff.
Volunteer Anas Wihaib, a manager at business management group New West End Company, said: "As workers of the West End, we witness daily the struggles of rough sleepers.
"And while we all lead busy lives, Christmas is a good time to stop and think of others and give a bit back."
Register for free to continue reading
Registration is a free and easy way to support our truly independent journalism
By registering, you will also enjoy limited access to Premium articles, exclusive newsletters, commenting, and virtual events with our leading journalists
Already have an account? sign in
Register for free to continue reading
Registration is a free and easy way to support our truly independent journalism
By registering, you will also enjoy limited access to Premium articles, exclusive newsletters, commenting, and virtual events with our leading journalists
Already have an account? sign in
Join our new commenting forum
Join thought-provoking conversations, follow other Independent readers and see their replies