The Homeless Fund: Ellie Goulding hails our 'crucial' fundraising appeal at heartwarming Christmas gathering for vulnerable women
Singer thanks The Independent in spirited visit to the Marylebone Project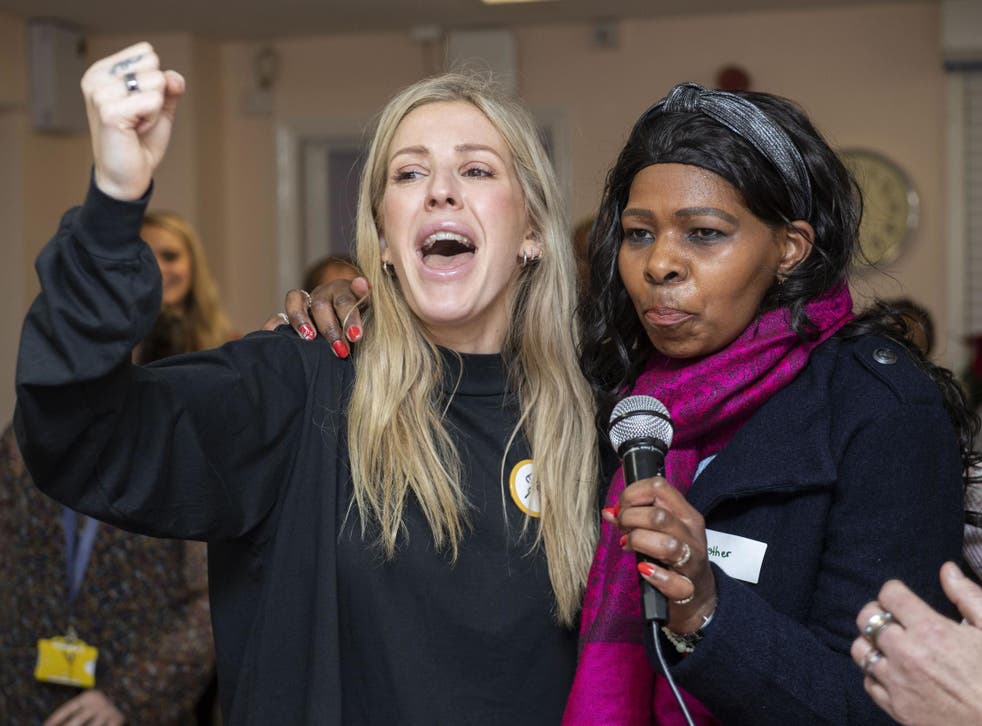 Ellie Goulding thanked The Independent for its "crucial" Christmas fundraising appeal, as she visited the Marylebone Project for a special festive celebration.
The singer, who has been a patron of the centre for homeless and vulnerable women since 2015, danced, sang karaoke and ate mince pies with its residents, in a heartwarming show of Christmas cheer.
The London-based star arrived at the home laden with gift bags of essentials, including sanitary items and chocolate treats, before spending the afternoon partying and chatting with the women.
Taking a break from the festivities, she praised The Independent's campaign to tackle homelessness, saying: "It's crucial. You've filled a gap that needed to be filled – we all need to be doing more."
Our two-year campaign is determined to eradicate rough sleeping in the capital within the next four years by funding charity and government-led projects, both large and small.
Ellie Goulding visits the Marylebone Project for vulnerable women

Show all 15
Addressing The Independent and its sister title the Evening Standard, Goulding said: "Thank you. I'm grateful that you've created such an ambitious project.
"And two years really is ambitious, but with the public's backing and the right support I think it can happen."
The award-winning singer has helped a number of homelessness organisations and initiatives over the years, but she said she felt particular empathy towards the Marylebone Project owing to its focus on vulnerable women.
She celebrated The Independent's aim to set up London's first 24-hour drop-in women's centre at its site with funds raised from our campaign, saying it was vital for women to have a safe space to turn to where they can receive both ongoing and urgent support.
The Marylebone Project had proven it was up to the task she explained, noting: "The most special thing is that this is a safe place for women. Whenever I come here we just have a laugh together, we have big hugs, we sit and chat, and we all talk about the same things.
"You know, we've all taken different paths in life but we can all come together as women and it's really special."
She added that the centre had become a haven for her too, saying: "I feel really safe here, I feel confident that I can just be myself. I don't always feel this comfortable in a lot of situations with my job, but here I really do feel at home."
Since becoming the centre's patron almost half a decade ago, Goulding has enjoyed regular visits which have shaped her perceptions of homelessness.
She said: "Coming here over the years has really restored my faith in humanity, not just through the people who work here day in day out – including Christmas Eve, Christmas Day, New Year's Day – but also the women I meet who have such inspiring stories.
"I think the most positive thing here is that generally when I come back, although I sometimes see familiar faces, most of the women I previously met have already left.
"This shows that the amazing work the staff are doing here means women don't have to stick around because they're back on their feet."
The singer went on to hail her "amazing" home city for its diversity and sense of solidarity, but said all Londoners, including the government, need to do more to help tackle homelessness for good.
She said: "A home is a basic human right, a human need, and it just really needs to be a priority.
"London is an amazing city. It's so diverse, and I've seen the best of human nature here over the years.
"But we're the capital of this country so we need to be at the forefront, we need to lead the way and work together to change things and end homelessness for good."
Register for free to continue reading
Registration is a free and easy way to support our truly independent journalism
By registering, you will also enjoy limited access to Premium articles, exclusive newsletters, commenting, and virtual events with our leading journalists
Already have an account? sign in
Register for free to continue reading
Registration is a free and easy way to support our truly independent journalism
By registering, you will also enjoy limited access to Premium articles, exclusive newsletters, commenting, and virtual events with our leading journalists
Already have an account? sign in
Join our new commenting forum
Join thought-provoking conversations, follow other Independent readers and see their replies