The Homeless Fund: In Seattle, rapid rehousing with private sector provides 'the normal things people take for granted'
'A safe place to live is the foundation to everything'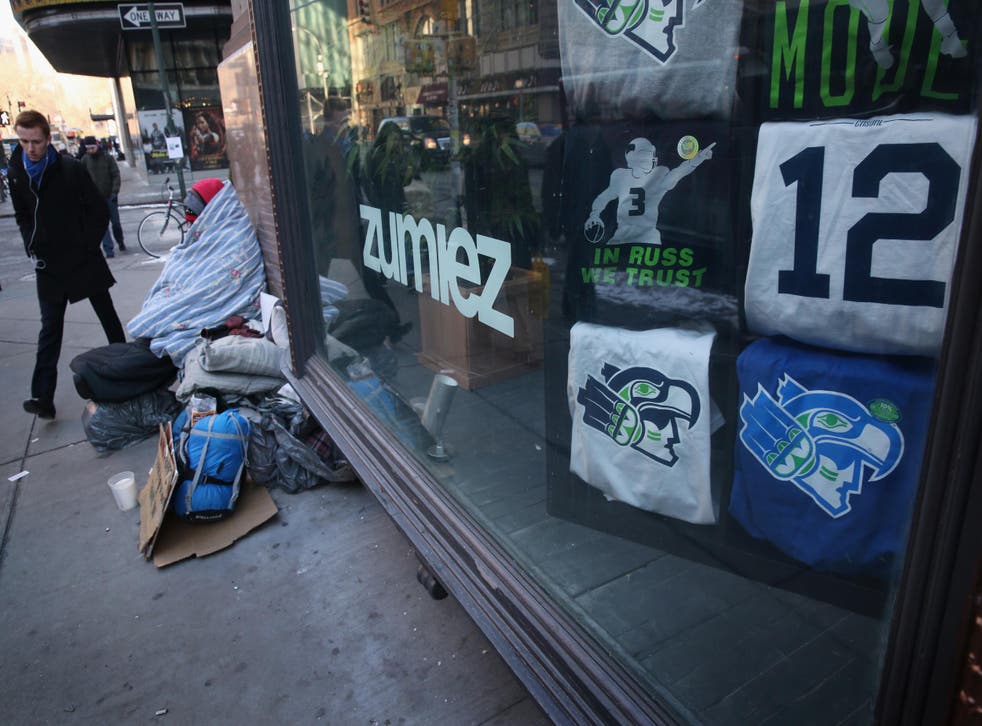 What difference does it make to have a safe place to live?
For Taigan Conway and her five-year-old daughter, is makes all the difference in the world. Just a few weeks ago, she was sleeping in a car, while her little girl stayed with a relative.
Now, having enrolled in a pioneering initiative in Seattle that seeks to make it easier for people like the young mother to rent, she and her daughter are back together and living under the same roof. What's more, it's a place they consider home.
"I can cook food, like I can actually cook dinner," Ms Conway told NPR. "Just the normal things people take for granted, I guess."
Few places better exemplify the vast and daunting challenge of tackling homelessness than this port city in the Pacific Northwest. Once best known as home to the Alaskan fishing fleet and for an affection bordering on obsession for good coffee, the city has been transformed in the past two decades by the technology industry.
The Stats: Homelessness in the UK

Show all 10
Companies such as Amazon, Microsoft and Expedia have helped push both its population and economy. The fishing fleet is still here, as is the thing with coffee – Seattle has the headquarters of Starbucks – but the city has become one of the most expensive places to rent or buy homes.
As a result, it is one of several cities on the west coast with a very visible and growing homelessness problem. The most recent count estimated a figure of 12,000, but advocates say the methodology is flawed and the real number might be twice that.
Experts say there is no single solution to homelessness. The project Ms Conway enrolled in is overseen by the Chamber of Commerce and seeks to make it easier for people to rent from the private sector.
While somebody might be able to get together the monthly rent, many people are denied access to such homes because they cannot pass credit tests, or cannot put together the kind of deposit many landlords ask for.
"What we try to do is lower those barriers," Shkelqim Kelmendi, executive director of Housing Connector, the organisation spearheading the scheme, tells The Independent.
Mr Kelmendi works with private landlords to rent to people who cannot meet all the criteria, by guaranteeing to step in if someone falls short with their rent, and offering a $5,000 (£3,900) payment in the rare chance there is any damage. They can also offer landlords a stream of potential tenants.
So far, working with 45 landlords, the organisation has helped lease 250 properties and housed 350 people. That is just the start; with thousands of landlords and potential tenants in the city and surrounding area, Housing Connector is looking to expand its operations, and even serve as a model for other cities.
"It's not the solution for everybody," says Mr Kelmendi. "But it's something that can help certain people."
Families being permanently housed in office blocks to shift them from homelessness lists
He says the private sector is keen to help address the problem of homelessness, and that the rapid rehousing model he oversees also makes a good business case for it to be involved.
"Housing Connector serves as a bridge to connect property owners to those in need of housing, along with services and supports to assist both landlords and tenants," says King County executive Dow Constantine.
Sara Rankin, director of a homeless rights advocacy project at Seattle University School of Law, says the rapid rehousing project could help a segment of the people in the Seattle facing homelessness.
She says there also needed to be more investment in long-term supported housing. "Right now, this is the number-one most divisive issue in the city," she says.
Ms Conway does not think all her problems have suddenly been removed.
"I'll probably have to work two jobs, like a 40 hour-a-week job plus a bartending job or something on the weekend, to afford this and the electricity and everything," she says.
Yet, Mr Kelmendi describes housing as the base from which everything else grows.
"If someone does not have a safe and secure place to live, how can we expect them to be able to do anything?" he says. "How are they meant to go to work, or raise their family. It's the foundation to everything."
Join our new commenting forum
Join thought-provoking conversations, follow other Independent readers and see their replies