Boris Johnson joins The Homeless Fund Christmas campaign
 Prime Minister announces £260m of support for homelessness projects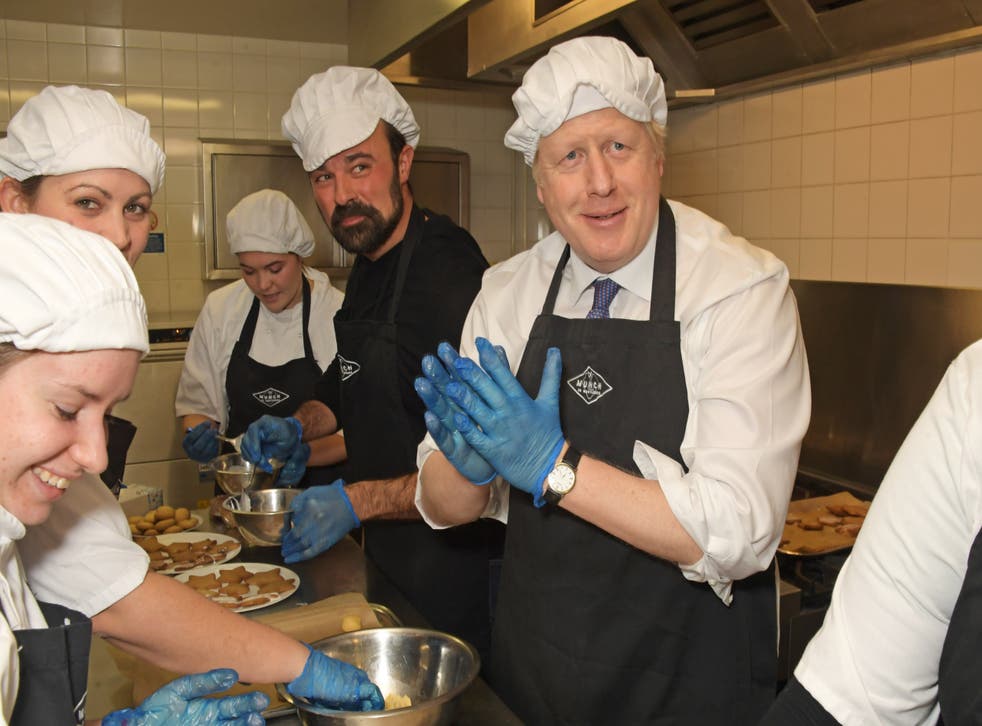 Boris Johnson today backed The Independent's ambitious campaign to tackle homelessness in London and end rough sleeping within four years.
The prime minister announced £260m of support for homelessness projects during a visit with Evgeny Lebedev – a shareholder of this publication – to a shelter for homeless women.
"I salute The Independent for their campaign on homelessness in London, particularly their vital work in supporting vulnerable women across the capital," Mr Johnson said.
The stream of money will help local services save thousands of people from being forced to sleep rough. More than half – some £134m – will go to London boroughs, with the rest spreading across the country via 300 local authorities.
By committing such a huge sum, Mr Johnson put tackling homelessness at the heart of the new government's agenda for the next five years.
Visiting the Marylebone Project, a centre for homeless women near Edgware Road in the capital, the prime minister said: "It cannot be right in the 21st century that people are homeless or having to sleep on our streets."
Mr Lebedev celebrated Mr Johnson's support for The Independent's efforts, saying: "It is magnificent that the government is joining our homeless campaign. Together we will now work to end the tragedy of rough sleeping in London. Boris clearly shares our ambition and zeal. I genuinely believe we can do this together."
The Stats: Homelessness in the UK

Show all 10
Mr Johnson's announcement was a huge boost to the The Independent's most ambitious campaign yet, which is determined to eradicate rough sleeping in the capital by funding, championing and inspiring projects small and large, including charitable and government-led.
Two major donations to The Homeless Fund, which this publication is supporting, can be announced today.
Lloyds Banking Group is giving £50,000 and Finsbury, one of the largest global communication agencies representing a quarter of the FTSE 100, has pledged £20,000.
The donations will help the 23 frontline homeless charities in the capital that are working with The Independent.
Finsbury chair Roland Rudd said: "Homelessness and rough sleeping is a scourge on society and even more unacceptable in a developed country. As a nation we all must do everything we can to eradicate it and we are therefore delighted to be able to take part in The Independent's campaign, which is helping to do so.
"But more than this we want to join this campaign as an active participant and will not stop until we succeed in our goal in helping people find secure and warm homes so they can begin to rebuild their lives."
One way the cash will help is by allowing the Marylebone Project to expand its drop-in centre service from four hours a day to a 24-hour service – transforming the level of help for women.
Mr Johnson spent nearly an hour at the centre, meeting women who have been forced to sleep out on the streets and discussing with them how best to tackle the problem of homelessness.
Meseret, originally from Ethiopia, told the prime minister how she had been forced to spend winter nights on a night bus. "I would spend a whole night sleeping on the bus when it was really cold," she said.
"When I came here, this centre was a huge help. I am in part-time work now and learning new skills."
Another resident, Agatha, slept out on a veranda near a pub in Covent Garden. "For any woman, sleeping out is tough," she said. "You always feel vulnerable when the clubs close and drunks are heading home."
She thanked Mr Johnson for demanding, as mayor of London, the removal of "spikes" installed outside a Southwark property development to deter rough sleepers.
The prime minister remembered the incident well. "It was awful," he said. "Spikes are used to keep pigeons away but in this case they used them to stop human beings. I thought it was totally wrong."
Mr Johnson discussed with the women his own ideas for eradicating rough sleeping, and asked them for feedback. Plans include a "passport" scheme for rental deposits, so that people who need to change address in a hurry, often vulnerable women, can do so without losing a roof over their heads.
He outlined how he wants to force public bodies such as the Ministry of Defence and the NHS to release spare public land.
"I was talking about this with Evgeny," he said. "We are going to take some of that land that the state owns and make it available for housing."
But the PM cautioned that bricks and mortar were only part of the solution. "It's not just about building enough homes, we always have to recognise that people who become homeless have a lot of complex issues," he said.
The mood became festive as the PM and Mr Lebedev toured the day centre and its busy canteen. Donning aprons and bakers' hats, the pair were put to work in the kitchen, Mr Johnson shaping biscuit dough and Mr Lebedev piping icing on gingerbread.
Mr Johnson was tutored by Anita Olej, 18, who started volunteering at the centre during a gap year. "It doesn't matter if they aren't all the right size," she said. "All that matters is the taste." Inevitably, once the tray was full, the PM announced, "It's oven ready!" – one of his election campaign slogans about his Brexit deal.
Recalling when they both slept out in London on a bitter January night to raise awareness of rough sleepers four years ago, Mr Lebedev teased: "I didn't sleep a wink because of somebody snoring."
The PM jokingly replied: "I slept like a log." In truth, Mr Johnson recalled in an interview earlier this month how slowly that night seemed to creep by and how cold it was.
In the bustling lounge, Mr Johnson met more of the residents and day-centre regulars and quizzed them about their experiences.
Nema, 27, a mother of two from Damascus, told how she came to the UK alone a year ago after suffering domestic abuse.
She had to sleep in the streets for four months without help, but as a resident at the Marylebone Project she is now learning English and hopes to resume studying for a law degree.
Most of all, she is looking forward to being reunited with her daughters Aya, 12, and Doaa, nine. Mr Johnson listened to her story, and assured her: "Your English is really good."
One of the women asked the prime minister if he backed the The Independent's campaign. "I am totally in support of The Independent," he promised. "They do an amazing job, here and elsewhere. Evgeny has campaigned on homelessness for years and years."
Looking round the room, he said: "It's a wonderful place."
The government is already investing £1.2bn to tackle homelessness. Last year it introduced the ambitious Homelessness Reduction Act to ensure people at risk of becoming homeless get help more quickly.
Mr Johnson said: "This new funding is going to help councils provide better support to homeless people and, importantly, prevent people from becoming homeless in the first place. But we have got to do even more, and we're committed to expanding rough sleeping and homelessness programmes."
The prime minister has also confirmed the Cold Weather Fund will receive an additional £3m, taking the total to £13m, to enhance support available for rough sleepers during the winter period.
In August last year, the government unveiled its rough sleeping strategy – backed by £100m – which set out steps towards ending the issue for good.
Register for free to continue reading
Registration is a free and easy way to support our truly independent journalism
By registering, you will also enjoy limited access to Premium articles, exclusive newsletters, commenting, and virtual events with our leading journalists
Already have an account? sign in
Register for free to continue reading
Registration is a free and easy way to support our truly independent journalism
By registering, you will also enjoy limited access to Premium articles, exclusive newsletters, commenting, and virtual events with our leading journalists
Already have an account? sign in
Join our new commenting forum
Join thought-provoking conversations, follow other Independent readers and see their replies