Eden Hazard: My family would make a great five-a-side team
The Chelsea forward discusses his footballing background, including his mum who played while pregnant with Eden, in his first English newspaper interview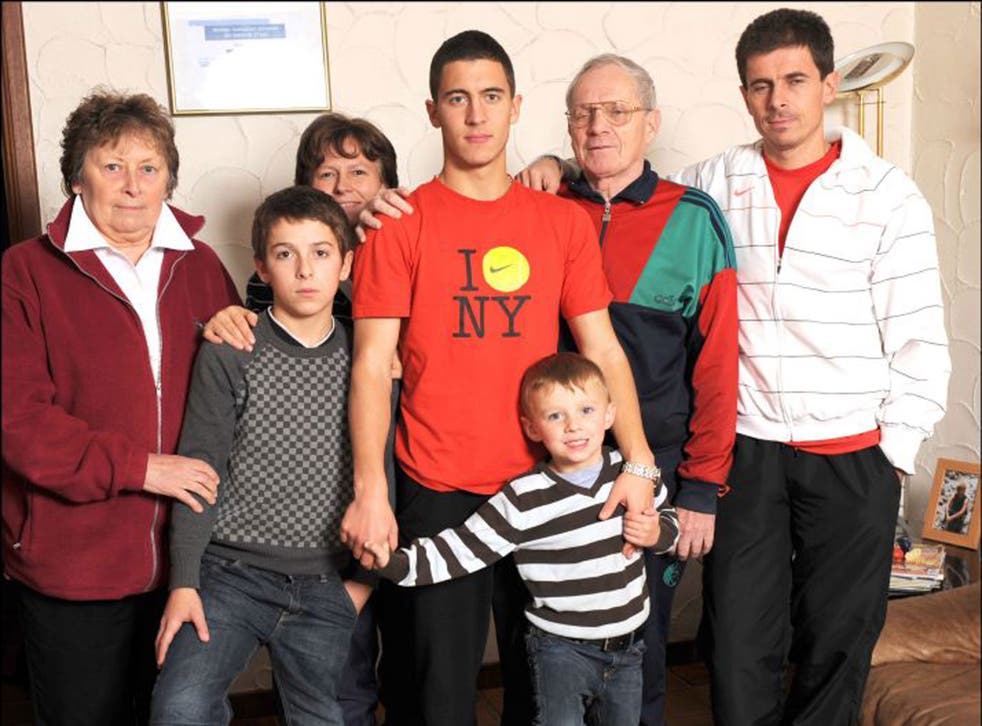 Eden Hazard's father Thierry was a good amateur player who turned out for Louviere in the Belgian third division but the Chelsea player says he also takes after his mother Carine, a striker who continued playing women's football up when she was three months pregnant with her oldest son.
Carine Hazard played football in the Belgian women's league for the representative side Manage, a regional municipality. Eden said: "I was in her stomach when she was playing. She was three months pregnant. I take after my mum as a player. My dad played at the back, chilled out, calm on the ball. My mum was a striker. I never watched Mum play but I can remember going to see my dad play. Actually, I like to think that I am a mix of the best of them."
Thierry and Carine Hazard have four boys who are all footballers. After Eden is Thorgan, 19, whom Chelsea have already signed and is currently on loan at Zulte Waregem in the Belgian top-flight. Kylian, 17, is thought to be another tremendous prospect and is at Eden's former club Lille in northern France. Ethan, eight, is also showing signs of promise back home in Braine-le-Comte. "We could have a great five-a-side team," Hazard said. "My dad still plays. My mum could be manager."
Eden said that despite her own playing career, his mother is never critical. "It's only ever good stuff, praise, when it comes to me. As brothers we don't judge each other, we're all brothers together. For me it's the other three who are the stars. We grew up in a house next to a football pitch. It was five metres away, the other side of a little fence. It meant that we didn't mess our own lawn up!"
As part of a talented generation of players across Belgium, Eden said it was difficult to know what had prompted such a change. "I don't really know where it has come from, the fact that all of a sudden we have this crop of players. When we play together it is great, we have great fun. We are lucky that all at the same time this group of players have proved themselves.
"It'd be a dream if we could [win the World Cup]. First and foremost we must qualify. That's our main objective. There are a lot of teams who you might consider on paper are stronger than us but I am sure we will have a say in things if we make it there."
Eden Hazard: It was sad Roberto Di Matteo went - but that's football
Eden Hazard is happy with his start at Chelsea but admits he was sorry to see the manager who signed him sacked so soon. Click here for more.
Join our new commenting forum
Join thought-provoking conversations, follow other Independent readers and see their replies