Former Ukip bad boy Godfrey Bloom 'horrified' as his firm is fined for gambling couple's £2m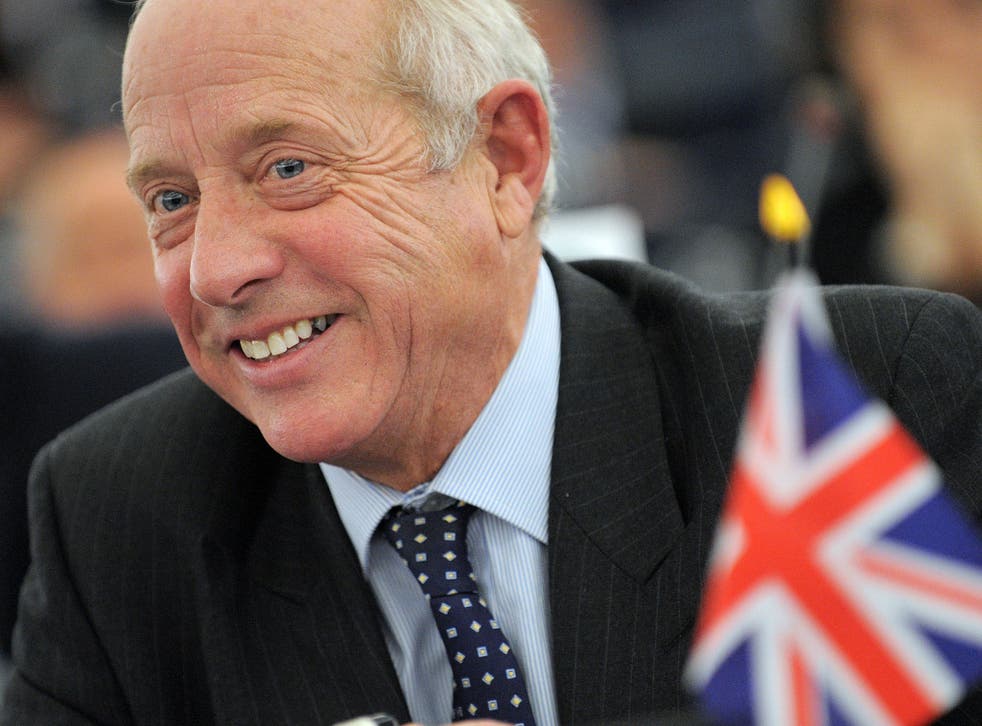 An investment firm whose major shareholder is the controversial former Ukip MEP Godfrey Bloom has been ordered to pay a retired couple more than £2m in damages after losing a High Court case where it was condemned for giving "negligent advice" and gambling their money on mining and natural resource funds.
Andrew and Kirsty Mohun-Smith said they were horrified after discovering that York-based TBO Investments Ltd had ignored their request for cautious financial planning and instead placed almost all their money in unregulated high-risk schemes which were later suspended. TBO made no attempt to make any offer to the Mohun-Smiths after the couple complained, nor did the company agree to mediation. TBO Director Scott Robinson, a former business partner of Mr Bloom's, did not bother to attend the court hearing in June and sent a sick note which Judge Richard Seymour QC dismissed.
TBO must now pay £2.24m and were ordered by the judge pay an interim payment of £30,000 by 14 July, but the Mohun-Smiths are yet to receive a penny. A subsequent appeal by Mr Robinson was also thrown out and TBO was ordered to pay an extra £10,000 in court costs.
Mr Mohun-Smith, 57, said: "I relied upon [TBO] to put in place investments for us that would provide a reliable and comfortable standard of living for the rest of our lives. However, to my complete horror it has become clear that nearly all our money was placed in unregulated collective investment schemes which have been suspended with an almost complete loss of capital.
"This company and its advisor Scott Robinson must be stopped from giving financial advice to members of the public. They provide negligent and misleading advice. They do not seem to realise that they are playing not only with people's money but their lives and it cannot continue."
Since the High Court ruling, TBO has ignored all communication from the Mohun-Smith's solicitor Jonathan Mortimer, from Raworths in Harrogate, including requests to provide details of TBO's insurance policy. Mr Mortimer has now written to all three TBO directors – Mr Robinson, David McLaughlin, a former Ukip employee in Mr Bloom's office, and Christopher Tresidder – as he pursues them individually for the £2m compensation advising them to take independent legal advice in respect of personal liability.
Ukip gaffes and controversies

Show all 18
Latest company accounts show that Mr Bloom owns 53.5 per cent of TBO Investments. He was director of TBO between 1992 and 2004, the year he became an MEP, although he remained a consultant until 2007. TBO was also fined £28,000 in 2008 over an "'unacceptable risk of unsuitable investment advice being provided" for six years from 2001-07. There is no implication that Mr Bloom was involved in any of TBO's advice to its clients.
Ukip withdrew the party whip from Mr Bloom in September 2013 after he struck a journalist in the street and referred to woman as "sluts" at his party conference. He sat as an independent MEP until the end of his term in office in May this year. In 2009 it emerged that Mr Bloom, then Ukip MEP for Yorkshire and North Lincolnshire, used his parliamentary staff allowance to pay three assistants, including Mr McLaughlin, who were also employed by TBO.
In a separate case TBO was hit by the Financial Ombudsman Service last month when the watchdog ordered the firm and Mount Sterling Wealth (MSW), another financial company run by Mr Robinson and Mr McLaughlin from the same address as TBO, to pay a pensioner £20,000 after she received "negligent" advice.
The woman, who only wants to be known as Mrs Q, was left "devastated" after discovering Mr Robinson invested 60 per cent of her £50,000 life savings in high-risk mining and natural resource funds between 2007 and 2011. Mrs Q was 64 and drawing her state pension when she first invested with TBO and living with her partner in a property with a "reasonably significant" mortgage. She was one of several TBO clients who received letters from Mr Robinson in 2011 inviting them to transfer into his new firm MSW. Mr Robinson subsequently increased Mrs Q's exposure to high-risk funds to 80 per cent and she has fought for two years to get her retirement savings back. Ombudsman James Harris ordered both TBO and MSW to pay Mrs Q "fair compensation", which has been estimated at £10,000 from each firm.
Mrs Q, who turns 71 on Monday, told The Independent: "I entrusted the majority of my life savings to TBO Investments and more recently Mount Sterling Wealth. I was devastated when I found out that I had lost so much of my original investment particularly as I had just retired. What has made the experience so much more frustrating has been their response to the claim - in particular, they have denied liability throughout, failed to keep to deadlines imposed not only by their own internal procedures but also by the Financial Adjudicator and even suggested that I was an experienced investor who should have known the risk that I was taking on.
"I have only been paid £5,000 by MSW after numerous letters from my solicitor threatening to wind up the companies and it looks as if I have no alternative put to take enforcement action to recover the majority of the money still due to me."
Mr Mortimer, who is also representing Mrs Q, said: "I would understand if the directors put their hands up and admitted to a mistake but the way they have conducted themselves is absolutely disgraceful."
Mr Bloom told The Independent on Friday he was "stunned and horrified" to hear about the rulings against TBO and size of compensation owed to the Mohun-Smiths and Mrs Q.
He said: "I'm just back from holiday and don't know anything about it. I'm majority shareholder but left the company in 2004. When I was there TBO never handled any money. I simply can't understand how this has happened. When I was there at no time would we have allowed investments to be made in unregulated funds as we would simply not have passed regulatory inspection had we done so."
Mr Bloom said he "bumped into" Mr Robinson and Mr McLaughlin every year but was unaware of any problems with the company.
He said: "I assumed my shares were worthless. I was told there was a management buy-out of TBO and I understood that it was being wound down. I never received any recompense and just assumed it would happen at some point. I suspect there is much more to this than meets the eye and I certainly hope some good comes of it for those concerned."
Mr Robinson is believed to be on a two-week holiday and did not return calls. A spokesperson for TBO said: "All the matters relating to the Mohun-Smiths' claim are in the hands of our solicitors. It would be inappropriate to comment any further pending the Court of Appeal reviewing the matter, save to say that Mount Sterling Wealth Limited has no connection to the Mohun-Smiths' claim.
"As to Mrs Q, we have no wish, and do not think it would be appropriate, to discuss the specifics of cases or clients. However, whilst we are disappointed with the decision made by the Financial Ombudsman Service the outcome is fully acknowledged."
Join our new commenting forum
Join thought-provoking conversations, follow other Independent readers and see their replies