From cult comedy to Hollywood blockbusters: Adam Scott's grand adventure
He earned cult credentials for 'Parks and Recreation', and still pulls in the crowds on the Hollywood comedy circuit, but with a new film opposite Ben Stiller, Adam Scott is about to think big
Jeff Maysh
Saturday 21 December 2013 01:00 Comments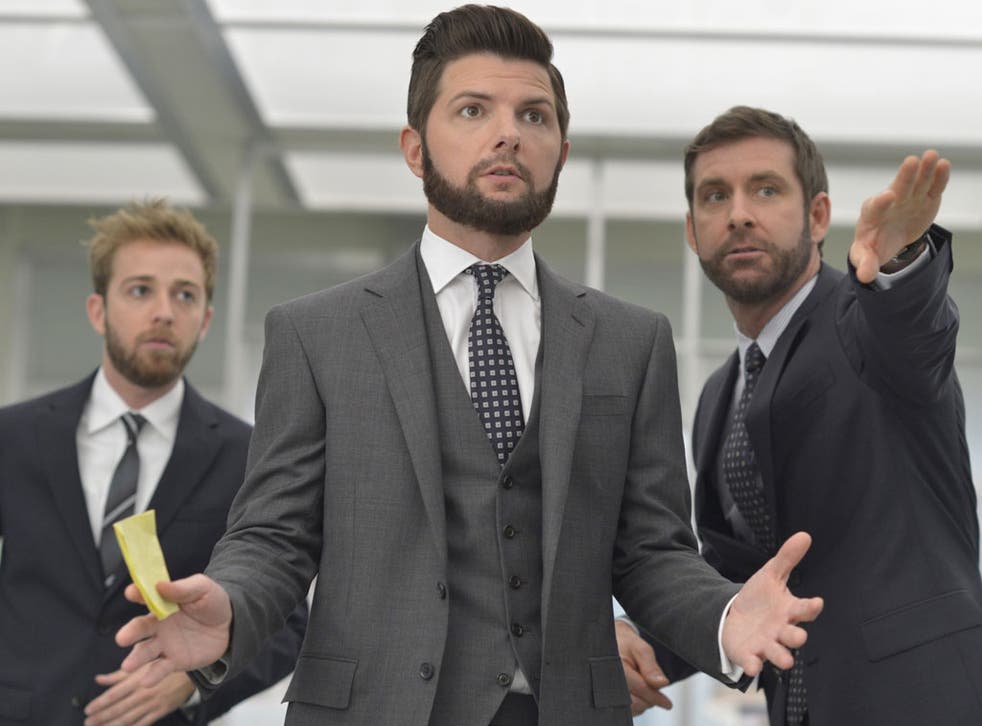 Adam Scott is transfixed by Toronto's disgraced mayor, Rob Ford. "Wow! Just wow!" he says. "I can't get enough of that guy." We are watching the drama of the unimpeachable, crack-smoking mayor unfold on television news, in a busy chicken restaurant in Los Angeles. "Isn't it amazing? It's the greatest thing. It's so Canadian that they set this trap for themselves, that they can't fire him. I mean, they're so nice, Canadians. I hope he never leaves office." The Torontonian's drunken deeds have been rolling news in North America for weeks. Ford is a caricature so hideous even Hollywood could not have created him. "Get that man his own talk show, now!" says Scott, as he squeaks into a leather booth.
The Californian comic actor, aged 40, is best known for his own role as a failed mayor in the television hit, Parks and Recreation. Snarky Ben Wyatt was impeached in Minnesota, for bankrupting his small town with a winter sports complex called Ice Town. Opposite Amy Poehler's ambitious, mid-level bureaucrat Leslie Knope, Scott rapidly became 'that guy', an omnipresent face with an IMDb rap sheet as long as your arm. > Well-regarded television shows Party Down and Eastbound and Down were succeeded by film roles in Friends with Kids and Bachelorette.
On the way to meet him, I drive past six huge billboard posters for The Secret Life of Walter Mitty, Adam Scott's latest and biggest film. In it, he plays the foil to Ben Stiller's daydreaming protagonist, in a bold retelling of James Thurber's celebrated short story from 1939. I am to meet the actor at his local restaurant for dinner, the Beachwood Café in the Hollywood Hills, famous for its sickly bacon-butterscotch sauce, and for being closed on Mondays.
It is Monday. "I should have known," he says apologetically, "I'm in there all the time." Instead, we slalom down the narrow canyon streets towards Franklin Village, a cool little hamlet that's a bit like Shoreditch with palm trees. It is home to a raw juice bar, a beatnik French restaurant called La Poubelle ('The Trash') and a hip fromagerie that sells Trappist ales. Here, Adam Scott is a regular at Birds, an honest diner where everything is either chicken, or comes with chicken. It's the only irony-free food on the block.
Growing up, he was once a pizza delivery boy in Santa Cruz, he says, the stoner capital of California. "I tried skating and baseball and other stuff, but the only thing that seemed to stick was watching TV and going to see movies. The Indiana Jones films and Star Wars really struck a chord, especially Temple of Doom. And Raiders is my favourite movie of all time. If it's not your favourite movie of all time – there's something wrong with you," he smiles. Scott slips out of his coat and straightens his movie-star hair. In person he looks like Tom Cruise, seen in a fairground mirror.
Scott says he felt destined to be on screen, yet like many actors, his early days were fraught with hard times. "I had some tough moments in the start, around 1993," he says. "I remember once I hadn't eaten in a day and a half, and I didn't have any money. My grandma sent me a cheque, and I remember buying a giant bag of cheap bagels. I just sat on the ground outside the grocery store and starting eating. I was a starving actor, that was as bad as it got."
His big break was The Aviator, with Leonardo DiCaprio. Scott cherishes the handwritten note from director Martin Scorsese, welcoming him to the movie. "At the time, The Aviator was everything to me. I was really nowhere career-wise. I was living alone, making ends meet, I had done a couple of my first big movies, but it wasn't like Scorsese needed to hire me.
"I didn't dream I would ever get the job, so I really went for it in my audition, and got it. Working with Leonardo DiCaprio was a pretty incredible experience. Leo was terrific. He was incredibly hard-working, really smart and incredibly prepared. For someone in his position... I mean, in 2003, it was just five years after Titanic mania... so I just thought that for someone in his station he was incredibly down-to-earth and living in the real world. He was a very normal guy who happens to be a giant star."
Scott's chicken wrap is delivered. It is the size and weight of a newborn, and as messy. I cite a recent review that claims he is "hipster approved". Students dress like his Party Down character – a failed actor slumming it in the catering industry – for Halloween; there's a Tumblr account dedicated to reimagining his tweets into works of art. "I'm not sure I even know what a hipster is..." he scoffs, deflecting briefly with a napkin request. "I mean, I'm flattered by being approved by anyone! If people with beards and cool shoes think I'm cool, that's great."
In Walter Mitty, it is Scott's comically malevolent beard that steals the show. He plays a corporate creep, Ted, tasked with reducing Life magazine to an online-only publication, the head of a team of neatly-bearded adversaries. He is pitted against Stiller, who works on the magazine's picture desk and who daydreams about romancing Cheryl (Kristen Wiig) in the accounts department, in a variety of swashbuckling vignettes.
"The beard was real, partially," admits Scott. "But it was augmented! The beard was important for the character. In fact, it was all about the beard. It is a General Zod beard – not Mike Shannon's Zod [from Man of Steel] – but Terence Stamp's Zod. But yes, we had to fill in bits and pieces of it," he says. In the movie, he enjoyed his first real battle scene, chasing Stiller's Walter Mitty in a surreal fight that wrecks New York's Fifth Avenue. "Ben and I were on the street for five weeks, hanging from wires. It was great fun!" he says, "I love Ben Stiller, I've been a fan of him since his MTV show, and Tropic Thunder was one of my favourite movies, so I jumped at the chance to be in this movie."
Scott argues that Walter Mitty isn't a "remake", despite it being made > for the big screen already, in 1947, starring Danny Kaye. His fondness for contemporary classics such as Back to the Future dictates a belief that they should never be remade. Not because it would be sacrilege. "Just boring. Remakes of the Evil Dead, Total Recall, they seem like a pointless exercise," he says. "Yes, they made Walter Mitty back in the old days – but for today it needed someone's vision, it's not something you can do on a tiny budget. Not in the grand way it needs."
Ted is very 'Adam-Scott-ish'. He's a white-collar bully of the type we've all encountered, much like his Parks character, really. "He seems to be revelling in the fact he has all the power," says Scott. "He doesn't give a shit, he thinks it's funny if people butt up against him. He's all about moving forward, progress and leaving the dead behind."
The dissolving of Life magazine to a digital disaster provides just the backdrop for Walter Mitty's transcendence. Yet Scott says he identifies with the theme of media change, the tossing away of beloved institutions. Interestingly, he says that Twitter has killed off the art of fan mail. "We get sent one or two letters at Parks sometimes, but it's piecemeal," he says. "You'd read about actors on Beverly Hills, 90210 getting trucks arrive with literally tonnes of letters. Now you can shoot someone a message online and hopefully they'll see it." But Scott says he has recently sworn off Twitter. "I started to frame everyday occurrences as a series of tweets. I quickly felt like that wasn't healthy. But I enjoy modern technology."
He points to my iPhone, running a voice recording app. "You should know that when you play this back, my voice will come out backwards. It can sound sinister," he smiles. The restaurant is now full with the pre-show crowd for the improv comedy club next door, called Upright Citizens Brigade (UCB).
Founded by Scott's Parks co-star Amy Poehler, it is a training field for Hollywood's biggest comics, far from the Sunset Strip clubs and their $40 comedy cover charges. Entry here is five dollars, and surprise guests like Russell Brand can turn up unannounced and un-advertised, to road-test new gags straight from a notebook. Scott performed here last weekend, he says, though he was not keen to elaborate.
"I go to UCB a lot, I always have. I perform there all the time. It's amazing how cheap and great it is to see stuff," he adds. According to door staff, Scott and a group of comics performed a table reading of a new film concept last Saturday night. "It went on till gone one in the morning," he said. Artistic Director Alex Berg told me, "It was kind of a secret show, we had to take all the info off the website". What Scott can reveal is that he was recently allowed to direct an episode of Parks and Recreation.
"It was fun helping conceive the episode," he says. "Figuring out how to shoot the scenes, going through a process, figuring out where to put the camera, it made me realise how much I revere these characters. I shot a scene with Andy and April, and I just felt moved how much I love them. And how well written they are."
He has also recently finished filming the sequel to Hot Tub Time Machine, with Chevy Chase. With a couple of young children at home, Scott says he would like to appear in a kids' movie next. "Every Friday night we watch a movie at home and I have to sit through a lot of these films, so it would be great to be in one of them," he says. "I just showed them ET and I want to show them The Goonies – my son is at the right age for The Goonies. We just watched Chicken Run, and I found out it was a remake of The Great Escape, which I didn't know."
Scott is a card-carrying nerd. His favourite band? Early, "pre-Manic Monday" Bangles, and he is planning to host a U2 fan podcast around the new album, he hopes "at least three people" will listen. He has never broken a bone. He remains proud of his appearance in the B-movie Piranha 3D. Scott explains, "It's not as embarrassing as you would think if you saw it on my resume". The director Alexandre Aja, he says, is a high-concept talent and, "the movie achieved a respectable 73 per cent on Rotten Tomatoes."
We are now in a televisual era where geeks rule: the biggest show on TV is The Big Bang Theory, in which the nerds are the stars, not the butt of the jokes. Walter Mitty is a fantasy movie in which the enemy is from middle management. Sitcoms have turned the spotlight on the seemingly uncool: local government, scientists, and community college students. "The setting of small-town government is really great," says Scott, speaking of the runaway success of the Emmy-nominated Parks and Recreation. "There are infinite possibilities. It's such a rich setting for comedy." Over Scott's shoulder, the television is still playing a loop of Mayor Ford walking face-first into a TV camera, like a Canadian Oliver Hardy, on crack. The beauty of Scott's characters, he agrees, is that they are not extreme – like his own diminutive former mayor, and Ted in Walter Mitty, they are subtle foes.
"What's missing these days are the big studio movies that are about small things," he says. In Walter Mitty, the not-so-underlying theme is this heroic self-fulfilment and prevailing over any hurdles with a yes-I-can attitude. "They make big movies about big things, like the end of the world and superheroes, and I love those movies, but what about Chariots of Fire and Gandhi? I long for those big studio movies that are about the smaller things in life," he says, swiping his iPhone alight under the table with a small scowl – checking the time.
"I was so happy to be in this one. Such a grand adventure, but it was kind of an intimate movie..." And then, without warning – mid-sentence, in fact – he is gone. It is an illusionist's exit that leaves me facing an Adam Scott-shaped hole in the atmosphere. Now I'm alone at the table, almost like he had been a figment of my imagination µ
'The Secret Life of Walter Mitty' opens on Thursday
Register for free to continue reading
Registration is a free and easy way to support our truly independent journalism
By registering, you will also enjoy limited access to Premium articles, exclusive newsletters, commenting, and virtual events with our leading journalists
Already have an account? sign in
Join our new commenting forum
Join thought-provoking conversations, follow other Independent readers and see their replies