Iran chooses replacement for Mahmoud Ahmadinejad: Ayatollah Ali Khamenei casts his vote, telling the US 'The hell with you'
Nation chooses between six candidates amid tight regulations and stringent controls on international arbiters and journalists
Alistair Dawber
Friday 14 June 2013 19:06 Comments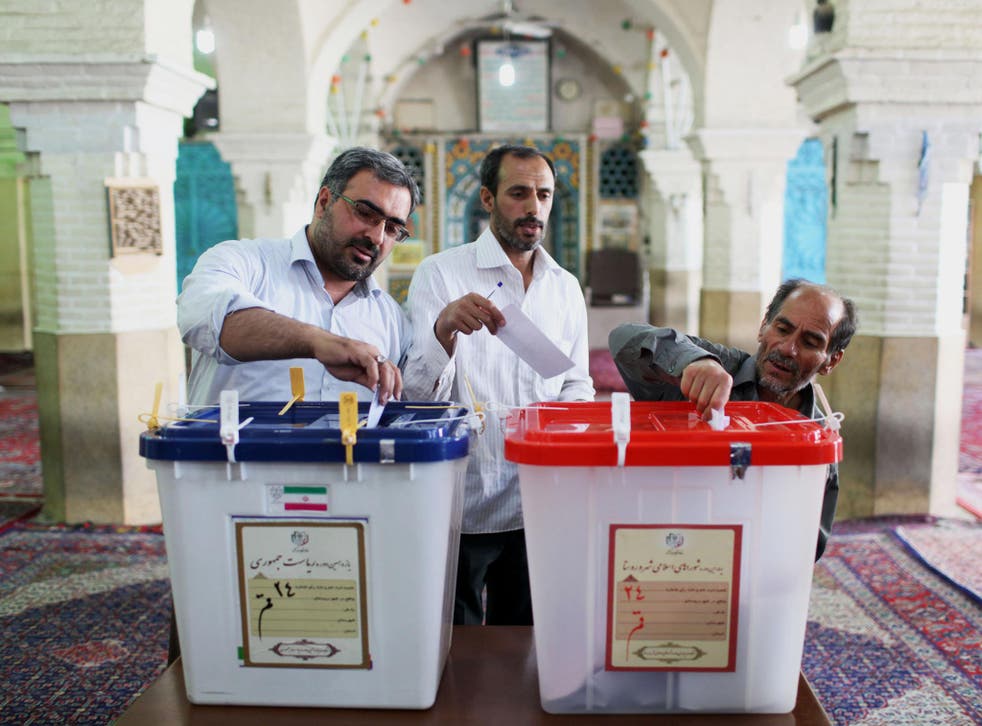 Iran's Supreme Leader used his vote in the country's presidential election today to tell Washington "the hell with you," indicating that the result of the ballot is unlikely to thaw relations with the West.
Ayatollah Ali Khamenei again urged voters to get out and cast their ballot, and it was later announced that polls would remain open for an extra two hours beyond the originally advertised time to allow as many people as possible to vote.
The election has been described as a sham and a masquerade in many parts of the West after nearly 700 potential candidates had their nominations blocked by the Islamic Republic's Guardian Council, leaving just six men in the race. All of them are said to be conservatives and loyal to Mr Khamenei. The results are due tomorrow.
Mr Khamenei has not publicly endorsed a successor for Mahmoud Ahmadinejad, who in recent years has become unpopular in Tehran after attempting to challenge Mr Khamenei's near-absolute power.
While some of the candidates have suggested during the campaign that it could be time to try and improve relations with the West, particularly over the nuclear issue, Mr Khamenei appeared to be in no mood to compromise earlier. "I recently heard that someone at the US National Security Council said 'we do not accept this election in Iran'," he said. "We don't give a damn."
The lack of impartial media allowed into Iran has made predictions difficult, but Iran watchers have argued that the country's chief nuclear negotiator Saeed Jalili, a hardliner, and the most reform minded of the candidates, Hasan Rouhani, were likely to emerge in the top two positions and contest a run off in a second round, which will be held next Friday.
After casting his vote, Mr Jalili said: "Everyone should respect the name that comes out of the ballot boxes and the person people choose," according to ISNA news agency.
Reports from inside Iran earlier today suggested that Mr Rouhani was doing well. The Tehran Bureau, an Iranian news website based in London, said that reports indicated that 80 per cent of voters in one district in the holy city of Qom had backed Mr Rouhani, while sources in Isfahan also said that the leading moderate was doing well. One report even suggested that Mr Rouhani may win an outright victory.
Mr Rouhani has attracted support from leading moderates, many of whom took part in the 2009 Green Movement following the last elections when tens of thousands marched to demand that the official result was overturned. Mr Ahmadinejad, whose second term will end in August, was declared the winner as some Iranians were still queuing up to vote. Eventually the security forces clashed with protesters on the street, leaving several dead.
If Mr Rouhani and Mr Jalili do not emerge in the top two positions, a way could be open for Tehran's mayor, Mohammad Bagher Ghalibaf, or former foreign minister, Ali Akbar Velayati to contest next week's run off – both men are ultra-loyalists but have also criticised Mr Jalili's tough stance on negotiations with West over Iran's nuclear programme.
The West believes Iran is attempting to make a nuclear weapon, while Tehran insists that the project is for peaceful means.
From the street: Voters' voices
"Our generation is like an onion that brings tears to everyone's eyes. Four years ago I was working days and nights doing the campaign for Mousavi [the reformist candidate who claimed victory in the 2009 election, and led the subsequent Green Movement]. This time, I'd rather stay home and watch Turkish soaps."
Maryam, 24, a student, from Shiraz
"I might go and vote. I have not decided yet. We would like to chose someone who can bring prosperity for our country and rescue us from the current misery. I will vote for the same candidate as my husband will. He has followed all TV debates and knows the candidates."
A female living in Tehran, who wished to remain anonymous
"We need a cultural revolution. Our people have been taught not to think. The kings and mullahs have decided for us. My worst fear is dealing with people who decide with emotions rather than with arguments."
Mohesen, 32, a doctor living in Tehran
Quotes provided by Shahrzad News, a platform for independent journalism
Register for free to continue reading
Registration is a free and easy way to support our truly independent journalism
By registering, you will also enjoy limited access to Premium articles, exclusive newsletters, commenting, and virtual events with our leading journalists
Already have an account? sign in
Join our new commenting forum
Join thought-provoking conversations, follow other Independent readers and see their replies