The Independent's journalism is supported by our readers. When you purchase through links on our site, we may earn commission.
Mark Zuckerberg posted a video of Facebook's head office and it looks amazing
"At Facebook no one has offices," he says
Hazel Sheffield
Thursday 17 September 2015 09:58 Comments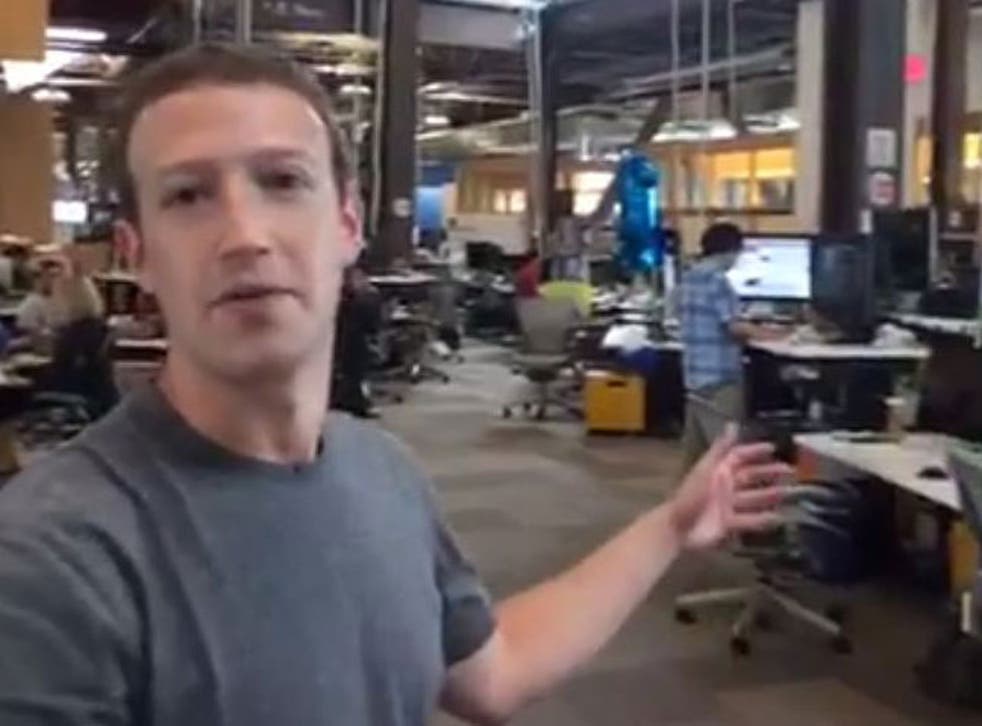 Mark Zuckerberg has posted a video on Facebook of the new Facebook head office and it turns out in contains no actual offices.
"At Facebook no one has offices," he explains.
"One of the things you're probably noticing is, it's all glass. That's because we're trying to create this open and transparent culture in our company where everyone can see what everyone is working on."
Behind him, the Facebook office appears as a big warehouse filled with a jumble of desks, chairs and computers. Zuckerberg has his own desk, which looks like any of the other desks, apart from a wooden Facebook sign and some spraypaint that reads 'Zuck'.
"People can walk by and see the type of stuff that I'm working on. We think that this promotes an open and transparent culture which enables us to do our best work," he says.
Zuckerberg made the recording to demonstrate Facebook's capacity for live video ahead of a speech.
The Facebook office is in Menlo Park, California. The building is designed as "the operfect enhgineering place", but this actually means it's far from perfect. 430,000 square feed in total, the building was designed in opposition to Google's showy glass headquarters and Apple's giant alien spacecraft office.
"The building itself is pretty simple and isn't fancy. That's on purpose. We want our space to feel like a work in progress. When you enter our buildings, we want you to feel how much left there is to be done in our mission to connect the world," Zuckerberg explained in a Facebook post dated March, when the building finally opened.
Watching the video, you can see what he means.
Register for free to continue reading
Registration is a free and easy way to support our truly independent journalism
By registering, you will also enjoy limited access to Premium articles, exclusive newsletters, commenting, and virtual events with our leading journalists
Already have an account? sign in
Join our new commenting forum
Join thought-provoking conversations, follow other Independent readers and see their replies