Scottish independence: Alex Salmond claims Britain is 'one of the most unequal countries in the developed world'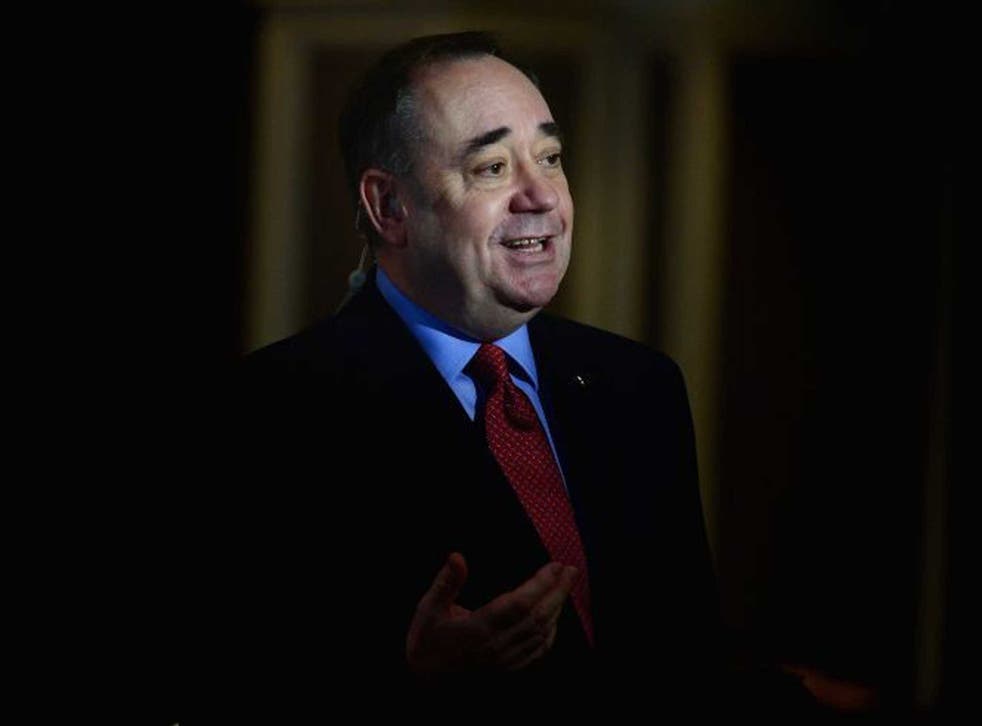 The UK has become "one of the most unequal countries in the developed world", consigning many Scots to "a life of poverty", Scotland's First Minister Alex Salmond has said.
Speaking ahead of the 100-day countdown to the independence referendum, Mr Salmond said he was confident that Scotland would vote yes on 18 September despite polls suggesting Scots will back the union.
A survey by Populous for the Financial Times found 40 per cent of Scots would vote for independence with 47 per cent against, although excluding don't knows put the yes vote on 46 per cent. Some 55 per cent of English and Welsh people said they hoped Scotland would stay in the UK, with 15 per cent backing a split.
"Independence will mean Scotland is no longer subject to Westminster policies imposed against the wishes of our democratic representatives," Mr Salmond said.
"A quarter of a century ago, it was Margaret Thatcher's poll tax - today it is the bedroom tax and the ongoing obscenity of Trident weapons of mass destruction located just a short distance from Scotland's largest city.
"The democratic case for an independent Scotland is at its heart a very straightforward one. It is founded on the simple premise that it is fundamentally better for all nations if decisions affecting them are made by those who live and work there."
Mr Salmond pointed to an assessment by financial company Standard & Poor's that an independent Scotland would qualify for its "highest economic assessment".
But he said: "Unfortunately, despite that huge native wealth, meaning we are one of the wealthiest countries on the planet, for too many people living in Scotland today it does not feel that way."
He spoke of his excitement at the prospect of Scotland – which became part of the union in 1707 — "joining the international community as an equal partner after an absence of more than 300 years".
"No other nation in history has been as well-placed as modern Scotland to become independent – and when September the 18th arrives, I am confident the people will say 'Yes'," Mr Salmond said.
Scotland "should be proud of the example we are setting in terms of the profoundly democratic and peaceful nature of the debate on our future – not something that is always the case elsewhere", he added.
The First Minister maintained that England, Wales and Northern Ireland would remain the new country's closest friends and neighbours.
"The ties that bind the nations of these islands will continue and flourish after Scotland becomes independent," he said.
A survey published by the Centre for Macroeconomics (CFM) on Saturday reported that 75 per cent of the 28 economics experts did not believe Scotland would be economically better off with a Yes vote this September.
The CFM report said that the experts, from institutions such as Deutsch Bank and the London School of Economics, thought Scotland would be exposed to weaker tax revenues and higher borrowing costs.
Register for free to continue reading
Registration is a free and easy way to support our truly independent journalism
By registering, you will also enjoy limited access to Premium articles, exclusive newsletters, commenting, and virtual events with our leading journalists
Already have an account? sign in
Register for free to continue reading
Registration is a free and easy way to support our truly independent journalism
By registering, you will also enjoy limited access to Premium articles, exclusive newsletters, commenting, and virtual events with our leading journalists
Already have an account? sign in
Join our new commenting forum
Join thought-provoking conversations, follow other Independent readers and see their replies