Alice Neel: Hot off the Griddle review – easy on the eye portraits from an artist with guts
The New York portrait painter gets her biggest UK exhibition to date in a show that looks at her fascinating life as well as her art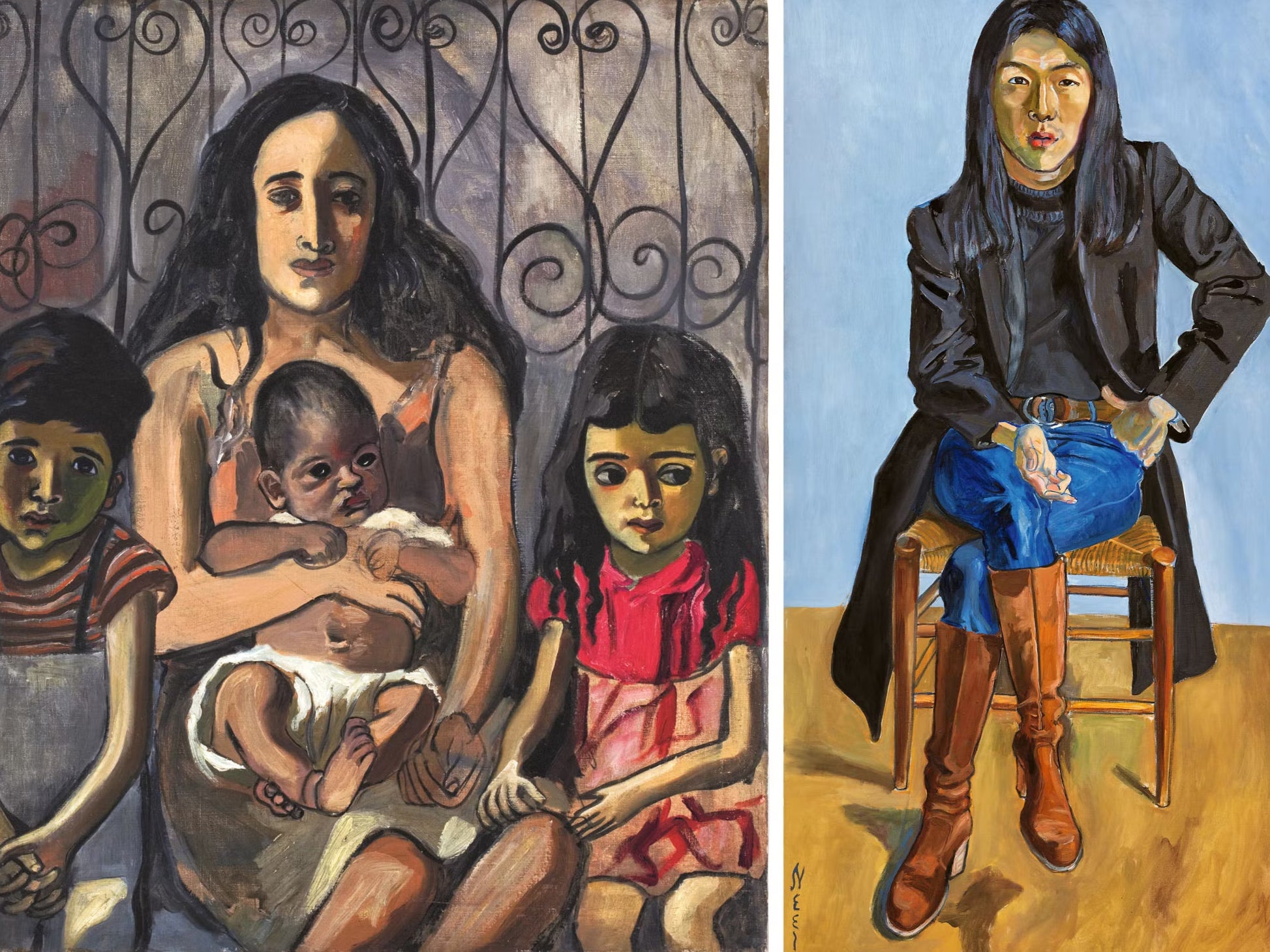 An 80-year-old woman looks back at us wearing nothing but a pair of glasses and a "screw you if you don't like it" expression. This stark-naked, bulges and all painting was the first self-portrait by an artist who feels very much a figure for our times, Alice Neel. The fact that she's been dead nearly 40 years seems almost beside the point.      
A communist feminist who rejected her middle-class New England roots, Neel (1900-84) married a Cuban and was investigated by the FBI at the height of the Cold War. She was dubbed the "court painter of the underground" for her portraits of artists, activists and, not least, her poverty-stricken neighbours in New York's Spanish Harlem. Yet she's been omitted from survey after survey of 20th-century American art. Over the past decade, however, the standing of Neel's defiantly quirky portraiture has gone through the roof. Not only does her work befit an art world trying to become more inclusive – she looked beyond portrait painting's straight, white conventions from a woman's perspective – but it is highly accessible. It's about things that art doesn't deal much in these days, but which most of us still find important: people and their personal stories – all set against the backdrop of New York in its most culturally explosive era.  
The Barbican's exhibition – Neel's biggest in Britain to date – is clearly out to canonise her as an all-time great, with an emphasis on Neel as a personality as much as a painter. Starting with that naked self-portrait, which is given a room to itself, Neel's pronouncements are blown up large on the walls – "I don't paint like a woman is supposed to paint" – with lots of great photographs and archive film, and wall texts that are much more chattily biographical than you'd expect in a serious art exhibition, where such things tend towards the po-faced.
Join our commenting forum
Join thought-provoking conversations, follow other Independent readers and see their replies