Look, no jowls but beware bleeding under the skin: Is gua sha really better than Botox?
Happy Talk: The latest Instagrammable trend, an at-home massage technique, has some surprising results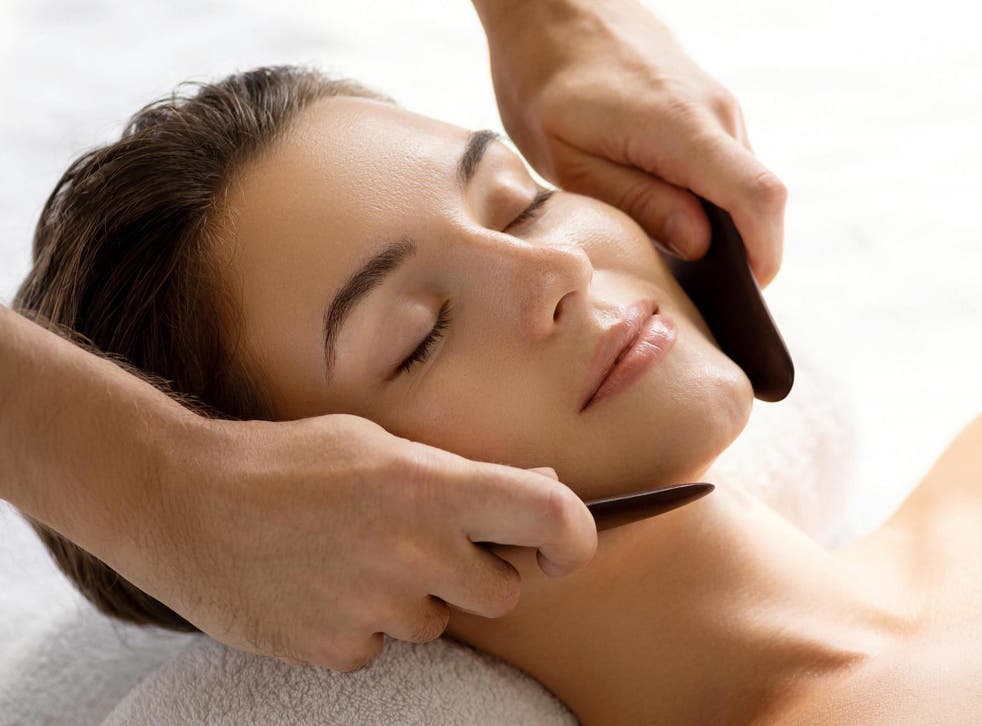 To paraphrase the late great Nora Ephron, lately I've been feeling bad about my neck. And my jawline. And the deep horizontal grooves on my forehead, which I blame on having spent my twenties and thirties on a never-ending series of terrible dates that required me to hold a both-eyebrows-raised "that's really interesting" facial expression for several hours at a time. I'm paying for it now. So much so that recently, my old friend Anna, a dermatologist, suggested a little light Botox. She wasn't joking. She offered me "mates rates". I wondered for a moment if we could even be mates anymore. Aren't your best girlfriends just supposed to tell you that you look wonderful even when you've got eye bags right down to your jowls?
I told Anna I'd think about it but the truth is I've always been frightened of Botox and even the thought of having it administered by someone I've known and loved for almost 30 years didn't allay my fears. I just know I would be the person who ends up with a face like a Barbie that's been left too close to the fire. It doesn't help that I have another friend who did have a terrible Botox experience that resulted in a weirdly arched eyebrow that was definitely more Spock than Scarlett in Gone With The Wind.
So when I read an online feature touting gua sha facial massage as the new, non-invasive, side-effect-free alternative to Botox, I knew I had to try it. The article was accompanied by before and after photographs of the author highlighting a (very slightly) tightened jawline, (incredibly subtly) lifted brows and neck wrinkles magically melted away (in the right light). I was sold.
Register for free to continue reading
Registration is a free and easy way to support our truly independent journalism
By registering, you will also enjoy limited access to Premium articles, exclusive newsletters, commenting, and virtual events with our leading journalists
Already have an account? sign in
Register for free to continue reading
Registration is a free and easy way to support our truly independent journalism
By registering, you will also enjoy limited access to Premium articles, exclusive newsletters, commenting, and virtual events with our leading journalists
Already have an account? sign in
Join our new commenting forum
Join thought-provoking conversations, follow other Independent readers and see their replies