Inside Politics: Boris Johnson hails newfound 'freedom' after Brexit
The prime minister wants us to make the most of 2021 – but haulage bosses have warned of 'invisible chaos', writes Adam Forrest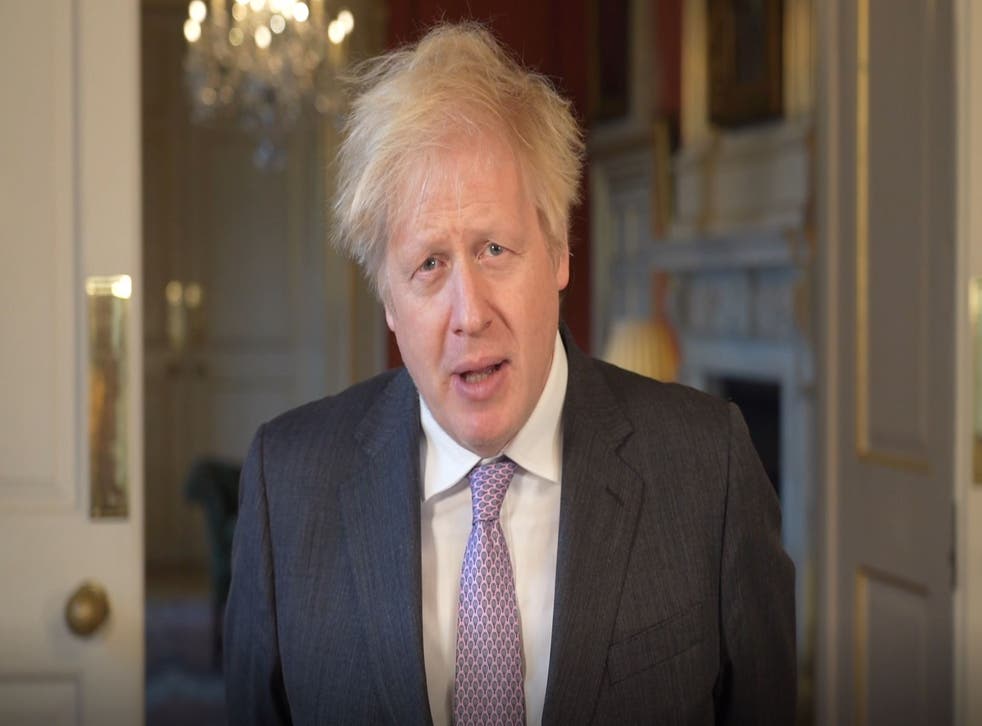 Happy New Year! It was hard not to look on with envy at the celebrations in Wuhan last night – where thousands of party-goers packed the streets for live music. The one-time epicentre has moved on, but Britain begins 2021 stuck firmly in the grip of the virus. We also begin 2021 out in the cold, having finally Brexited overnight. But Boris Johnson has an upbeat new year message: he wants us to make the most our newfound "freedom" – and cherish the hope we can get back to normal at some point in the year ahead.
Inside the bubble
Policy correspondent Jon Stone on what to look out for today:
It's Britain's first day outside single market and customs union – so new bureaucracy will be imposed on lorries crossing the channel for the first time, and freight operators have warned that disruption is inevitable. Whether it happens today or in the coming days remains to be seen, as freight volumes are often low around Christmas and new year. Keep an eye on it.
Daily briefing
ROCK AND A HARD PLACE: So, how does 2021 feel so far? Feeling more open and generous? Boris Johnson said he wanted the UK to be an "open, generous and outward-looking" country now that we have left all of the EU institutions. "We have our freedom in our hands, and it is up to us to make the most of it," he said in his new year message. Thankfully, the people of Gibraltar will get to remain outward-looking in a more practical sense, after a last-minute agreement was struck with Spain for the British territory to remain part of the EU's passport-less, free-travel Schengen zone. Dominic Raab called it a "political framework" for a separate, formal treaty in six months' time. Johnson welcomed the arrangements – but insisted he was committed to the territory's "British sovereignty". Now that we have Brexited, Emmanuel Macron promised the UK would remain a "friend and ally". But Nicola Sturgeon wants more than friendship. The SNP said Europe should "leave a light on" as Scotland would "be back soon" to re-join the EU.
HIDDEN ENEMY: No 10 will be pleased there are no signs of visible chaos at the border on Friday morning. But Rod McKenzie, head of the Road Haulage Association, said companies were still anticipating "invisible chaos" over the coming weeks. It's emerged that only 450 lorries had applied for permits to allow them to enter Kent. Officials are hoping that the tiny figure is simply a reflection of low traffic volumes on the new year bank holiday. It comes as major retailers – including John Lewis and Dunelm – have suspended deliveries to Northern Ireland due to uncertainty about red tape. The government announced that goods moving from GB to NI would not need customs declarations during a three-month grace period. But the last-minute announcement left companies little time to start up their operations again. Amazon is warning customers that deliveries to NI may take longer than normal.
BOUNCE WITH ME: Boris Johnson said he hoped the vaccine would help create a "potential trampoline for the national bounce back". But it's hard to feel bouncy this morning when the Covid wave appears so overwhelming. The government's Sage experts have warned even a return to a national lockdown and the closure of all schools might not be enough to control the spread of virus. Minutes from group's meeting on 22 December have revealed fears that the R rate may not drop and remain below one this winter. Dr Simon Clarke, at the University of Reading, said he expected lockdowns to continue going "until April or May" before the effects of vaccination would allow some relaxation. It comes as The Independent revealed that the military will be drafted in to help run London's Nightingale hospital within days. Dozens of army reservists are set to help run the hospital alongside NHS staff.
THE DOSEY DO: Chief medical officer Chris Whitty has defended a big shift in the vaccination process which means the second dose of approved jabs will be given 12 weeks after the first one (having initially been only three weeks). The British Medical Association said cancelling existing appointments was "grossly unfair" – but Whitty made clear that struggles to get hold of supplies and the fact the "great majority" of protection came from the first jab giving more people the first jab was a sensible priority. Manchester mayor Andy Burnham is among those calling for teaching staff to be vaccinated ahead of schools reopening. The latest reports suggest they may be closed for even longer than expected. Government sources told The Telegraph schools could stay shut until mid-February, when ministers next review the closures on 18 January.
VIVE LA FRANCE! Stanley Johnson has confirmed he is applying for French citizenship now that the UK has severed ties with the EU. All right for some, eh? The prime minister's dad told France's RTL radio that he had always regarded himself as French since his mother was born there. "If I understand correctly, I am French," he said. "It's not about becoming French – it's about reclaiming what I already have." The PM will shrug it off, of course. But he may not be shrug off testimony reportedly being readied by Dominic Cummings. The ex-No 10 schemer is prepared to testify that his own warnings about a lockdown being needed for a second time in September were dismissed by Johnson, according to The Spectator. In other news, Britain and Ghana didn't reach a trade deal in time to stop trading with African country being done using World Trade Organisation (WTO) tariffs. Other roll-over agreements still outstanding include Albania and Jordan.
MIRACLE MAN: New year festivities around the world were more subdued than usual, as many countries struggle to curb recent spikes in cases. In the US, fireworks displays and gatherings were cancelled in many cities, but a small number of people were allowed into Times Square in New York City. In his own new year message, Donald Trump described the vaccine as a "medical miracle" – having previously suggested the breakthrough was held back to deny him an election victory. Joe Biden repeated his call for vaccines to be distributed more quickly. "I'm absolutely, positively confident we're going to come back and we're going to come back even stronger than before," said the incoming president, who takes office on 20 January.
On the record
"I believe 2021 is above all, the year when we will eventually do those everyday things that now seem lost in the past, bathed in a rosy glow of nostalgia – going to the pub, concerts, theatres, restaurants, or simply holding hands with our loved ones in the normal way."
Boris Johnson on the year ahead.
From the Twitterati
"How lovely that he has a choice. I wish that I, and all my constituents had that same choice."
Labour MP Lynn Brown ponders Stanley Johnson going for French citizenship…
"Has Stanley Johnson kicked off a third wave in France yet?"
…while Dave MacLadd ponders all the times Stanley was caught without his mask on.
Essential reading
Mark Steel, The Independent: Here's to the beaming nation of happiness Brexit has made us
Tom Peck, The Independent: Four years of reporting on the Brexit wars
Katy Balls, The Spectator: With Brexit done, what next for the government?
Peter Wehner, The Atlantic: The unbearable weakness of Trump's minions
Sign up here to receive this daily briefing in your email inbox every morning
Join our new commenting forum
Join thought-provoking conversations, follow other Independent readers and see their replies