Inside Politics: EU hails 'movement' on Brexit deal
Brussels diplomats have claimed a breakthrough on the level playing field issue – leaving fish as the biggest barrier to an agreement, writes Adam Forrest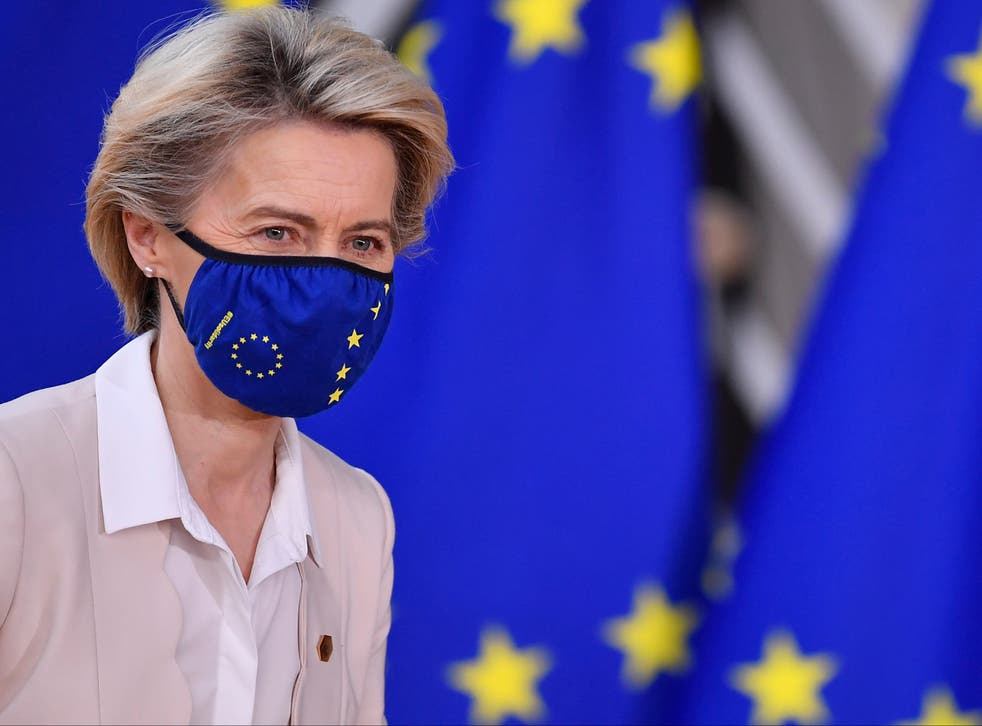 The future ain't what it used to be. The makers of dystopian epic Cyberpunk 2077, the biggest video game of the year, have been forced to offer refunds and apologies after it was pushed out full of bugs, glitches and crashes. There will no refunds and apologies for Brexit, unfortunately. It looks like our epic dystopian exit will be crammed full of bugs, glitches and crashes – even if there is a trade deal agreed. The EU's chief negotiator Michel Barnier has suggested it may already be too late to avoid the damage of tariffs in January 2021.
Inside the bubble
Senior political commentator John Rentoul on what to look out for today:
Cabinet meets this morning and might be briefed on the latest from the Brexit talks. Culture secretary Oliver Dowden will make a statement in the Commons about regulation of social media. And Donna Ockenden will tell the health select committee about her review of maternity services scandal at Shrewsbury and Telford (commissioned by chair Jeremy Hunt when he was health secretary). 
Daily briefing
MOVE ON UP: Suddenly, the mood music upbeat. EU Commission boss Ursula von der Leyen suggested there had been "movement" on level playing field provisions and the "architecture" of a Brexit trade deal was in place. Michel Barnier told EU ambassadors the UK had accepted a "rebalancing mechanism" by which some tariffs could be applied if it diverges too far from EU rules. So it looks like we're back to fishing rights. "[Barnier] was a lot less gloomy than I was expecting," one Brussels diplomat told The Telegraph. "If both sides can come out of their trenches on fish, Barnier said there could be a deal this week." However, Barnier also told the ambassadors that an agreement could come too late to be ratified before 31 December, potentially resulting in an interim period of no-deal. It would mean a short period of tariffs before a trade accord is finally applied. A temporary no-deal by accident? That would a very Brexit thing to happen.
ROCK AND HARD PLAICE: With the threat of a no-deal Brexit remaining very real, European fishermen have warned they're prepared to blockade Calais and other ports the British depend upon. Dimitri Rogoff, the head of Normandy's regional fisheries committee, told French media his members were ready to stop ferries carrying British exports from docking. "We are quite clear and determined," he said. The French finance minister Bruno Le Maire also struck a pugnacious tone. "The British will be the biggest losers from Brexit. Britain would be hurt more by a no-deal Brexit than France." Meanwhile, Northern Ireland secretary Brandon Lewis has admitted only supermarkets will benefit from the three-month "grace" period allowing goods to move freely between NI and GB. One senior Tory has called on Boris Johnson to step down in the event of a no-deal Brexit. Elsewhere, Sir Roger Gale said the PM would have "failed the people of the United Kingdom" and his position would no longer be tenable. How many others would feel the same?
VARIANT POSITIONS: Most of today's front pages are dominated by the announcement that London will be moving into tier 3 from Wednesday morning, along with parts of Essex and Hertfordshire. Health secretary Matt Hancock also revealed that a new variant of coronavirus – "Mutant Covid", according to The Metro – has been identified. Hancock said it may be "associated" with the faster spread in the south of England. Chief medical officer Chris Whitty attempted to reassure us all by explaining there was no evidence for the variant being more dangerous. "It would be surprising, not impossible, but pretty surprising" if the variant had evolved to be able to get around the vaccine, said Whitty. Pub bosses and some Tory backbenchers are unhappy about the capital moving into the toughest tier. UKHospitality chief Kate Nicholls said it again imposed an "unfair, illogical and disproportionate" burden on the industry.
STAY IN YOU SEATS, CLASS: A much bigger fight is emerging over schools in the build-up to Christmas. The government has ordered one south London council to keep its schools open – or face legal action. Education secretary Gavin Williamson warned Greenwich Council not to shut classes early. "Using legal powers is a last resort but continuity of education is a national priority," he said. London's mayor Sadiq Khan – acquiescent over tier 3 – has urged the government to think again and allow schools and colleges in the capital to close early. Khan said he also wanted schools to reopen later in January because of the "significant" Covid outbreak among teenagers. It comes as Speaker Sir Lindsay Hoyle has told non-essential Commons and Lords staff to work from home after several Covid cases across parliament. Meanwhile, Scots have been told to "cut down on unnecessary contacts" right now if they plan to hold family gatherings at Christmas. Nicola Sturgeon also urged people not to hold office Christmas parties. Introverts will be relieved.
BIG TECH TAMED? Social media companies face "multi-billion pound" fines if they fail to protect people under new plans the government sets out today. Facebook and others could be hit with fines of up to 10 per cent of global turnover. However, ministers have dropped proposals to prosecute top tech executives for any serious failures. It comes as the Cabinet Office announces that "unconscious bias training" will be scrapped for civil servants. A government statement said there's no evidence such training actually changes attitudes – and goes so far as urging other public sector bodies to ditch it too. Sir Keir Starmer – who previously said he would undergo unconscious bias training – has clashed with one of his own frontbenchers on culture war issues. Shadow education secretary Kate Green said the titles associated with the British Empire were "offensive and devisive". Asked if he found the honours offensive and decisive, the knight of the realm said: "No I don't."
WE DON'T GET NO RESPECT: Joe Biden said it was "time to turn the page" after US state electors finally, officially declared him the president-elect (reaching 306 in the electoral college). But the Democrat wasn't quite done Donald Trump – saying the outgoing president had "refused to respect the people". He also said the Republican had attempted an "unprecedented assault on our democracy". How did Trump respond? Well, he announced that his attorney general William Barr – who annoyed by saying there was no evidence of fraud – is stepping down before Christmas. It allows Trump to appoint one of his cronies for a few weeks. And it means there may be less resistance if he tries to bypass normal procedures and push through a series of controversial pardons for other cronies in the coming days.
On the record
"If you are planning to meet up with loved ones at Christmas, then being careful now, two weeks ahead … is the right thing to do."
Matt Hancock urges us to be especially careful.
From the Twitterati
"The fact both sides are now competing over the narrative – "who moved/who moved more" – is a good sign. No 10 and European Commission are getting ready/gearing up to "sell" a deal, even if Boris Johnson remains more downbeat."
Mujtaba Rahman says the signs of a deal are good…
"Offered a day or two of broadly positive, albeit mostly specious, PR in return for weeks or even years of largely avoidable problems, Johnson will *always* accept. This applies to Covid, Brexit & everything in between, so seems to be more about his personality than his politics."
…but James O'Brien reminds us who we're relying on for a deal.
Essential reading
James Moore, The Independent: London in tier 3 seems silly knowing Christmas will bring another surge
Sean O'Grady, The Independent: Boris Johnson is about to bring back the worst deal in history
Rachel Sylvester, The Times: The Tories have learned a few lessons from Trump's playbook
Tom McTague, The Atlantic: John Le Carre knew all of England's political secrets
Sign up here to receive this daily briefing in your email inbox every morning 
Join our new commenting forum
Join thought-provoking conversations, follow other Independent readers and see their replies