Trudy Tyler is Working From Home
'My heart did a backflip when a mystery envelope arrived'
With Valentine's Day falling on a Sunday, Trudy knew that any cards would have to come by the 13th. Would this be her lucky year? By Christine Manby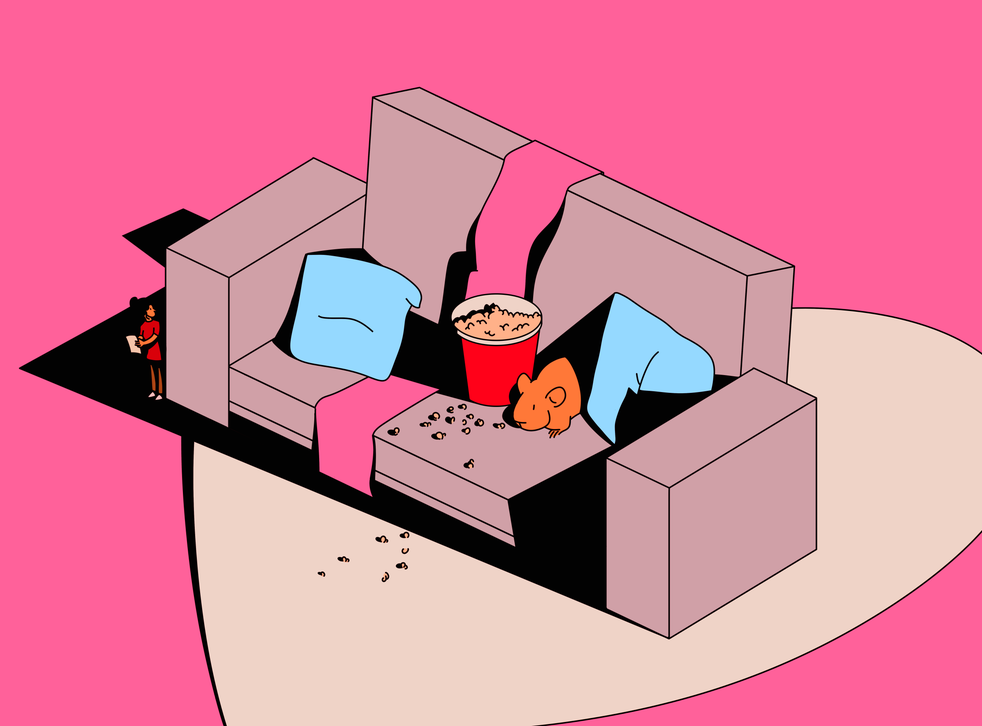 Valentine's Day is a big day in the PR calendar. Since the middle of January, I've been trying to get my clients noticed with all sorts of romance-related banality. I actually did quite well for #Yne (pronounced "Wine", silent hashtag) though personally, if someone suggested toasting love with a parsnip-based non-alcoholic beverage to me, I would probably not consider them a keeper.
Since Valentine's Day fell on a Sunday this year, I knew if I was going to get a card from a mystery admirer, it would have to arrive by the 13th. On the 13th, Glenn the postie knocked on my door with a veritable fist full of envelopes.
"Someone's popular," he said.
I have to admit, my heart did a little backflip. Alas, two of the envelopes contained credit card statements. A third was from my goddaughter Caroline, copying me in on a dossier she'd sent to Priti Patel, outlining her plans for an extended quarantine period for influencers returning from any overseas destination, including those with a lower Covid rate than ours, to deter "frivolous abuses of any future business travel exemptions". It seemed Caroline had forgotten petitioning Grant Shapps for a travel corridor direct from her school to the Swiss Alps for Easter. At the rate she changes her opinion on policy, she's well on her way to becoming a solid Tory candidate for the 2024 election.
Next there was a postcard of the MI5 building with a message in my ex-husband Gideon's handwriting on the back – "The eagle has liftoff. Destroy after reading" – which I took to mean he must have passed the first round of the MI5 vetting process. Either that or he has gone completely lockdown bonkers. Still, not a Valentine.
But then there was a mystery envelope. Small, cream, high-quality. The address was typewritten on a label but someone had added a hand-drawn kiss to the back flap. And there was no stamp. Intriguing. Was Glenn saving on postage costs by hand-delivering his own letters? Right then, I couldn't think of any other straight human male who'd had occasion to notice me since March 2020. Unless… The Foxy Farmer? He could easily have got my address from Liz but he would have had to use a stamp, unless he'd used his SAS skills to abseil into the Balham sorting office and deposit a card in Glenn's trolly unseen.
I decided to save my mystery envelope until I had made myself a cup of coffee and photographed it (the coffee, not the envelope). Bella is persisting with the daily team positivity photo project. To that end, I used my best cup for my Nescafé instant cappuccino and arranged a single heart-shaped shortbread biscuit on the saucer for extra aesthetic effect. Once I'd got the photo I needed, I shook another five biscuits out of the packet. Show me someone who eats one shortbread biscuit at a time and I'll show you a psychopath. Or someone with a Peloton.
Shoving three biscuits into my mouth at once (they were only small), I ripped open the mystery envelope at last, using a dagger-shaped letter-opener that had been a promo giveaway for one of my first accounts at Bella Vista PR – one of those dinner party murder mystery companies. The company folded after a guest got a bit too enthusiastic with a candlestick at a corporate awayday. Manslaughter on the grounds of diminished responsibility.
Anyway, the mystery envelope, that had seemed so full of promise, actually contained a flyer from a local estate agent. "We put love into every transaction," it promised. I wonder how many single homeowners, upon receiving that card, vowed to use Foxtons if they ever had to move again.
So that was it. No secret admirer for me. Though the Foxy Farmer did text to suggest a "Valentine's FaceTime date?" but not until Monday morning. "Sunday is a busy day on the apple farm," he wrote. And Monday is a busy day at the veterinary surgery where your girlfriend works, thought I.
On Saturday evening, I lit one of the Kettle Chip scented candles for which I needed to come up with a blinding PR campaign. Sea salt and cracked black pepper. As the smell of fried potatoes filled the air, Minky the hamster came creeping out from under the fridge. She was looking well. Living under the fridge clearly suited her.
Seeing Minky galvanised something in my mind and in the absence of any romance to distract me, I made a decision to do something truly awful. On Sunday morning, I sent Bella a WhatsApp. "Bad news. Minky died. Found out when I went to clean her cage this morning. She looked very peaceful."
Bella called me right away.
"Oh Trudy! I'm so sorry you had to go through that. If I'd had to deal with a dead hamster, I would have freaked. It was bad enough dealing with a live one. Will you get rid of the body?"
I was hoping she would say that.
"I'll tell Zack she ran away," Bella added.
"Will he be very upset?"
"He won't give a stuff. Just put the cage out with your rubbish."
"You don't want it?"
"Definitely not. I don't want to give Zack any excuse to ask for another pet that I'll be expected to look after. Thank you, Trudy. The last thing anyone expects when they agree to do someone a favour is to have to deal with a corpse."
Funnily enough, that was exactly what I expected to have to deal with whenever certain friends called.
I felt strangely elated when Bella rang off. Her reaction had convinced me I'd done the right thing. She didn't care about Minky and neither did her stepson.
I tipped the usual pile of seed on to the floor next to the fridge. "So that's it, Minky. It's just you and me again. You're free to stay under the fridge for as long as you like now, though I would prefer it if you would get back into your cage so I could at least have some control over where you pee." Still, it would be a long time before I had to worry about anyone noticing my house smelled of rodent widdle if Sage had its way.
I spent Valentine's Day with a hamster. Utterly tragic, I know, but at least she's my hamster now.
Join our new commenting forum
Join thought-provoking conversations, follow other Independent readers and see their replies