Businesses have the power to root out disability exclusion in days, while governments might take decades
The global disability market is larger than China and it should not be viewed as weak, but as a market that drives innovation in the face of seemingly insurmountable barriers, writes Paul Polman
Thursday 21 January 2021 10:46 Comments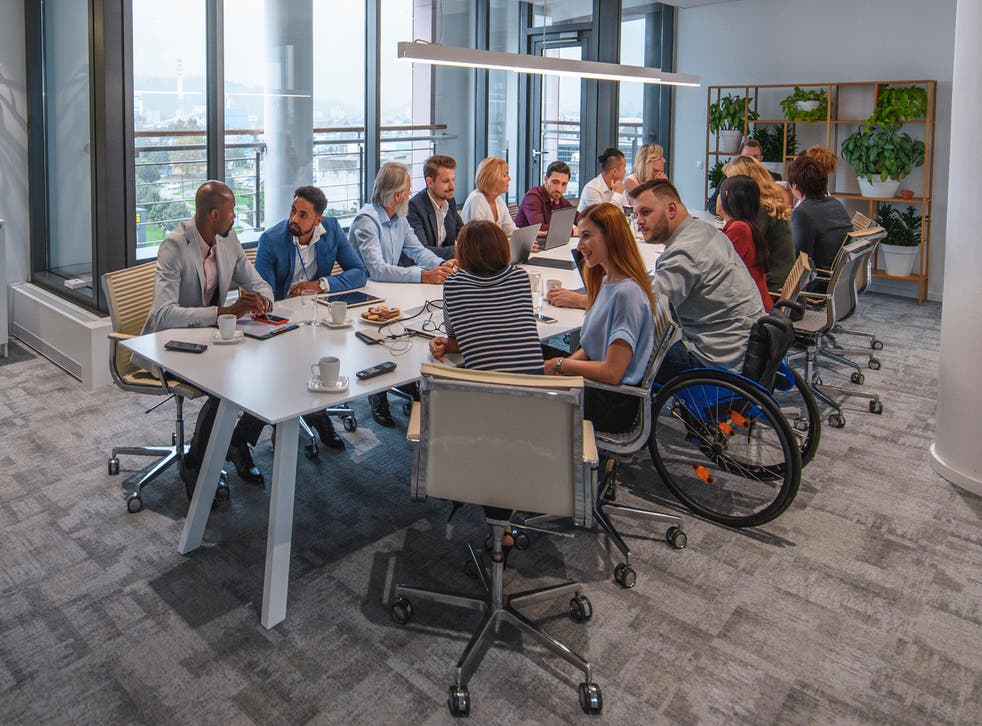 When cartoonists try to sketch a defining image of this year, depictions of frustrated executives saying "sorry, I was on mute" will surely make the shortlist. In the relentless video conferences which have characterised lockdown, we each at some point made important, incisive – but completely unnoticed – observations when our sound was turned off. 
Our frustration when it happens is so palpable that I've been asking business leaders to imagine what it would be like to be on mute permanently. Unvalued in the upper echelons of commerce, crashing against glass ceilings, their talent obscured by the preconceptions of others.
There is a temptation on the part of boards to see a dearth of diversity as a set of issues to be solved one at a time. "Get a tick on gender next year; think about race the year after". In fact, inclusion is something which has to permeate a company's whole culture if it is to mean anything and – when it does – all the issues can be tackled together. Indeed, real change in the boardroom involves looking beyond simple demographics to, for example, disability.
Today (3 December) on the International Day of People with Disabilities (IDPWD), we should take a moment to reflect on the astonishing fact that 50 per cent of companies operating in OECD countries say they would rather pay a fine than comply with legal requirements to include people with disabilities. A recent effort by social entrepreneur and board adviser Patrick Dunne, to research the number of disabled members of FTSE350 boards came to an abrupt end when he said "it looked like there was nothing to count". 
While business has such blinkers on, it's no wonder only four in ten disabled people are gainfully employed among the workforce. The result is a catalogue of missed opportunities and a huge waste of talent. In my ten years as CEO of Unilever, I saw striving for and valuing diversity as both a hallmark of our values and a prerequisite for success. And since diversity can never be found in any one person – only in groups – I was determined to go beyond the principle "two heads are better than one". I regarded access to a range of very different brains, with different experience and different outlooks, as essential to any decision.
To bring that principle to life, we were proud to support inclusivity activist Caroline Casey in the formation and launch of The Valuable 500, a global movement asking CEOs from the world's biggest companies to catapult disability up their priority list. Procter and Gable, Fujitsu, Bloomberg, Barclays and Accenture are among the household names to help us get off the ground, and since then 360 other CEOs have joined. Because long journeys start with a single step, each of them has agreed – right away – to put disability on their board agenda, and to make at least one firm, public commitment to action by January 2021.
By early next year, we hope to have 500 CEOs signed up, making this index every bit as influential as the Fortune 500.  Together we want to transform the way business sees people with disabilities – not as a weak, or damaged, or dependent group but as an incredible market, which is used to drive innovation in the face of seemingly insurmountable barriers. Just as gender equality has been shown by the UN's International Labour Organisation to improve profitability by up to 20 per cent, we believe bringing disability to the table will not only meet a moral imperative, but represent a shrewd investment. 
After all, the global disability market is larger than China. Together people with disabilities and those whose lives directly touch them control more than $8 trillion in annual disposable income. If our companies – at the highest level – don't represent these consumers, we are muting the voice of a whole market.
Working together, business can be the most potent agent of change on the planet. We can root out exclusion in days where governments might take decades. By starting in the boardroom, and then working across whole supply chains, we can shift the dial on disability. We can move from a condescending lecture about welfare to an inclusive conversation about power.  With disabled voices not just in the room, but at the table, we can imprint inclusivity in our brands, and make it a feature consumers increasingly expect and demand.
Now is the moment to come off mute. Now is the moment to join that conversation. I'm calling on the CEOs of the world's largest companies to join the Valuable 500. By next year's IDPWD we can and must begin to foster a new, inclusive business culture, as the foundation stone for an inclusive society.
Paul Polman is chair of the Valuable 500 and co-founder of IMAGINE, a social venture accelerating business leadership to achieve the Global Goals.
Register for free to continue reading
Registration is a free and easy way to support our truly independent journalism
By registering, you will also enjoy limited access to Premium articles, exclusive newsletters, commenting, and virtual events with our leading journalists
Already have an account? sign in
Join our new commenting forum
Join thought-provoking conversations, follow other Independent readers and see their replies