Only by going vegan can we begin to call time on Britain's factory farm crisis
In 2000, the National Farmers' Union launched the Red Tractor scheme to encourage UK farms to stop animal cruelty. But investigations show the label is not worth the packaging it is written on, says Juliet Gellatley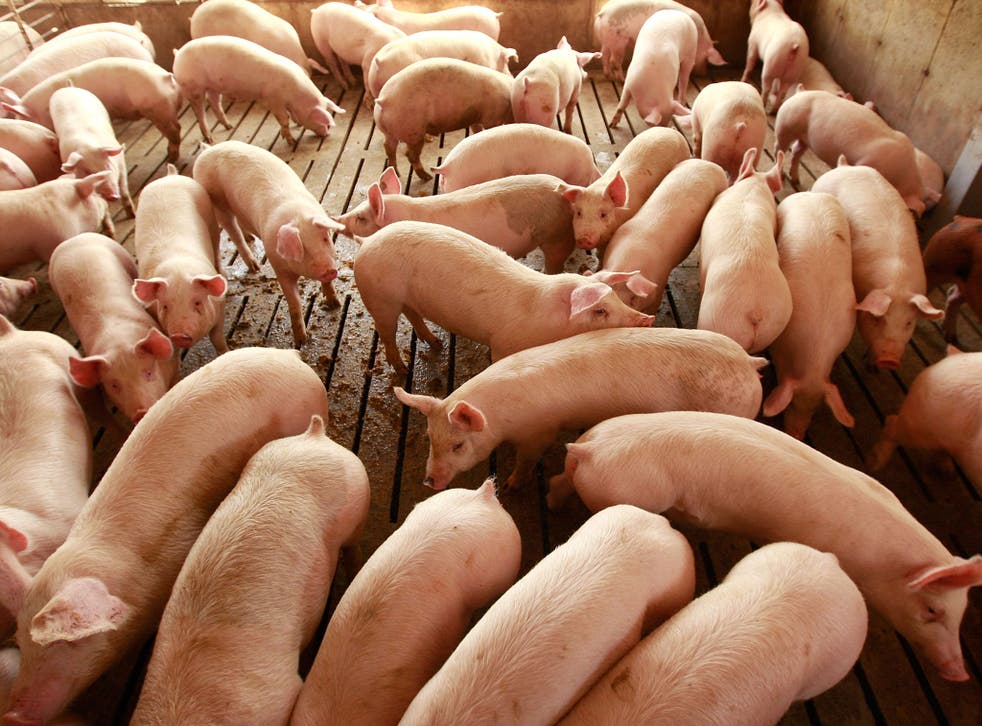 In early 2000, the National Farmers' Union was under serious pressure. After years of giving animal rights campaigners the cold shoulder, Whitehall was beginning to think they might just have a point. Late 1999 saw a ban on the confinement and tethering of pregnant pigs in sow stalls, while in Brussels the EU issued a directive seeking to end the endemic mistreatment of farmed hens.
Fearful of further swingeing regulation, the NFU was desperate to be seen to be clearing up its act. And so in June 2000 it launched the Red Tractor scheme – a self-billed "landmark" piece of self-regulation. Consumers choosing Red Tractor-approved meat and dairy could shop safe in the knowledge their food met some of the strictest animal welfare standards anywhere in the world – or so the NFU press office claimed.
But the reality is very different. And after two decades investigating welfare standards at Red Tractor-approved farms, I am clearer than ever the label is not worth the packaging it is written on. Indeed, earlier this year we exposed the atrocious conditions present at two Red Tractor-approved farms with contracts to supply pork products to Morrison's.
At Calvesley Farm in West Berkshire each newborn piglet is pulled from the farrowing crate and ruthlessly thrown into a metal trough. Investigators captured workers using a barbaric hot knife to slice the piglets' tails back to a bleeding stump and a pair of pliers to clip away their teeth – all without pain relief. These cruel acts are supposed to prevent tail biting, a behaviour that manifests from distress and lack of stimulation.
One of the most distressing scenes captured by vegan charity Viva! shows a farm worker killing young piglets by slamming their tiny heads onto the concrete floor. It's a brutally cruel act, which is followed by the worker dumping the bodies aside – presumably because these animals were considered too small to be profitable. While at Whiteshoot Farm in Oxfordshire sick piglets are left to die in walkways.
Worryingly, the shocking cases of Whiteshoot and Calvesley are far from isolated incidents. Last year Viva! recorded hidden camera footage at Hogwood Farm in Warwickshire, a mega farm which supplied Tesco. The footage shows piglets kicked and thrown by farm workers, terrified pigs struck with metal riding crops and hand tools, confined pigs being painfully injected and dead pigs dumped into rotting piles. Shockingly, pigs were still being brutally bitten and bullied by others, unable to escape the constant attacks. After feeling the full force of the public outcry prompted by the footage, Red Tractor was forced to suspend Hogwood Farm's certification.
The curious case of the Red Tractor scheme points to a shocking truth. Real animal welfare cannot exist in a world where humankind places ever greater demand on farms to produce endless meat and dairy products. And despite an alphabet soup of industry standards and labels, it is impossible to second-guess the welfare record of each of Britain's more than 200,000 farms.
I am firmer in my belief than ever before that when animals are humiliated and abused we surrender our most basic humanity. When we force sentient beings to contend with the disgusting squalor of factory farms we all suffer. When we treat living creatures as a commodity to be exploited on a neverending conveyor belt of corporate greed, we ride roughshod over the most basic ethical standards.
Our political leaders must find the courage to ban factory farming. Self-regulation has proven totally ineffective at promoting better welfare standards and real change will only come with a blanket ban. To make this a more realistic prospect we need to see a rapid reduction in demand for meat and dairy products. This means going vegan at the earliest opportunity – or at least partially reducing our consumption of animal-based products.
Only by going vegan can we begin to call time on Britain's factory farm crisis once and for all.
Juliet Gellatley is founder and director of vegan campaign charity Viva!
Register for free to continue reading
Registration is a free and easy way to support our truly independent journalism
By registering, you will also enjoy limited access to Premium articles, exclusive newsletters, commenting, and virtual events with our leading journalists
Already have an account? sign in
Register for free to continue reading
Registration is a free and easy way to support our truly independent journalism
By registering, you will also enjoy limited access to Premium articles, exclusive newsletters, commenting, and virtual events with our leading journalists
Already have an account? sign in
Join our new commenting forum
Join thought-provoking conversations, follow other Independent readers and see their replies