Are one in four young French people really unemployed?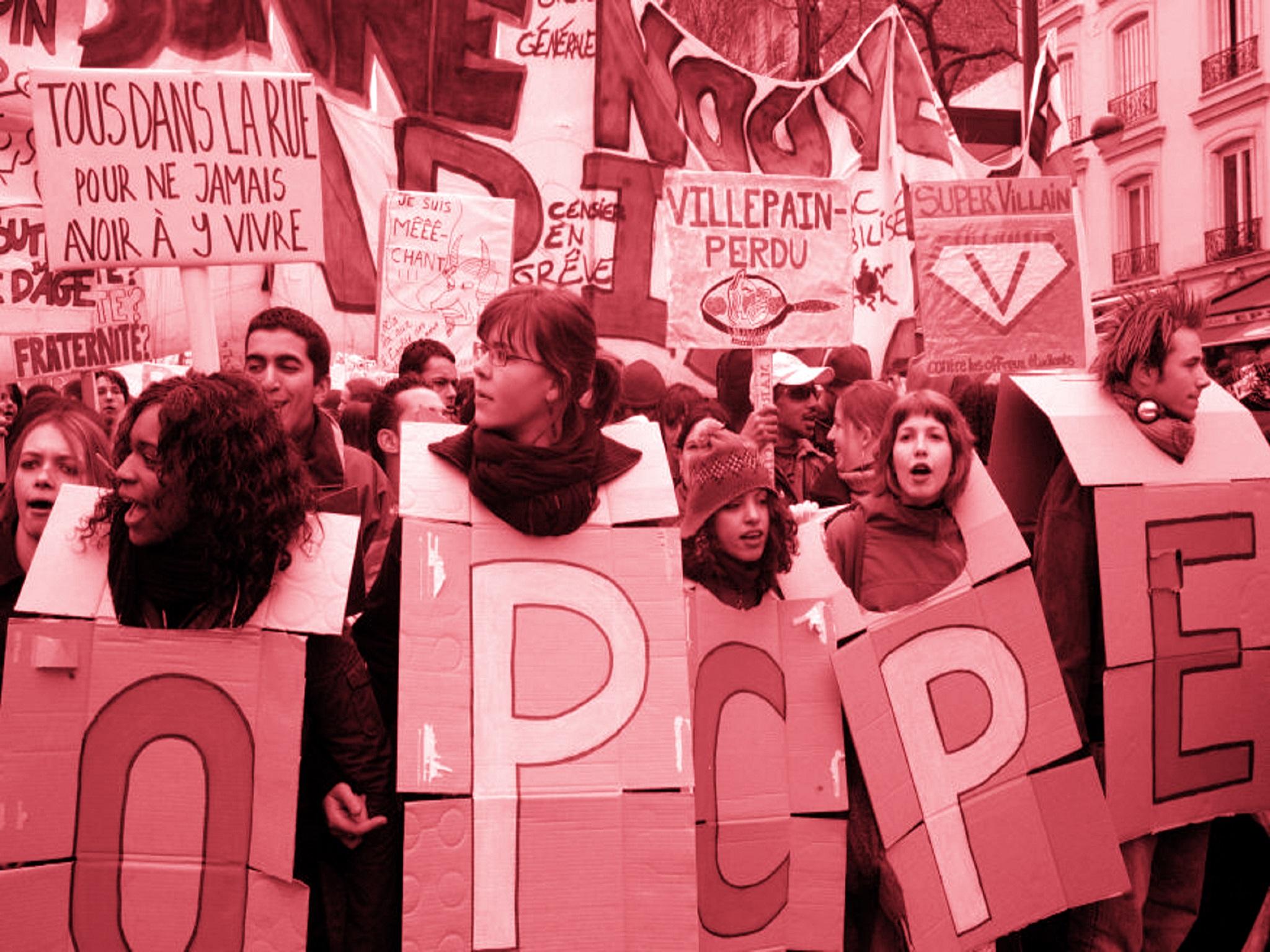 We're told that a quarter of young French people are jobless.
This is a "particularly bad" rate according to the BBC.
Levels of French youth unemployment are "twice the levels of the UK and Germany" notes the Financial Times, suggesting that this fact likely drove many of them into voting for Marine Le Pen in the recent Presidential election.
French youth are part of Europe's "lost generation", says CNN.
Sky-high youth unemployment is frequently cited in the media as an illustration of the sclerotic French economy that the new President, Emmanuel Macron, urgently needs to reform.
But is it true? In fact, these headline jobless figures should be handled with more care.
What's the difference between ratio and rate?

There are two ways of measuring youth unemployment: the youth unemployment rate and the youth unemployment ratio. And in the examples above reporters are referencing the first.

But this may be misleading. The youth unemployment rate is the number of the country's youth (defined as those between 15 and 24) who are unemployed as a share of the numbers of young people in that age bracket who are considered part of the active labour market, meaning they are actively seeking work.

The youth unemployment ratio is the number of the country's youth who are unemployed as a share of the total number of young people in that age bracket, regardless of whether they are seeking work or not.

This is a particularly important distinction for this age group since so many of them tend to be in higher education or vocational training and are thus not part of the active labour market.

What are France's figures?

According to Eurostat, the French youth unemployment rate in 2016 was indeed 24.6 per cent, or around one in four. And this was around double the UK rate of 13 per cent.

But the EU statistics agency also reports that the French youth unemployment ratio in that year was just 9.1 per cent, not so dramatically different from the UK ratio of 7.6 per cent.

So, depending on which metric one uses, the French youth joblessness situation is either twice as bad as the UK's, or roughly the same.

"One reason France looks worse on youth unemployment rates is that it has a much higher post-compulsory education participation rate than the UK, and that's why the difference is much less when we compare the unemployment ratios than when we look at unemployment rates," explains Nigel Meager, director of the Institute for Employment Studies.

This is borne out by 2016 OECD data on education participation rates. This finds that the number of French 18 year olds in tertiary education is 38 per cent, rising to 47 per cent for 20 year olds. For British 18 year olds the comparable figures are 21 per cent rising to 40 per cent for 20 year olds.

The French youth unemployment rate is significantly higher than the UK figure in large part because the rate is calculated as a share of a smaller pool of active workers.

Are the French youth fine then?

Does this mean that painfully-high French youth unemployment is a non-story? Not entirely. The French youth unemployment ratio has increased from 7.7 per cent to 9.1 per cent since 2005. Things have got worse over the past decade.

Moreover, there are other features of the French jobs market that create difficulties for French youth.

Mr Meager cites "the 'insider-outsider' nature of French employment contracts and the proliferation of short-term contracts which makes it harder for youngsters to break into permanent jobs." In other words, it's not just the number of jobs for young people, but their quality that matters.

One must also consider the quality of the education. If young people are lingering in higher education for longer, perhaps because of a lack of opportunity in the jobs market, or because the wider economy is in recession, rather than because the education is beneficial, that could artificially skew the ratio figure.

But an upsurge in unproductive lingering doesn't seem to be happening in France. According to the OECD, the proportion of 20-24 year olds in education in 2005, before the eurozone crisis, was 51 per cent (versus 32 per cent in the UK). That's roughly similar to the latest figures for both countries.

What about Spain and Greece?

Finally, does all of the above also apply to Greece and Spain, where youth unemployment is also reported as being extremely elevated, with many claiming it is as high as 50 per cent?

To some extent the answer is yes. The Spanish higher education participation ratio is considerably higher than in the UK at 35 per cent for 18 year olds, rising to 48 per cent at age 20. In Greece it rises from 47 per cent to 55 per cent.

This upwardly biases the youth unemployment rates of those countries relative to the UK, just as it does for France.

Yet at the same time the youth jobless ratio of those states has risen since 2005, up from 8.7 per cent in Greece to 11.7 per cent (3 percentage points) and up from 9.4 per cent in Spain to 14.7 per cent (5.3 points). Those are bigger moves than France's increase from 7.7 per cent to 9.1 per cent (1.4 points).

The situation for the youth in those countries is, by either metric, worse than in France. And similar "insider-outsider" job market problems plague young people there too.

Should we ignore the youth unemployment rate?

The advice of labour market experts is to consider both the rate and the ratio when making cross-country comparisons - but, more importantly, not to focus on these metrics to the exclusion of other important aspects of the youth labour market experience.

"Youth unemployment in the UK and elsewhere is a serious issue deserving of great attention. But it's overestimation, misreporting, misinterpretation and misuse leads to an excessive policy and resource focus, inappropriate policy responses and an overconcentration on it relative to other dimensions of unemployment," argues Professor Mike Campbell of Durham Business School.

"It tends to over-emphasise the importance of unemployment per se relative to other less well known but as important labour market issues like precarious employment, under-employment, low pay and long-term unemployment, some of which in particular affect young people."
Join our commenting forum
Join thought-provoking conversations, follow other Independent readers and see their replies