'Huge burdens' face cash-strapped Jordan struggling with refugee crisis
Jordan has taken in close to 1.3 million refugees from Syria and has already spent more than $10bn in hosting them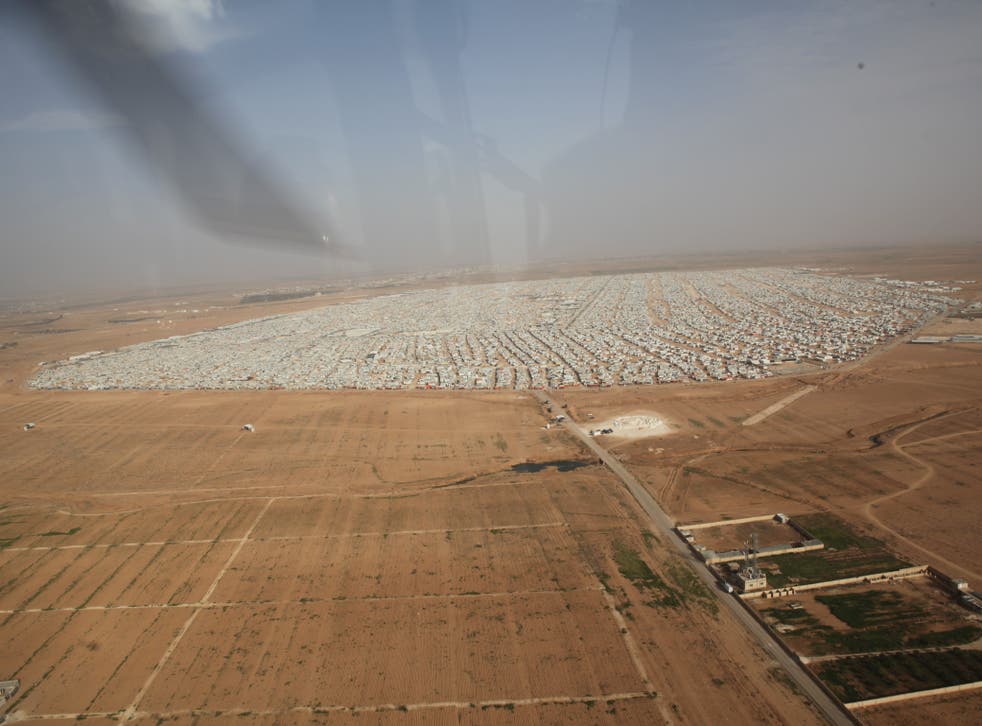 Jordan is struggling to cope with millions of refugees and cannot deal with a new influx from Syria, officials and aid workers have warned, amid unprecedented funding shortfalls that are threatening to jeopardise essential support given by the United Nations and charities.
Jordanian foreign minister Ayman Safadi warned visiting American officials on Tuesday that Jordan has taken in close to 1.3 million refugees from Syria and has already spent more than $10bn (£7.7bn) in hosting them.
He told US special representative for Syria engagement James Jeffrey of the "huge burdens" the country was bearing at time when its capabilities are already limited because of domestic economic troubles.
The Kingdom has repeatedly warned it had exceeded its capacity to host refugees from Syria and last week said it could take no more. Jordanian officials are now backing Syrians' voluntarily returning home to their war-torn country, which is controversial.
But the pressure was ratcheted up this week when Washington announced it was slashing all funding to the UN's Palestinian refugee programme (Unrwa).
Jordan is also home to more than 2 million of the over 5 million Palestinian refugees registered with Unrwa, whose biggest donor last year was the US.
Aid agencies warned that without the support of UN programmes and charities, Jordan would not be able to cope with multiple refugee communities. Aside from a substantial Syrian and Palestinian refugee community, Jordan is also home to over 66,000 refugees from Iraq, according to UN statistics.
"The influx of Syrian refugees has had a huge impact on Jordanian service delivery – which was already strained for its own population," said Alessia Mortada, of War Child, an NGO that provides education and mental health services to thousands of Syrian refugee children, their parents and care givers in Jordan.
The majority of Syrian refugees in Jordan live in urban host communities and in poverty: over 85 per cent live below the poverty line. However, there are still five refugee camps in the country and an additional 16,000 living in irregular tented communities on private land where they lack basic hygiene and sanitation.
Ms Mortada said that with no money and scant opportunities to secure official documents or permits to move around Jordan, many refugees were stuck in a "vicious cycle".
"If it wasn't for the NGOs or the UN, the Jordanians alone would not to be able to provide vital services such as medical care, education, in refugee camps, let alone in host communities," she added.
Ms Mortada added that the US decision to slash over $300m of $365m funding promised for Unrwa this year, would have a significant knock on effect on Jordan in general.
The US, which has called Unrwa "irredeemably flawed", was last year its biggest donor.
Jordan, a staunch US ally, is one of the countries worst affected by the Syria crisis, shouldering a massive refugee influx on top of the Palestinian refugees it already houses.
At the start of the Syrian war, Jordan allowed hundreds of thousands of refugees to cross the border on foot. After imposing selective admission in 2012, they effectively closed their borders two years ago citing security fears.
The Independent launches the #LearnToLive campaign
Earlier this summer some 60,000 Syrians sought shelter near the border with Jordan from a brutal regime onslaught on the then-rebel held Deraa province. The country still refused to answer pleas to open its borders even when fleeing families, unable to escape, were shelled near the border fences.
Despite these measures, the numbers in Jordan are still huge. According to the UN, refugees amount for nearly 10 per cent of Jordan's population, placing massive pressure on overstretched resources at one of the most difficult economic periods in the country's history.
Jordan's King Abdullah was forced to replace his prime minister in June to defuse the largest protests in years which erupted amid an austerity drive, as the country tried to meet the demands of a much-needed International Monetary Fund loan.
A hike in sales taxes, the abolition of bread subsidies and proposed new income legislation hit the poorest, prompting the rare rallies. Unemployment rose to 18.7 per cent this week.
And so with the Syrian war dragging into its eighth year, and little hope for the speedy return of refugees, there is little Jordan can do.
Aid agencies and charities are now struggling to plug the gap, amid donor fatigue and assumptions that there is no longer an emergency humanitarian response needed.
"There needs to be a long-term plan. People cannot return home, it is not safe. A crisis in funding is not helping at all," Ms Mortada said.
Register for free to continue reading
Registration is a free and easy way to support our truly independent journalism
By registering, you will also enjoy limited access to Premium articles, exclusive newsletters, commenting, and virtual events with our leading journalists
Already have an account? sign in
Register for free to continue reading
Registration is a free and easy way to support our truly independent journalism
By registering, you will also enjoy limited access to Premium articles, exclusive newsletters, commenting, and virtual events with our leading journalists
Already have an account? sign in
Join our new commenting forum
Join thought-provoking conversations, follow other Independent readers and see their replies