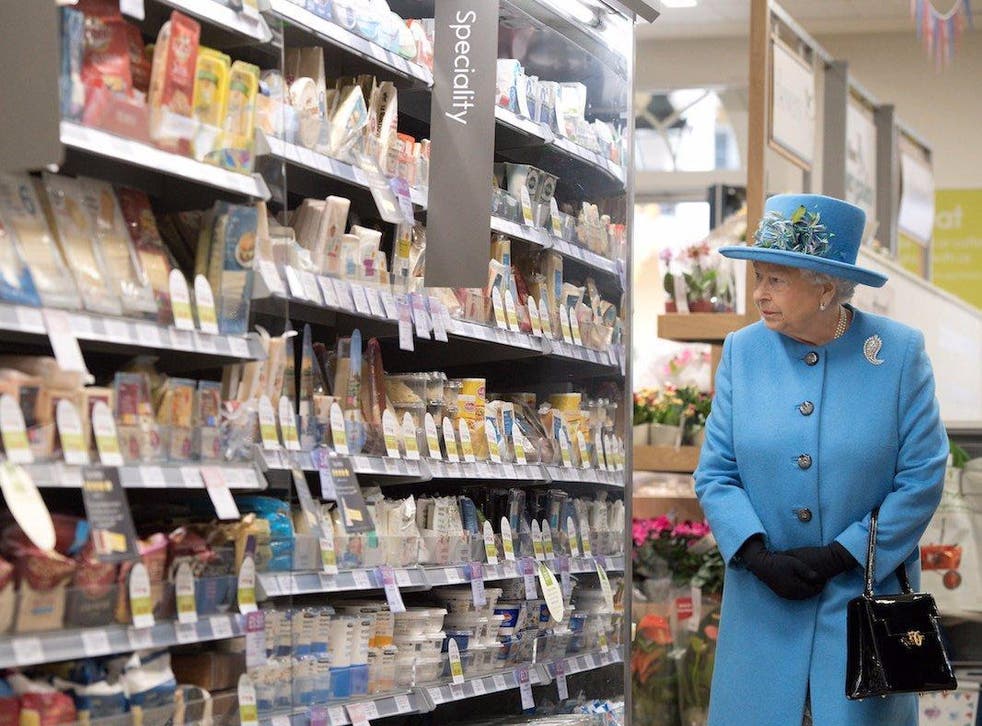 11 places Queen Elizabeth II shops for clothes, household goods, and everyday items
In many ways, Her Majesty the Queen lives a very different life from anyone else.
As well as all her royal duties, her home life can be quite surreal. Someone plays the bagpipes outside her window every morning and she has a member of staff who breaks her shoes in for her.
In other ways, however, Queen Elizabeth II is just like us. These photos showed how she travels by train, goes to the zoo, and even browses around Waitrose.
Her diet is also pretty normal. She starts the day with tea and biscuits, and she's partial to a chicken salad for lunch.
But where does the Queen get all her clothes and other everyday items from? It's unlikely you'll ever spot her doing her own shopping, but she does have some favorite places she repeatedly buys things from.
We did some research into the Queen's favorite shops, and what she buys in each. If you want to know where to get a pair of shoes just like hers, you've come to the right place.
Umbrellas — Fulton Umbrellas
Wherever the Queen goes, she is prepared for the weather. Her Majesty is often spotted with a transparent Fulton umbrella, allowing everyone to see her while she stays dry. According to the Fulton website, "not only do these allow her to be seen by her public, they're completely bespoke and are made to match her outfit."
Shoes — Anello & Davide of Kensington
Comfort and support are key when the Queen is looking for shoes. She can almost always be seen in her signature heels, and she's worn the same style for over five decades. Originally, she bought them from the British company Rayne, who made shoes for stars like Liz Taylor, according to the Telegraph. However, Rayne went out of business, and her Majesty was apparently so distraught that she tracked down a former Rayne employee called David Hyatt who was then working for another shoe maker, Anello & Davide.
According to the Daily Mail, David Hyatt said: "We supply one or two pairs a year and occasionally renew the tops and re-heel them. The Queen doesn't waste money."
Hats — Rachel Trevor-Morgan
The Milliner to The Queen — or the Queen's hat maker — is Rachel Trevor-Morgan, based in St. James, central London. She was granted Royal Warrant in 2014. Trevor-Morgan has also made hats for Elizabeth Taylor, Joan Collins, and Princess Diana.
Coat — Barbour
When the Queen is doing official business, she is dressed impeccably by over 12 wardrobe staff in a perfectly matched hat and coat. However, when she's walking around the castle grounds, you're more likely to see her in a Barbour jacket. The Daily Mail reported that she's had the same jacket for over 25 years. When she was offered a new coat worth £300 for her Diamond Jubilee, her Majesty instead said she wanted to get her old one re-waxed and spruced up.
Waterproofs — Burberry
When it is raining, her Majesty rarely ever leaves her royal homes without a Burberry waterproof. The company has had a Royal Warrant since 1919, when it was appointed by George V as a tailor. Queen Elizabeth II granted Burberry a Royal Warrant as a Weatherproofer in 1955.
Household goods — John Lewis
According to Campaign magazine, the John Lewis store on Oxford Street, London gained a Royal Warrant in 2008 as a supplier of haberdashery and household goods. The store in Reading also has Royal Warrant as suppliers of household and fancy goods. According to The Express, the Duchess of Cambridge is often spotted at the Peter Jones branch of John Lewis in Chelsea.
Socks — Corgi Hosiery Ltd.
Quite appropriately, the Queen gets her socks from Corgi Hosiery Ltd. Whether she really likes their products or simply enjoys the name, we're not too sure.
Wellies — Hunter
Hunter was awarded a Royal Warrant from the Duke of Edinburgh in 1977, and another from The Queen in 1986.
Underwear — Rigby & Peller
Rigby & Peller has been providing the Queen with bespoke undergarments since 1960. The company also provided products to The Queen Mother and Princess Margaret, Countess of Snowdon.
Christmas crackers — Tom Smith Group Ltd.
Tom Smith has held a Royal Warrant since 1906 to supply the Royal Household with Christmas Crackers, since the reign on George V. In 2013 the company was awarded a second Royal Warrant for the supply of wrapping paper.
Stationery — Frank Smythson Ltd.
Frank Smythson Ltd, more commonly known as Smythson, is a manufacturer of luxury stationery, leather goods, and diaries based in London. It was one of only eight companies in the world to hold four Royal Warrants simultaneously — one from Her Majesty the Queen, one from Prince Charles, one from The Duke of Edinburgh, and one from the Queen Mother — a position it held until 2007.
Read more:
• This chart is easy to interpret: It says we're screwed
• How Uber became the world's most valuable startup
• These 4 things could trigger the next crisis in Europe
Read the original article on Business Insider UK. © 2016. Follow Business Insider UK on Twitter.
Register for free to continue reading
Registration is a free and easy way to support our truly independent journalism
By registering, you will also enjoy limited access to Premium articles, exclusive newsletters, commenting, and virtual events with our leading journalists
Already have an account? sign in
Join our new commenting forum
Join thought-provoking conversations, follow other Independent readers and see their replies