The Independent's journalism is supported by our readers. When you purchase through links on our site, we may earn commission.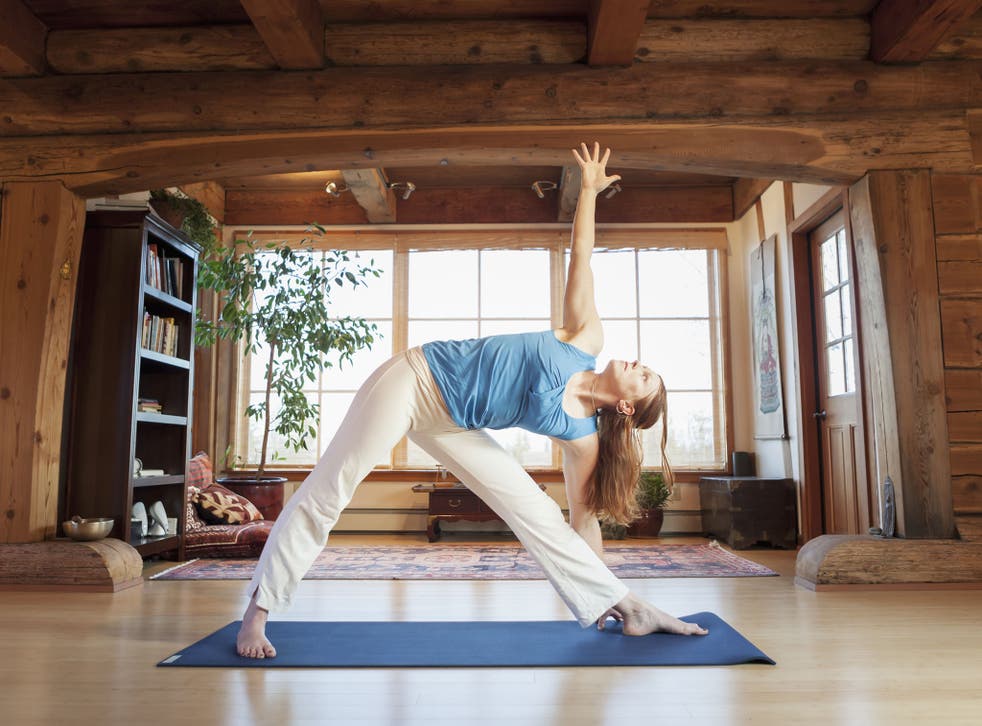 16 health trends to look out for in 2016
Step lively!  The fad-tastic health and fitness industry has already moved on to the next thing
Siobhan Norton
Tuesday 19 January 2016 16:12 Comments
High-spec supplements
Vitamins go premium, with comprehensive packs and delivery services to make sure you're deficient in nothing. Inner Me offers age-tailored packs with vitamins, minerals, Omega 3 and probiotics, while subscription company Vitl has daily doses of vitamins, krill oil, Co-Enzyme Q10 and supergreens. vitl.com
---
Sirts
Forget counting calories, in 2016 we'll be counting Sirts. New book The Sirtfood Diet claims that certain foods are rich in nutrients that can activate the same "skinny" genes in our body that fasting does. So load up on the celery, kale, olives, green tea and (hurrah!) red wine, cocoa and coffee. amazon.co.uk
---
DNA fitness
Several companies offer a bespoke diet and fitness assessment. Using a saliva swab, they analyse your genetic make-up to see what kind of foods suit you best, how you respond to exercise, recovery times and tendency to illness. Premier League teams have employed one such company, DNAfit, to hone their regimes. dnafit.com
---
Amaranth
Quinoa is so 2015. The new "supergrain" is a tiny seed, beloved by the Aztecs but is probably lurking in most people's gardens. Amaranth is high in protein and contains high levels of magnesium, iron, calcium, zinc and vitamin B. Watch out for it popping up in breads, porridge and on the trendiest restaurant plates.
---
Oil pulling
In India they may argue that this is not exactly a "new" trend. The ancient Ayurvedic practice involves swishing coconut or sesame oil around the mouth to "pull out toxins". Whether that actually happens is debatable, but modern oil pulling fans say it whitens teeth and improves oral health.
---
Studio lagree
If you thought Reformer Pilates was tough, this is a whole other ball game. Originating in Canada, the no-impact programme features targeted exercises performed at a slow and controlled pace on a "Megaformer" platform, activating slow twitch muscle fibres to build the long lean physique. studiolagree.com
---
Kombucha bars
We've known about the probiotic wonders of fermented tea kombucha for a while now, but now all the cool kids are quaffing it. Jarr Bar in London's Hackney Wick is offering it straight - still or sparkling, or mixed with fruit juice or in alcoholic cocktails, and Cardiff's Anna-Loka, also features kombucha on its menu.
---
Luxe loungewear
It's become acceptable to wear Nikes to brunch and Lurex in the pub, but spring has a cosier edge to it. Cashmere jogging bottoms, ballet-style wrap knits and silky vest tops will be acceptable far beyond morning meditation sessions or cuddles on the couch. It's like wearing pyjamas. All day long. Just don't doze off in the office.
---
At-home spa
Forget heading home from your pedicure in flip flops. Now companies like CitySwish will come to your home, complete with massage table, nail kit or even spray-tan tent – and all for the same price you'd pay at a salon. Perfect ahead of a big event… or, heck, just because you had a lousy Wednesday. cityswish.com
---
Birch water
Forget coconut water, this is the new prestige thirst-quencher. The health claims associated with birch water are long – balancing cholesterol, boosting immunity, hydration and replenishing electrolytes. If you don't fancy drinking it, try it at home as a skincare ingredient.
---
Inside-out beauty
The stuff you put on your face is only half the battle. Now skincare companies are focusing on supplements to boost skin's firmness and suppleness. Anti-aging range Sönd uses silica in topical skincare and supplement form to boost collagen production and act as a natural anti-inflammatory for sensitive skin. sondskin.com
---
Meditiation holidays
Once upon a time, if you wanted silence on your holiday you would have to book yourself into an ashram, or have a blazing row in the departure lounge. Now meditation holidays give you that peace of mind, along with some luxury. Try Longevity Wellness Resort in Portugal for mindfulness sessions, massage and a sense of calm.
---
Adaptogens
Forget superfoods, 2016 is all about superherbs. Adaptogens include maca, ginseng and moringa, and are all said to help your body adapt to stress. Add them to smoothies or soups for the ultimate boost.
---
Clever cardio
You know you need to push your heartrate to improve cardiac fitness – but how do you know if you're working hard enough? Gym treadmills have been fitted with heart monitors for a while, but now group-trainers are following suit. At Speedflex's nationwide studios, a monitor is strapped to you so you can track your performance, and calories burned. Speedflex.com
---
Liquid probiotics
Probiotics are part of many of our routines, as gut health is recognised as a key issue, with around 20 per cent of us suffering IBS. Symprove is a water-based probiotic said to be more potent than tablets. A daily dose may be the solution to that elusive flat tummy. Symprove.com
---
Avocado oil
Coconut, shmoconut. While avo-on-toast was 2015's Instagram hit, it's the oil that is emerging as a real star. On salads, for cooking, in skincare, as a hair mask, avocado oil is rich in skin-loving vitamin E, which is also said to help strengthen immunity – nourishing inside and out.
Register for free to continue reading
Registration is a free and easy way to support our truly independent journalism
By registering, you will also enjoy limited access to Premium articles, exclusive newsletters, commenting, and virtual events with our leading journalists
Already have an account? sign in
Register for free to continue reading
Registration is a free and easy way to support our truly independent journalism
By registering, you will also enjoy limited access to Premium articles, exclusive newsletters, commenting, and virtual events with our leading journalists
Already have an account? sign in
Join our new commenting forum
Join thought-provoking conversations, follow other Independent readers and see their replies