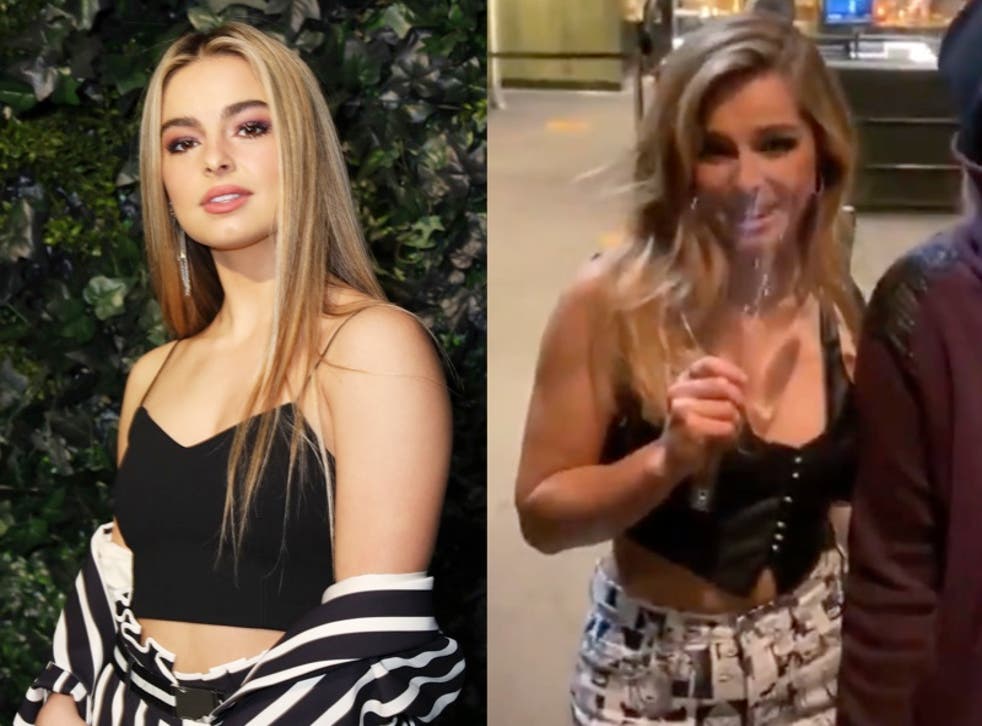 Addison Rae sparks controversy after using a handheld face shield instead of a mask
'Ma'am that is a hairspray shield...' one person tweeted
Leer en Español
TikTok star Addison Rae is facing criticism after using a handheld see-through face shield instead of a face mask while posing with fans amid the pandemic.
On Friday, the influencer appeared on the Tonight Show Starring Jimmy Fallon, with photos and videos showing Rae taking time to pose with fans and audience members after leaving the studio.
However, rather than wear a face mask that covered her face and looped around her ears, or any other approved face covering, the 20-year-old chose to simply hold a glass shield, which resembled those used when applying hairspray, in front of her face while smiling for photos.
On Twitter, Rae's decision to rely on the shield rather than a mask sparked backlash among her fans, with many calling out the social media star for seemingly prioritising her appearance over the safety of others.
"Omg Addison Rae looks so pretty through her see-through mask not caring about the pandemic," one person tweeted.
Read more:
Another said: "The fact that some 'influencers' will go above and beyond to stay relevant is so?? Who's gonna tell Addison Rae that we don't give a f*** about looking at her lip gloss, stay in your lane and wear a mask. It isn't that hard."
"How vain do you need to be to think this hand held contraption looks better than just wearing a f***ing mask?" someone else asked.
Others pointed out that it takes more effort to hold the face shield that Rae used than to wear a normal mask, with another person tweeting: "The effort it takes to hold this sh*t and walk around with it instead of just wearing a mask," while someone else wrote: "Help what is this?? Wouldn't it be easier to wear a simple mask."
According to the CDC, masks should fit snugly around your face as gaps"can let air with respiratory droplets leak in and out around the edges of the mask".
While Rae's see-through mask was criticised for its ineffectiveness, some designers have created plastic masks for those with hearing difficulties, for which lip reading can be a vital communication tool.
The TikTok star, who has more than 78.9m followers on the app, isn't the only celebrity to spark backlash for ineffectively wearing a mask amid the pandemic, as Lana Del Rey also faced similar criticism when she wore a mesh mask to a meet-and-greet with fans.
The mask controversy comes after Rae also faced backlash for her segment on Jimmy Fallon, which saw herperform TikTok dances as the eponymous host held up signs. The pair came under fire shortly after for failing to credit the original choreographers, many of whom are Black. 
Rae addressed the backlash while speaking with TMZ, where she said: "I think [the creators] were all credited in the original YouTube posting, but it's kinda hard to credit during the show. But they all know that I love them so much and I mean, I support all of them so much. And hopefully one day we can all meet up and dance together."
Join our new commenting forum
Join thought-provoking conversations, follow other Independent readers and see their replies