Bantu knots: What are they and why has Adele been accused of cultural appropriation?
Singer wore the hairstyle with Jamaican flag bikini top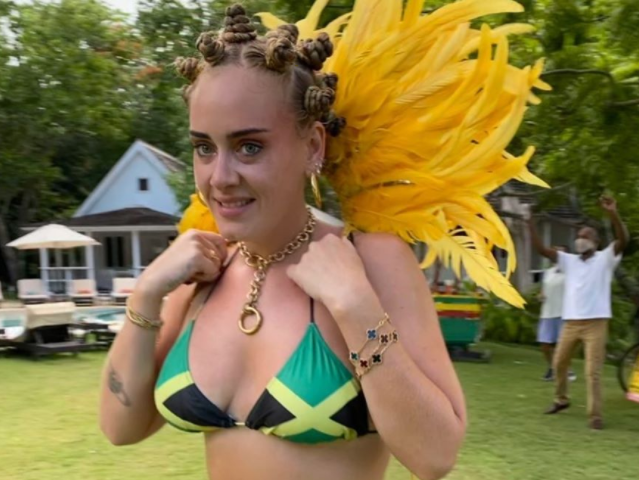 Adele has sparked an online debate regarding cultural appropriation after posting a photo of her wearing a traditional African hairstyle.
On Sunday, the singer shared an image of herself on Instagram wearing a Jamaican flag bikini top, a feather headdress and her hair in Bantu knots to celebrate Notting Hill Carnival, which this year became a virtual event due to the coronavirus pandemic.
"Happy what would be Notting Hill Carnival my beloved London," she wrote in the caption.
While some praised Adele for celebrating Caribbean culture, others accused her of cultural appropriation, with one person writing: "If 2020 couldn't get anymore bizarre, Adele is giving us Bantu knots and cultural appropriation that nobody asked for.
"This officially marks all of the top white women in pop as problematic. Hate to see it."
But, what exactly are Bantu knots and why has Adele been criticised for wearing them? Here is everything you need to know.
What are Bantu knots?
According to Naturally Curly – an online resource for women with natural and textured hair – Bantu knots are a traditional African hairstyle that has been around for more than 100 years.
Typically worn as a protective hairstyle for women with Afro-textured hair, the style is made by twisting sections of the hair until it forms a knot.
The South Africa History Organisation (SAHO) states that the term Bantu is used to describe 300 to 600 ethnic groups within southern Africa that spoke the Bantu language.
Today, the hairstyle remains a staple for many black women and has been sported by celebrities such as Lauryn Hill, Rihanna and Yara Shahidi.
Why is Adele being criticised for wearing the hairstyle?
Oxford English Dictionary defines the term cultural appropriation as: "The unacknowledged or inappropriate adoption of the customs, practices, ideas, etc. of one people or society by members of another and typically more dominant people or society."
One of the main issues of white people wearing culturally black hairstyles is that it is taking from a culture they do not belong to and by seemingly claiming it as their own, they run the risk of erasing the originators of the style.
Similarly, many black hairstyles come with a painful history of discrimination and this is something that still exists today. On 1 January 2020, a new law came into effect in California making discrimination against natural hair in the workplace and schools illegal.
The legislation, called the CROWN Act, stated: "Professionalism was, and still is, closely linked to European features and mannerisms, which entails that those who do not naturally fall into Eurocentric norms must alter their appearances.
"The legislature recognises that continuing to enforce a Eurocentric image of professionalism through purportedly race-neutral grooming policies that disparately impact black individuals and exclude them from some workplaces is in direct opposition to equity and opportunity for all."
And earlier this year in the UK, campaign group No More Exclusions, which is predominantly led by black and minority ethnic teachers and parents, reported that black girls are frequently being sent home from school for having braids in their hair.
Have other celebrities been accused of cultural appropriation?
Bantu knots specifically have been appropriated by a number of high profile celebrities over the years including Khloé Kardashian who, in 2016, posted a photo of herself wearing the hairstyle on social media. The image sparked outrage due to the fact that she gave no recognition to the history of the hairstyle.
Earlier this year, Little Women star Florence Pugh apologised for appropriating minority cultures when she was a teenager after wearing her hair in tight braids.
The fashion industry also has a long history of appropriating black culture and in 2015, Bantu knots were rebranded as "twisted mini buns" when they were worn by models on the Marc Jacobs runway.
Kim Kardashian has faced accusations of appropriation several times, including in March 2020 when she shared a photo of herself wearing Fulani braids. Most recently at Comme des Garçons' men's Paris Fashion Week show, the brand faced criticism after models wore cornrow wigs.
Join our commenting forum
Join thought-provoking conversations, follow other Independent readers and see their replies