How a Yorkshire mining community supported their gay reverend with Aids in the 1990s
The sister of Rev Simon Bailey recalls how his flock chose love over hate, and supported him during the height of the Aids crisis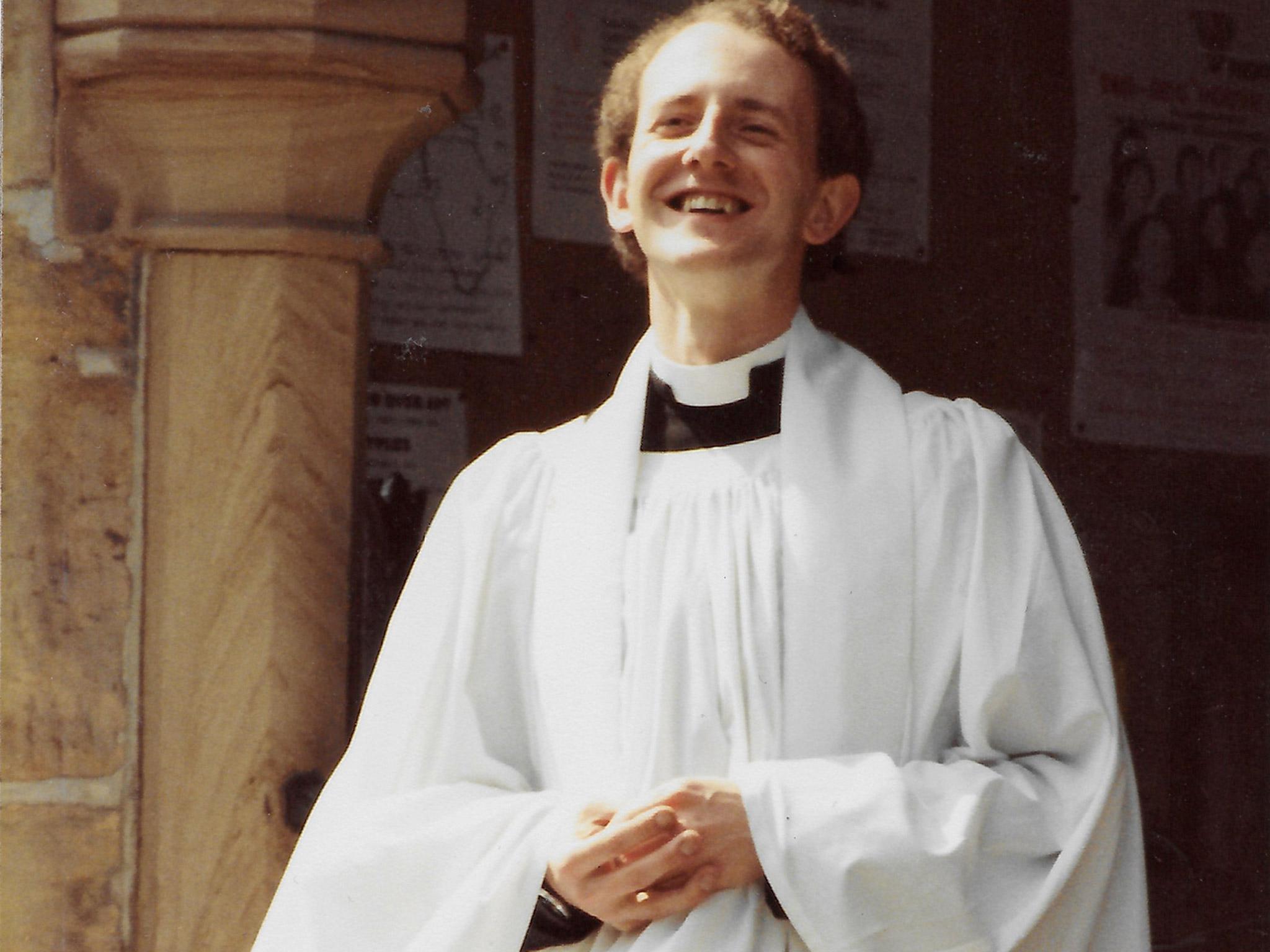 Two weeks before Reverend Simon Bailey took up his first post as a rector in the sleepy south Yorkshire mining village of Dinnington in 1985, aged 30, he learned that he had HIV.
At that time, the disease was a death sentence, the late Reverend's sister and writer Rosemary Bailey tells The Independent, 20 years after she first published his biography Scarlet Ribbons: A Priest with Aids. And being a gay man – like Rev Bailey – was tolerated, not accepted, by many in society. For years, Rev Bailey, who was the son of a strict Baptist minister, continued his work without being bothered by symptoms as the virus silently attacked his body. Eventually, the virus developed into Aids. He kept quiet about his disease until 1992, when something incredible happened: Rev Bailey refused to resign because of his illness.
Instead, he became the first priest in the UK to openly work whilst suffering from Aids. Despite rapidly losing weight as his body succumbed to the virus, and regardless of the fear surrounding the condition cruelly and wrongly labelled the "gay plague", he continued to officiate marriages, preach sermons, and perform holy communions and funerals. And the vast majority of the parishioners who had been his flock for almost a decade decided to support him, rather than give in to fear, his sister recalls.
"The obvious answer is to resign, so that all the issues would go away," he said before his death in 1995. "But of course they wouldn't. They remain here and they remain in the church. The church's reaction is usually to resign and go away. I'd really rather face the issues."
By summer 1993 he weighed just 6st 7lbs. Towards the end of his life he had a catheter installed in his chest and was fed intravenously 12 hours a night, five nights a week. In January 1995, Rev Bailey was the focus of the BBC1 documentary Simon's Cross. Just ten months later, Rev Bailey was dead.
Reverend Simon Bailey - a life in pictures
Show all 12
To mark the anniversary of the partial decriminalisation of homosexuality and the release of the new edition of the book, Rosemary Bailey spoke to The Independent about watching her brother die and his legacy two decades later.
What does the anniversary of the decriminalisation of homosexuality mean to you?
When I republished the book it wasn't just for the story, experiences and courage that my brother showed to be better known, but to show, even more importantly, the incredible support he got from the community 20 years ago. It made me realise that when he was 11 or 12, I didn't know he was gay. I had never heard of homosexuality unless my father preached against it from the pulpit. At the time we were a very strict Baptist family and it would have been seen as a sin for him to be homosexual, and it was also a crime. That wasn't something I fully appreciated when I wrote that book and this anniversary has made me realise that. On top of all the guilt and struggle that young men in his situation would have had, a literal fear of being sent to prison has really come home to me.
Does it make you sad that your brother never got the chance to grow up knowing that what he felt was OK?
Even now I don't know how easy it is for a young man or woman to accept their difference from the norms and orthodoxies. It's much, much better today and thank goodness for that. The whole story doesn't make me sad in the end because I come back to the way it was turned into something positive. But when I think back to how it must have been for him... that makes me pretty sad. The experience he was having without anyone else knowing about it obviously must have just been so hard. It's hard enough being a teenager, without all of that being added on, right?
Why did you feel it was important to write the book? What did you want readers to take from it?
Most of all the fact that those people in that village, in a tough mining village, had a choice about how to respond to him when they discovered that he had Aids. Each one of them had a choice and indeed discussed it in different ways and felt differently about it. The fact is they chose – in response to his ten years of ministry there – to be sympathetic. They chose to respond with the love that they had been working on together as a parish, to respond in such a positive way. To me yes, I think my brother was very, very brave and what he did was courageous. Coming out with it and going on telly was very brave. He coped with it brilliantly. But in the end the story for me is about the community.
Do you think the story is still important today? ?
Yes, absolutely! Is it an important story not only because of the anniversary of the partial decriminalisation of homosexuality but also it terms of the current political climate of division. The very fact that people have responded to this story the second time around, 20 years since it first came out, is precisely because it's a positive, human interest story that isn't about people getting more and more difficult and nationalist and defensive and so on. I think it's more relevant now than then, actually.
It must have been a very scary decision to decide to do a documentary. Did he think that he'd done the right thing?
When the BBC documentary came out there was a tremendous response. We watched it together in the rectory. The phone started ringing before the programme had even finished. This is before the internet, of course. The letters poured in. Hundreds of letters were piled up by his door. Some were from people with Aids. Some from people who were gay and in the closet. Some priests. But often just people in pain, struggling with their own problems, who identified with him and appreciated him coming out with his own difficulties and suffering. It was the most amazing reaction and very affirming that it had been the right thing to do.
There were some letters that went in the bin which were really nasty, saying that he'd go straight to hell, but you always get those. There were a few of those. When he saw the positive letters he was very touched. He replied to them all – he was very good like that – and some people ended up having ongoing relationships with him. One woman from Ireland called him. Another was the writer Shirley Conran. That was brilliant. She wrote to him and said how brilliant he had been – how she had been nursing someone with Aids, and so connected with it. We later worked out that had been the writer Bruce Chatwin. Simon wrote to her and she sent a donation, so another relationship developed which was really sweet and supportive.
So a lot of positives came out of it?
Yes, it was a remarkable thing to have done. It was very brave. It was very risky. You didn't know how people in the village would react. You didn't really know. The garage was marvellous and really looked after him – but the hairdressers asked him not to come again. They thought he might put off other customers. Which you can understand, actually; people's reactions were very different. It was risky.
During the Aids crisis there was a lot of fear surrounding the disease. What was the atmosphere like during that time?
At the time it was a death sentence. Simon was taking experimental medication which later become AZT which is still used now. But it was just too late for him. I remember going to the hospital with him and hearing about this new drug combination. And he was as thin as a rake and they said: "Simon it's too late for you." It was still something you just knew you had to come to terms with. The people who went through that and survived is another story, because they had to come to terms with still being alive, with so many of their friends and colleagues – whole generation of people – just gone. We can't even measure how that has deprived us. It's so sad.
When you revisited the book, what was it like going back over what happened 20 years later?
It was pretty strange. I've reread it a few times and it's good to revisit the story. Even though it's desperately sad it's such a powerful story. I felt so privileged to have been able to write it. It took me back to remembering him and I knew there was going to be a really sad bit because I wrote up his death and the scene in the hospital in great detail. I just took myself off to the rose garden in Regent's Park in central London and sat and read it there. I feel quite weepy now just at the thought of it. It was very emotional indeed but not in a negative way.
Is there anything that you wish you could have added now since you read back?
I think that I hadn't appreciated that homosexuality was illegal until he was 14 – it really struck me and I could have appreciated and understood a bit more. It was wonderful to get a letter from a young woman who had been at school in Dinnington and remembered Simon as a child, and the story had stayed with her. That is something I could have made more of – that the story had an impact on the next generation. That is so incredibly important and so touching.
What do you want young gay people to take from this book?
I suppose I can only speak through Simon because that is my only real knowledge, but I would say what he said about his own work – that it was possibly even an advantage being homosexual. That sense of alienation might have helped him to be a priest and help give him a sense of understanding of other people. It's a positive thing. You don't have to be defined by your sexuality. It can be positive and you can find in that every definition of yourself; whether it's gender or race, you can find a way for it to be a positive thing.
What do you think Simon's legacy is?
He managed to do something positive with his sexuality and his difference and to show that it's possible to do things differently.
I would just stress the community response to him. They were regular folks who went to church every Sunday but didn't go much beyond that. The fact that they had changed so much as a result, in part at least because of his ministry and the way they responded, I think was just amazing. You don't have to choose hate, you've always got a choice.
Join our commenting forum
Join thought-provoking conversations, follow other Independent readers and see their replies