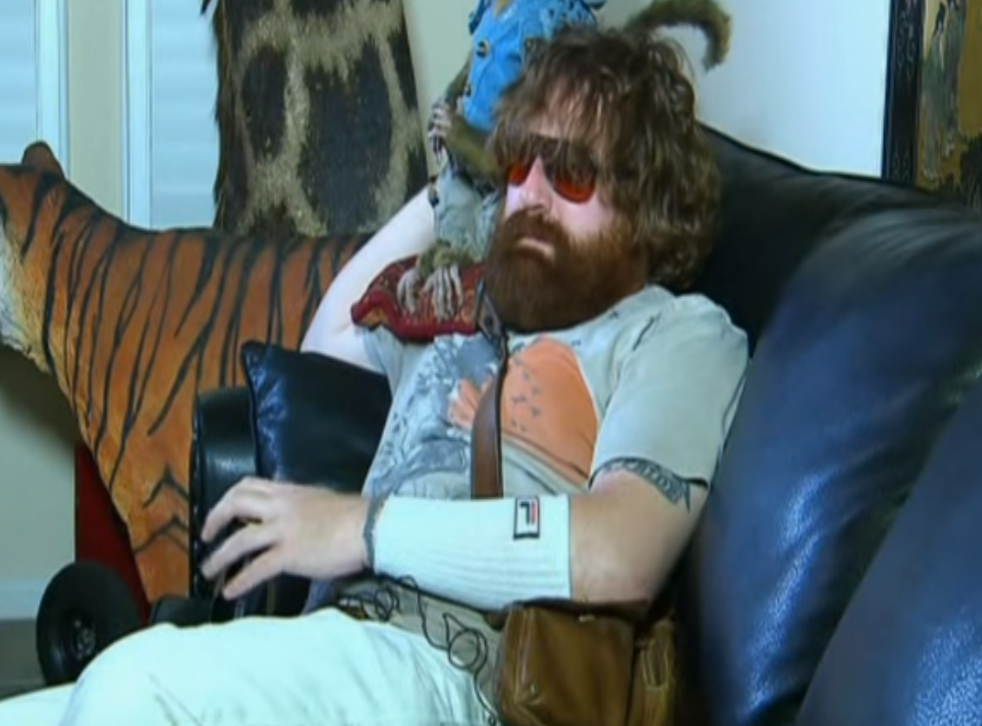 Alan from Hangover impersonator gives up £200k job due to boozy lifestyle
"I suffered a real life hangover and I just couldn't do it anymore"
A man who has for the past six years been making a living impersonating Alan from The Hangover in Las Vegas has quit his job because the lifestyle is taking its toll on his health.
40-year-old Thaddeus Kalinoski started impersonating Zach Galifianakis's character from the 2009 film in 2011 after he put on weight and noticed the resemblance.
But the boozy lifestyle that has seen Kalinoski spend his days and nights partying with celebrities - and earn £200,000 a year for doing so - has become too much.
The doppelgänger is giving up the day job.
His life in Las Vegas was a far cry from Kalinoski's previous existence as a restaurant manager.
But then he broke up with his girlfriend, lost his job, put on weight and stopped shaving. It was a low point.
Little did Kalinoski know that reaching rock bottom would provide him with a way to bounce back and take his career in a completely unimaginable direction.
One day Kalinoski donned a pair of sunglasses and it was then that people started mistaking him for Alan from The Hangover and asking him for photos. Kalinoski himself had never noticed the resemblance.
He decided to take a trip to Atlantic City and actively try to impersonate Alan - and it was a success. He was surrounded by women, offered free drinks and paid lots of attention.
So the obvious next step was to head to Vegas.
"Pictures, people started throwing money at me, women were attacking me, trying to make out with me," he told The Sun.
But instead of going home at the end of the week, Kalinoski decided to stay. And he stayed for years.
He wasn't the only Alan lookalike working the Vegas circuit, but that didn't stop Kalinoski being a hit with tourists and revellers.
But the pressure of living up to the character's wild partying ways eventually became too much for Kalinoski, who decided to move back home to Philadelphia.
"I suffered a real life hangover and I just couldn't do it anymore," he told Front Page Media.
"I believe that life got so hectic I probably would've died if I continued down that path. There were lots of territorial confrontations over spots where people hustled. Street performers, drug dealers and people were beaten with bats, pipes, bottles, fists over territory.
"Going to work became stressful and a real fight, whereas in the past it was such fun."
Whilst tourists who go to Vegas to party tend to only spend a few days there, Kalinoski was attempting to party as hard as they did all the time, which was not healthy.
"Playing Alan, everyone expects you to party, everyone expects you to drink. Whatever they have, and whatever is they want you to do for a tip, you better do it," he says.
"People would give me full bottles of liquor before they hopped on their flights. I remember one night this caused me to blackout, falling into broken glass bottles, getting sliced open and I was robbed."
Not only was Kalinoski under pressure to drink, he was also pushed into taking drugs.
"I was under so much pressure to do parties and was often pushed into rooms with groups of people telling me I had to do drugs. It got really desperate," he says.
Understandably Kalinoski got bored and tired of playing the same character and saying the same things over and over again.
He has now shaved off his beard and cut his hair, making him look completely different to Alan: "I had to rid myself of the character, so I shaved my head.
"Ironically now, I look a little like Alan from The Hangover 2. There's just no getting round it!"
Kalinoski says he'd loved to play Alan in a TV advert but thinks he wants a couple of years' break.
He admits he won't be able to impersonate Alan when he's 60: "It'll look really strange."
Join our new commenting forum
Join thought-provoking conversations, follow other Independent readers and see their replies