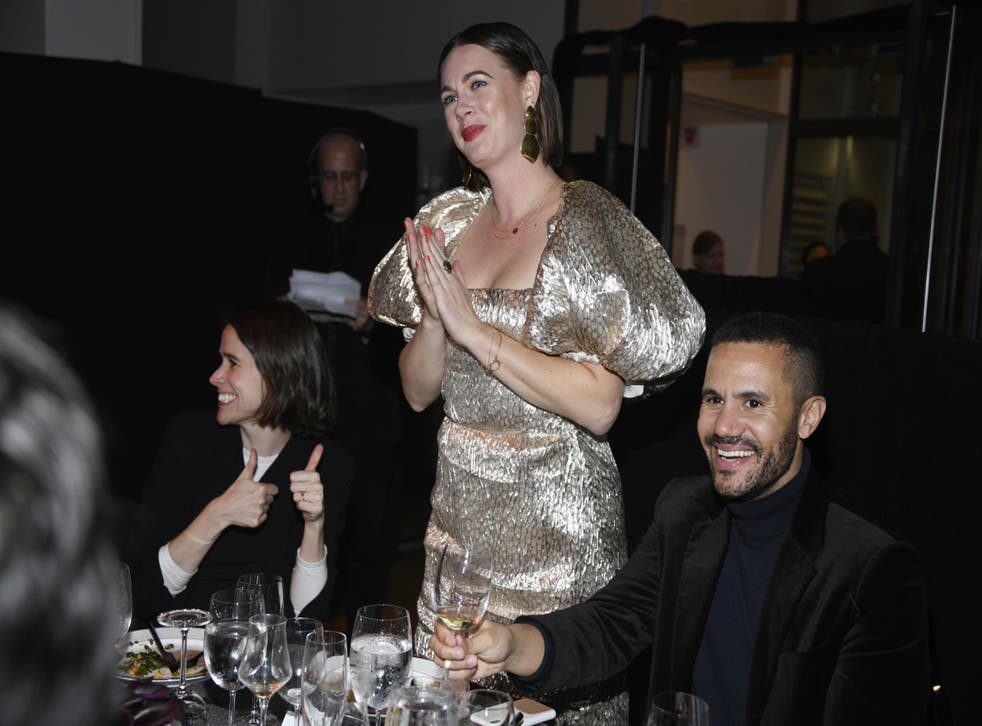 Alison Roman's New York Times food column 'on temporary leave' after feud with Chrissy Teigen
Teigen says she's 'doing what I can (off Twitter)' to make disappointment known 
Chelsea Ritschel
New York
Wednesday 20 May 2020 17:12 Comments
Alison Roman's New York Times column has been placed on "temporary leave" after the food writer sparked a public feud between herself and Chrissy Teigen.
The news of Roman's suspension, first reported by The Daily Beast, comes after Roman made controversial comments regarding the success of Marie Kondo and Teigen in an interview with The New Consumer earlier this month.
In the interview, Roman said she was "horrified" by Teigen's brand, Cravings, which she referred to as a "content farm," and claimed that lifestyle guru Kondo "f**king sold out immediately".
Roman's comments prompted widespread criticism on social media, including from Teigen, who called the accusations from the fellow food writer a "huge bummer".
"I don't think I've ever been so bummed out by the words of a fellow food-lover. I just had no idea I was perceived that way, by her especially," the 34-year-old wrote, adding that "it's really hard to see someone try to completely invalidate" the work she's put into building her brand.
Others took offence with Roman's criticism of two Asian women in the lifestyle sphere, with many accusing the Nothing Fancy author of racism.
Following the backlash, Roman issued two public apologies, first to Teigen, in which she wrote that she was "genuinely sorry I caused you pain with what I said," and another more in-depth apology in which she said her remarks were "tone-deaf" and acknowledged her comments "were rooted in my own insecurity".
Roman also addressed the accusations of racism and her own white privilege, adding: "I'm not the victim here, and my insecurities don't excuse this behaviour. I'm a white woman who has and will continue to benefit from white privilege and I recognise that makes what I said even more inexcusable and hurtful.
"The fact it didn't occur to me that I had singled out two Asian women is one hundred percent a function of my privilege (being blind to racial insensitivities is a discriminatory luxury)."
While Teigen later thanked Roman for the apology, The Daily Beast reports that a column by the food writer originally scheduled to run in The Times last week was pulled.
The Independent has contacted The New York Times for comment.
In response to the news of Roman's suspension, Teigen said on Twitter that she did not agree with the decision and was doing what she could to make that known.
Responding to a tweet from Times reporter Bari Weiss that said: "You used to have to do something real to get cancelled. Apparently now you just have to criticise a celebrity!" Teigen wrote: "I don't like this one bit and I'm doing what I can (off Twitter) to make that known."
In another thread, Teigen said that she hopes the pair can one day "laugh about it" but that she is "not happy with the NYT leave".
However, others have shared their support for the newspaper's decision to suspend Roman's column.
"This is a good thing! Sometimes there are consequences when people speak their minds. It may not be fair, but that's why most of us practice tact and diplomacy...especially with peers," one person wrote.
Another said: "If I publicly branded myself a racist in the media, I would definitely get very fired, and I would deserve it, Alison Roman can use the pages of her cookbook to dry her tears."
Register for free to continue reading
Registration is a free and easy way to support our truly independent journalism
By registering, you will also enjoy limited access to Premium articles, exclusive newsletters, commenting, and virtual events with our leading journalists
Already have an account? sign in
Join our new commenting forum
Join thought-provoking conversations, follow other Independent readers and see their replies