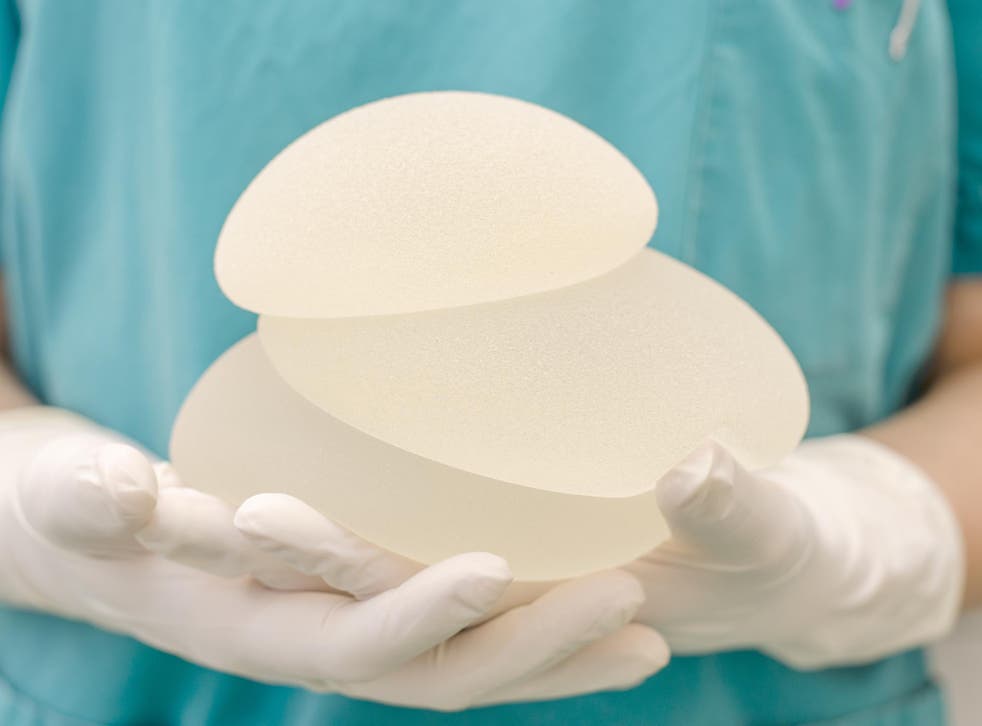 Women consider suing breast implant company Allergan over link to rare cancer
Figures suggest there have been 16 deaths associated with the breast implants 
Sarah Young
Monday 11 March 2019 16:30 Comments
Hundreds of women are considering legal action over controversial breast implants that have been linked to a rare form of cancer.
Allergan implants were withdrawn from the European market in December 2018 after it was revealed that six women who had them had developed anaplastic large cell lymphoma (ALCL), a rare type of blood cancer.
Last month, it was announced that nine US women had died from the cancer, with the Food and Drug Administration (FDA) announcing that the total number of women diagnosed with ALCL in the United States had increased to 457, up from 414 cases.
Meanwhile, recent figures collected by plastic surgeons suggest that globally there have been at least 615 cases of the disease associated with breast implants and 16 deaths.
Now, a group of more than 200 women who have been diagnosed with ALCL and say they were not sufficiently informed about the risks of textured Allergen implants have threatened to sue the company.
Mastectomy: Stand Up To Cancer launches powerful photo campaign

Show all 13
According to The Guardian, three of the women were given the implants after having preventative mastectomies to protect against high genetic risk of breast cancer, while others have suffered different complications, including capsular contracture, where breast tissue hardens around the implant.
Irene Kennedy who was diagnosed with ALCL in December, eight years after getting her implants, says she was not aware of the risks.
"I hadn't heard of it, I didn't know anything about it at all," Kennedy told the publication.
"It's very scary."
The 49-year-old has since had her implants and the surrounding scar tissue removed, which normally leads to a full recovery without the need for chemotherapy.
However, she says she still feels anxious about the possibility of the cancer returning and wants to see greater awareness of the risks associated with breast implants.
"If someone said 'By the way, you could get a cancer' your ears would prick up and it would be more of a thoughtful process you'd go through," she added.
In a statement, Allergan said the company is committed to strict adherence to all regulatory requirements and rigorous scientific evidence.
"Patient safety and product quality are Allergan's highest priorities," it said.
"Allergan continues to stand firmly behind the benefit/risk profile of its breast implant products, including textured breast implants.
"The benefit risk profile of textured implants – based on scientific evidence – remains positive."
The Medicines and Healthcare products Regulatory Agency, recently published guidance on ALCL and breast implants, saying there was no need for women with Allergan breast implants to have them removed.
"ALCL is rare, but it is important healthcare professionals and patients who have implants know about it," the MHRA said.
Support free-thinking journalism and attend Independent events
"If you develop a seroma, a breast lump or swelling around your implant more than a year after having the breast implant (regardless of how many years later), you should seek advice from your surgeon or clinic."
The advice continues by saying that if the surgeon or clinic which performed the original implant operation is no longer available, you should see your GP for referral to another surgeon.
According to Macmillan Cancer Support, ALCL develops when white blood cells called T-cells become abnormal. These usually build up in the lymph nodes, but can affect other parts of the body.
Most people are treated with chemotherapy and steroids with others may also have radiotherapy or stem cell treatments.
For more information on anaplastic large cell lymphoma you can visit macmillan.org.uk or call their cancer support specialists free on 0808 808 00 00.
Bloodwise also offers support and information to people affected by blood cancers, including lymphoma.
Register for free to continue reading
Registration is a free and easy way to support our truly independent journalism
By registering, you will also enjoy limited access to Premium articles, exclusive newsletters, commenting, and virtual events with our leading journalists
Already have an account? sign in
Join our new commenting forum
Join thought-provoking conversations, follow other Independent readers and see their replies