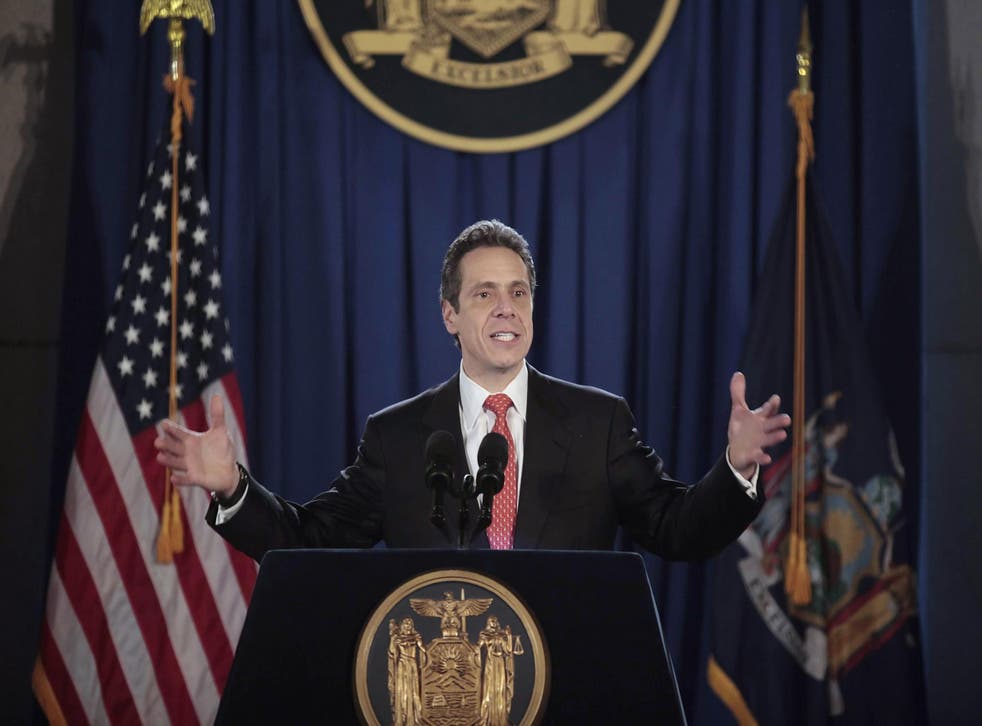 New York Governor Andrew Cuomo says he's 'eligible' after coronavirus briefings trigger fan accounts
Survey found politician is considered 'one of the most eligible bachelors in the country'
New York Governor Andrew Cuomo has emphasised that he is single after his daily briefings on the coronavirus pandemic prompted the creation of fan accounts, "Cuomosexual" merchandise and an increased interest in his relationship status.
On Thursday, the 62-year-old announced that he is "eligible" during an interview with 1010 WINS anchor Susan Richards, after a survey conducted by matchmaker Maureen Tara Nelson found him and brother Chris two of the "most eligible bachelors in the country".
"Because of the sadness of the pandemic, we're watching his daily briefing, he's making us feel safe - every woman wants that - and he shows us that he's family-oriented," Nelson told the New York Post of the survey's results.
In response to the title, Cuomo told Richards: "Now that you raise it, most wanted eligibility, my brother is married, I am not married, so I don't think he would qualify as eligible, however, I am eligible."
His answer prompted Richards to joke that they are "both single Sagittarians from Queens".
"I'm just putting it out there," she added.
The politician's declaration comes amid an increased interest in his dating life spurred on by his daily coronavirus briefings.
On Instagram, where Cuomo has become a local celebrity of sorts, accounts have popped up dedicated to sharing photos of the governor.
One account, Cuomo.sexual, which shares photos of the Queens native from both his younger years and at his current age, has amassed more than 7,000 followers.
"So handsome," one person commented on a recent picture, while another wrote: "Each day I'm falling more and more in love with the gov."
Another account, called Cuomocrush, is for "everyone crushing on Governor Cuomo right now," according to the bio.
The father-of-three's popularity has also extended to TikTok, where he, Chris and Dr Anthony Fauci have been declared by one user "the three most consistent men in my life right now".
For those who wanted to take their adoration of Cuomo a step further, T-shirts with the politician's face and the phrase "Cuomosexual" have become available for purchase, while others declare "I love Cuomo".
Cuomo and Kerry Kennedy, his wife of 15 years, divorced in 2005. Following the end of his marriage, the governor dated Food Network host Sandra Lee, before separating in September after 14 years together.
As for the type of partner Cuomo should end up with, Nelson told The Post: "She has to have beauty and brains and be tolerant of the fact that he's well known and is extremely busy.
"He needs someone that is at his level [and] he works so damn hard, he needs a woman that truly will love him for him."
Join our new commenting forum
Join thought-provoking conversations, follow other Independent readers and see their replies