The Independent's journalism is supported by our readers. When you purchase through links on our site, we may earn commission.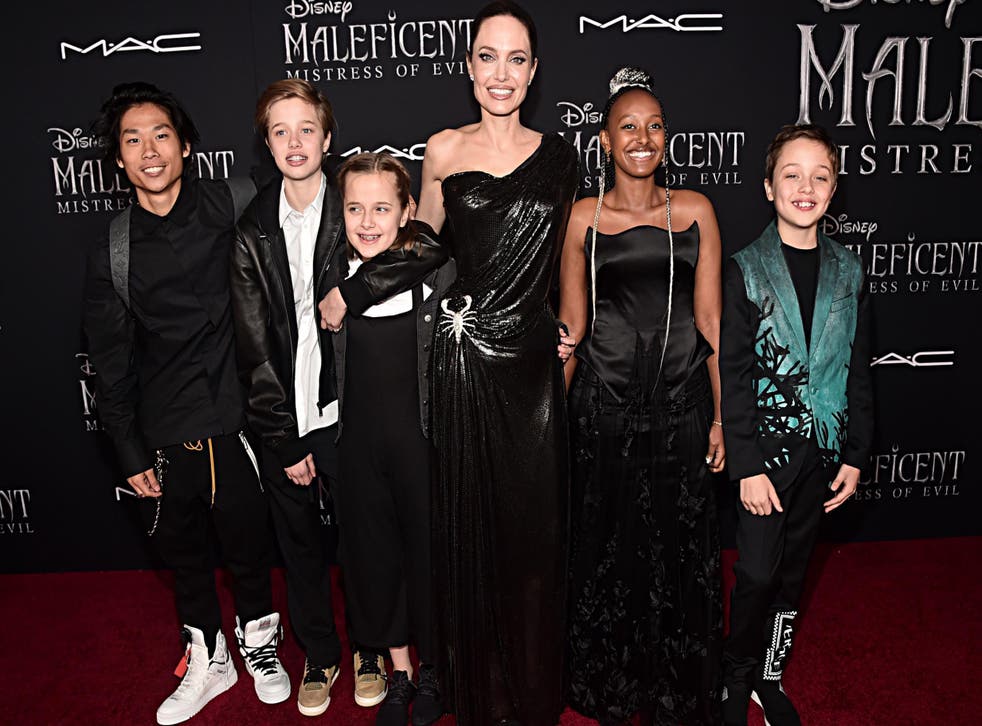 'Her death changed me': Angelina Jolie pays tribute to late mother
'To anyone who is grieving this Mother's Day, I hope you will find consolation and strength in your memories'
Angelina Jolie has reflected on her late mother's life and how her death changed her in an emotional tribute on Mother's Day in the US.
On Sunday, the actress opened up about her mother Marcheline Bertrand, who died in 2007 from ovarian cancer, in an op-ed for The New York Times.
Jolie began the tribute acknowledging that this Mother's Day is likely especially hard, as so many families have recently lost loved ones to coronavirus.
"I lost my mother in my thirties," Jolie wrote. "When I look back to that time, I can see how much her death changed me. It was not sudden, but so much shifted inside. Losing a mother's love and warm, soft embrace is like having someone rip away a protective blanket."
In the op-ed, Jolie, a mother of six, then goes on to describe her mother, who she said "loved being a mother" and who also had dreams of being an actor, which faded when she "found herself, at the age of 26, raising two children with a famous ex who would cast a long shadow on her life".
"After she died, I found a video of her acting in a short film. She was good. It was all possible for her," the 44-year-old wrote.
According to Jolie, her mother had told her before her death that "dreams can simply change shape" and that she had hoped her dream to be an artist "would be mine".
In the years since her mother's death, Jolie said she got a tattoo of a "w" on her hand for Winter — "the Rolling Stones song she sang to me as a baby, and that I remember loving as a little girl".
Acknowledging that when she listens to Winter now, she considers her mother's determination to make sure her children were "all right" despite how lonely and afraid she must have felt, Jolie wrote: "As the 'w' faded on my hand, so did that feeling of home and protection."
According to the Maleficent actress, she has since experienced her own loss and seen "my own life take a different direction", which she said "hurt more than I imagined it ever would".
While reflecting on her mother's life, Jolie explained how becoming a mother to her own daughters has helped her rediscover her mother and her spirit.
"She was a girl who danced all night on the Sunset Strip and loved rock 'n' roll. She was a woman who loved, even after loss, and never lost her grace and her smile," she wrote.
In the op-ed, the actress, who is described as a filmmaker and a special envoy of the United Nations High Commissioner for Refugees, then reflected on the struggles and strength of refugee mothers, writing: "Through refugees, I've come to believe that a mother is the strongest person on earth".
Jolie concluded the op-ed acknowledging how difficult it is for parents who cannot provide for their children, and expressing her support for "mothers everywhere who feel helpless".
"So to the mothers everywhere who feel helpless — yet who still give every last bit of energy, every last bite of food and the only blanket to their children — I honour you," she wrote. "And to anyone who is grieving this Mother's Day, I hope you will find consolation and strength in your memories."
Register for free to continue reading
Registration is a free and easy way to support our truly independent journalism
By registering, you will also enjoy limited access to Premium articles, exclusive newsletters, commenting, and virtual events with our leading journalists
Already have an account? sign in
Register for free to continue reading
Registration is a free and easy way to support our truly independent journalism
By registering, you will also enjoy limited access to Premium articles, exclusive newsletters, commenting, and virtual events with our leading journalists
Already have an account? sign in
Join our new commenting forum
Join thought-provoking conversations, follow other Independent readers and see their replies