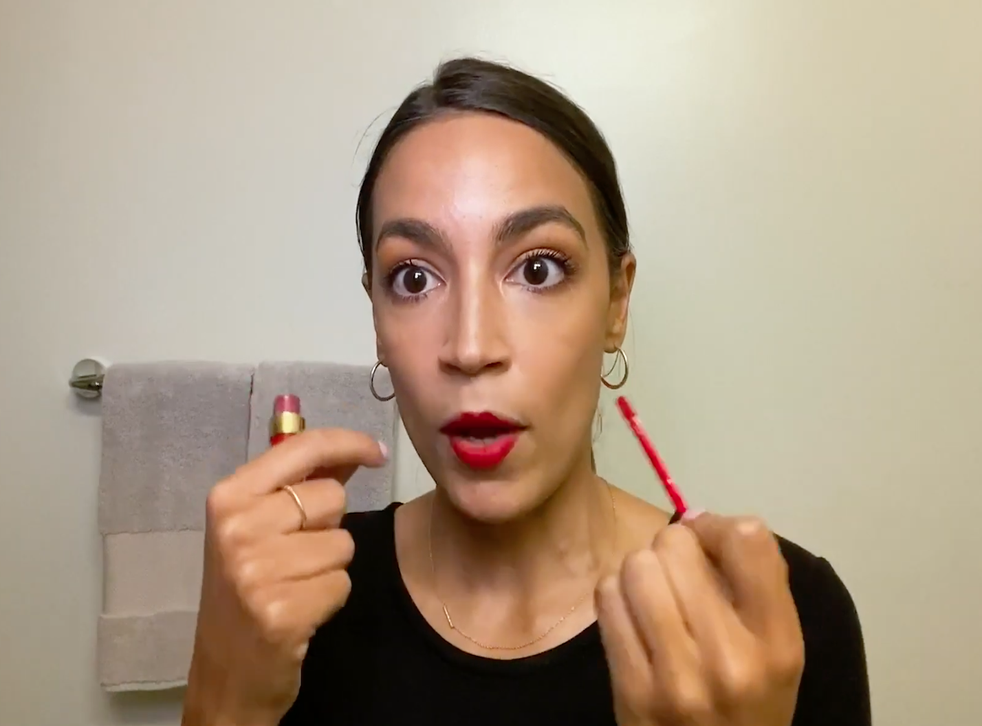 'Beauty is political': Alexandria Ocasio-Cortez shares beauty and skincare routine in video for Vogue
Congresswoman says 'best way to really look put together is a bold lip'
Alexandria Ocasio-Cortez has opened up about the intersection between femininity, makeup and politics while sharing her skincare and beauty routine.
On Friday, the congresswoman appeared in a video for Vogue, where she revealed which makeup and skincare products she uses each day, including her now-famous red lipstick.
After introducing herself, the New York Democrat prefaced her tutorial explaining: "I have not gotten much sleep last night at all".
"Welcome to life in politics," she said. "We are trying to get people health care, making sure that they are taken care of in a pandemic, people are fighting too much, and so I have bags under my eyes."
Ms Ocasio-Cortez then proceeded to apply a toner, vitamin C serum, and moisturiser, before taking the opportunity to explain why she believes it is important to share her beauty routine with her fans and social media followers.
"The reason why I think it's so important to share these things is that, first of all, femininity has power, and in politics there is so much criticism and nitpicking about how women and femme people present ourselves," the 30-year-old said. "Just being a woman is quite politicised here in Washington."
According to the politician, there's a "really false idea that if you care about makeup or if your interests are in beauty and fashion, that that's somehow frivolous."
"But I actually think these are some of the most substantive decisions that we make - and we make them every morning," she said.
Ms Ocasio-Cortez next moved onto her sunscreen application, explaining that you have to be "really generous with sunscreen".
"Don't play games with sunscreen," she told viewers before adding a reminder not to forget applying the lotion to ears and eyelids as well.
The congresswoman then touched on one of the most "taxing" sides of her job, the constant travelling between DC and New York, which she said takes a "huge toll" on her skin.
Explaining that she keeps her makeup packed in a travelling case to make it easier to carry, Ms Ocasio-Cortez said the first step in her beauty routine is applying a light-weight tinted moisturiser from Nars - or Estee Lauder's long-lasting Double Wear foundation for days when she knows she is going to be "taking a lot of photos".
While applying colour corrector and concealer under her eyes, the Democratic representative acknowledged the power of loving ones self.
"Our culture is so predicated on diminishing women and preying on our self-esteem, and so it's quite a radical act - and it's almost like a mini protest - to love yourself in a society that's always trying to tell you you're not the right weight, you're not the right colour, you're not the right, you know, whatever it is," she said. "When you stand up and say: 'You know what? You don't make that decision. I make that decision,' it's very powerful."
According to Ms Ocasio-Cortez, who previously revealed she typically does her own makeup, she learned most of her techniques from watching YouTube tutorials.
For contouring, which she said she does to accentuate her features, the congresswoman relies on Fenty Beauty's contour stick.
"I'm not trying to change my features or shape-shift - I'm just trying to accentuate my existing features," she explained while applying the stick to her nose. "I'm not trying to make it look bigger. I'm not trying to make it look smaller.
"I'm just trying to show people what I got."
Ms Ocasio-Cortez then applied Glossier's Cloud Paint blush, used a brow pencil and added Anastasia Beverly Hills highlighter to her look, before moving onto eyeshadow from a Tarte palette and eyeliner.
While applying the products, she touched on topics spanning the pink tax and the patriarchal link between women wearing makeup and making more money to the importance of self-expression.
After curling her eyelashes and applying mascara, the New York-native moved on to glitter eyeshadow, which she said she used to be fearful of wearing because she worried she would be "taken less seriously".
"As the youngest woman in Congress, and as a woman of colour, it's so hard to be taken seriously," she said, before revealing that she tried the shimmer out and it looks "fire".
The congresswoman then showed viewers her bronzer application, before coming to her iconic red lipstick - Stila's Stay All Day Liquid lipstick in shade Beso.
According to Ms Ocasio-Cortez, she began wearing the bright shade when she ran in her first primary election, after learning the "best way to really look put together is a bold lip".
"I will wear a red lip when I want confidence, when I need a boost of confidence," she said, explaining that she prefers liquid lipsticks because they are "indestructible".
Ms Ocasio-Cortez concluded the video telling viewers that the key to beauty is "feeling beautiful".
"If I had to give one piece of advice, it is that the key to beauty is the inside job - the key to beauty is feeling beautiful, and no amount of money or makeup can really compensate for loving yourself," she said.
The congresswoman's insight into her beauty routine comes after she revealed the rose-coloured lipstick shade she wore for her appearance at the Democratic National Convention earlier this week.
Following numerous requests for details about the shade on social media, she responded to one curious follower: "I got you! It's Tarte Matte Tint in Envy."
Register for free to continue reading
Registration is a free and easy way to support our truly independent journalism
By registering, you will also enjoy limited access to Premium articles, exclusive newsletters, commenting, and virtual events with our leading journalists
Already have an account? sign in
Register for free to continue reading
Registration is a free and easy way to support our truly independent journalism
By registering, you will also enjoy limited access to Premium articles, exclusive newsletters, commenting, and virtual events with our leading journalists
Already have an account? sign in
Join our new commenting forum
Join thought-provoking conversations, follow other Independent readers and see their replies