The 21-year-old artist turning periods and stretch marks into works of art
"Our flaws make us unique and special"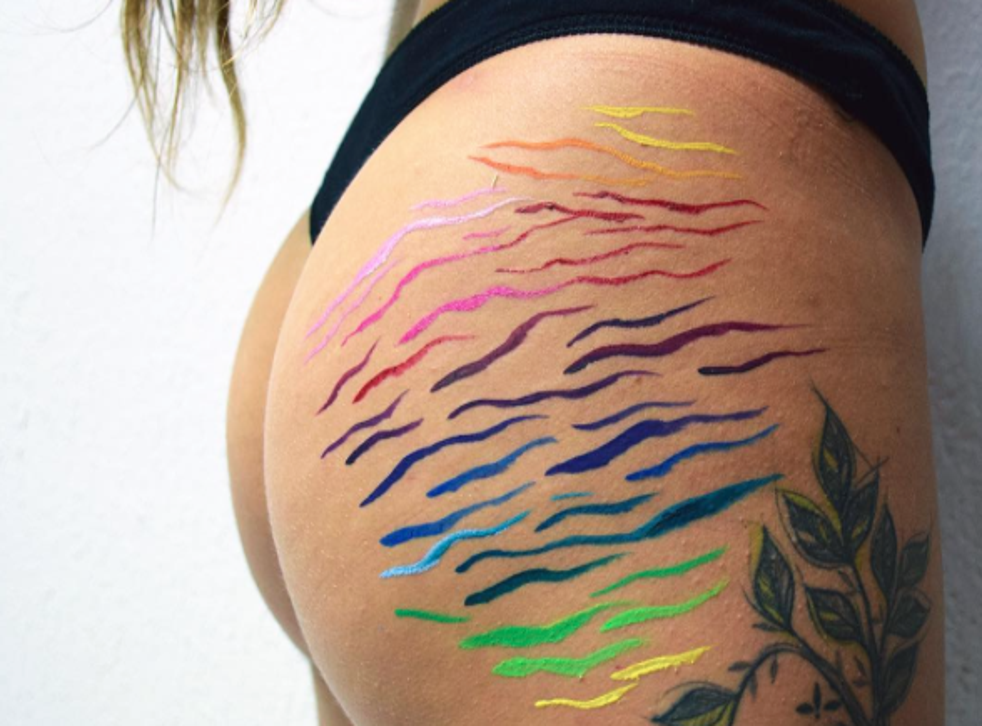 In a world of Photoshop mania, our culture constantly tells us that cellulite, acne, stretchmarks and periods should be considered as imperfections but thankfully, a band of Instagrammers are working to change that.
The latest of which is 21-year-old Spanish artist Cinta Tort Cartró.
Working to de-stigmatise completely natural aspects of women's bodies, break down insecurities and encourage self-love, Cartró is using her talent to educate a wider community on feminism through a series of empowering projects.
Sharing her work with more than 13,000 Instagram followers Cartró, otherwise known as Zinteta, uses rainbow paint to fill in women's stretchmarks, decorates underwear with colourful explosions to normalise menstruation and photographs women with flowers covering their breasts to embrace the #freethenipple movement.
"It all started as a form of expression, but it quickly turned into social commentary of the male-dominated culture we live in," she told Yahoo Beauty.
"There are many things happening in my town that I couldn't be silent on, such as the male microaggression toward the female body.
"I know there are countries that have it worse than here in Spain, but I couldn't stay silent."
Inspired by her own experiences and battles with body image, the artist aims to celebrate aspects of the female form that society deems shameful as well as tackling racism and xenophobia by painting and photographing women of different races.
"I grew up feeling sometimes out of place. I'm tall and big, so it's important for me to state in my art that everyone is beautiful and those 'flaws' are not that," she said.
"They make us unique and special."
Register for free to continue reading
Registration is a free and easy way to support our truly independent journalism
By registering, you will also enjoy limited access to Premium articles, exclusive newsletters, commenting, and virtual events with our leading journalists
Already have an account? sign in
Register for free to continue reading
Registration is a free and easy way to support our truly independent journalism
By registering, you will also enjoy limited access to Premium articles, exclusive newsletters, commenting, and virtual events with our leading journalists
Already have an account? sign in
Join our new commenting forum
Join thought-provoking conversations, follow other Independent readers and see their replies