Childrenswear brand accuses Asda of 'ripping off' trademark slogan
'It's so upsetting when this happens'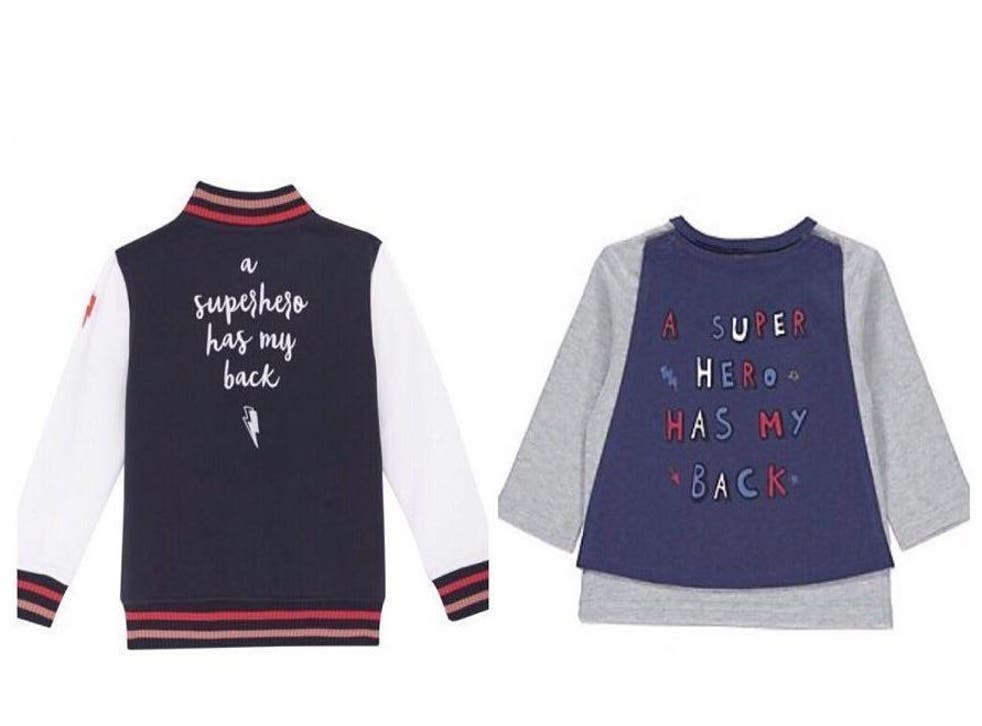 An independent childrenswear label has accused Asda of copying its trademark slogan.
Jo Tutchener-Sharp, who runs the brand Scamp & Dude, designed a collection with the words "a superhero has my back" emblazoned on a number of garments.
The mother-of-two posted a side-by-side image on Instagram on Wednesday showing her design alongside a blue long-sleeved T-shirt from Asda's George label which featured the same slogan written on the back.
"Please note that this top by @georgeatasda is in no way associated with Scamp & Dude," she wrote, adding that she owned the trademark for the slogan.
Explaining the meaning behind the phrase, Tutchener-Sharp revealed she came up with it when she was in hospital recovering from brain surgery.
"I was so scared that I wouldn't make it through the surgery and would end up leaving my boys without a mummy," she continued.
"A horribly hard thing to go through, but it was this that inspired me to create a brand that helps children feel more secure when apart from their loved ones.
"A Superhero certainly had my back and I made it through the surgery and Scamp & Dude launched into @libertylondon 10 months later."
The former PR director described the slogan as "at the heart of the brand".
Her post quickly gained traction online, with more than 3,600 likes on Instagram.
Friends and members of the public have been quick to show their support in a bid to share Tutchener-Sharp's story, with many labelling the supermarket giants as "outrageous" and "heartless".
"Hey @asda when my friend Jo had major brain surgery and had the idea for @ScampandDude and 'A Superhero Has My Back' I'm pretty sure she wasn't expecting to be COMPLETELY RIPPED OFF BY YOU," wrote beauty blogger Caroline Hirons.
"Shame on you. I hope she's already sent a cease and desist."
"I'm overwhelmed and very grateful for all of the support I've received since I posted on Instagram about the issue we are currently facing. Scamp & Dude may be a small brand, but we have a very loyal following for which I'm so grateful," Tutchener-Sharp told The Independent.
"Small businesses suffer so often with issues such as this, so I believe it's important to speak out and stand up for ourselves."
In response her claims, Asda has released the following statement:
"We are sorry to hear about this concern and are working towards a resolution with those involved."
Register for free to continue reading
Registration is a free and easy way to support our truly independent journalism
By registering, you will also enjoy limited access to Premium articles, exclusive newsletters, commenting, and virtual events with our leading journalists
Already have an account? sign in
Register for free to continue reading
Registration is a free and easy way to support our truly independent journalism
By registering, you will also enjoy limited access to Premium articles, exclusive newsletters, commenting, and virtual events with our leading journalists
Already have an account? sign in
Join our new commenting forum
Join thought-provoking conversations, follow other Independent readers and see their replies