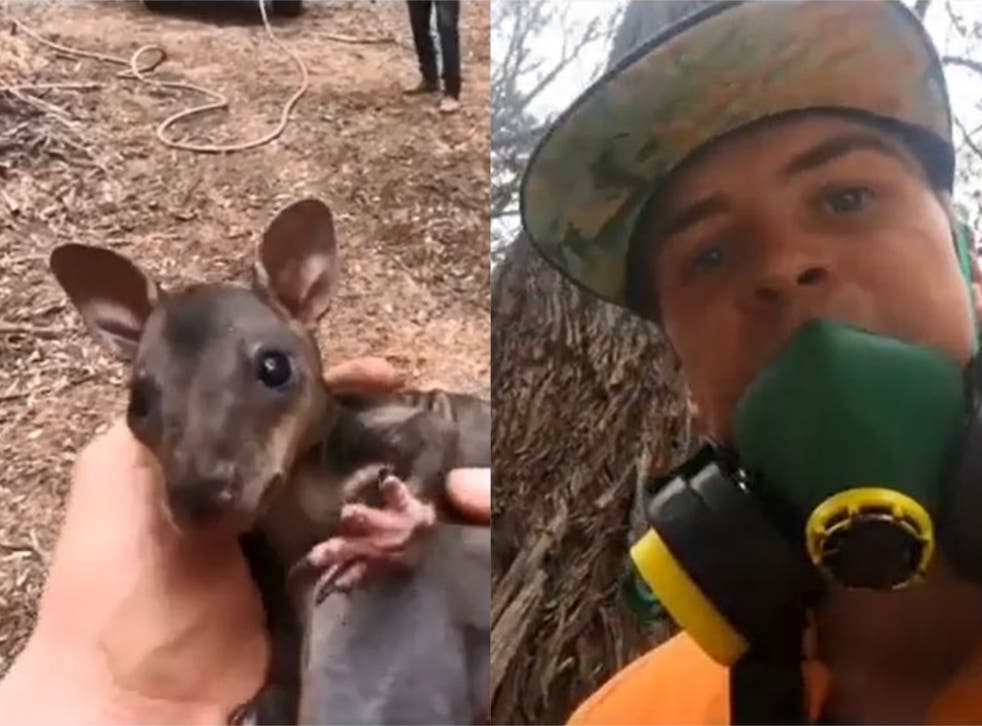 Australia wildfires: Instagram star films himself saving baby kangaroo from blaze
'We got you buddy, don't worry I've got you now,' Sam McGlone says in video
An Instagram star has shared a video of himself rescuing a baby kangaroo from the wildfires currently tearing through Australia.
Sam McGlone, a travel filmmaker with more than 100,000 followers on Instagram and more than 11,000 subscribers on YouTube, shared footage on Instagram of him and his family acting as amateur firefighters in a forest close to his hometown of Braidwood, New South Wales.
In the video, McGlone happens across a baby kangaroo on the forest floor, hastily picking the joey up as fires burn nearby.
"I found a baby joey in the fire," the filmmaker says as he turns the camera to face himself.
He then wraps the baby animal in what appears to be a damp blanket, before feeding it some water from a bottle lid.
Animals rescued during Australia fires

Show all 25
"Everyone meet my little baby," McGlone states at the end of the video.
"Saved him out of the fire today. We got you buddy, don't worry I've got you now."
In the Instagram post's caption, McGlone informed his followers that around half a billion animals have been killed in the Australian wildfires.
"I saved this little baby kangaroo it was left by itself!" he stated. "This is heartbreaking. 10 million acres burned. Please spread. Please donate. We need your help!"
The filmmaker has created a fundraising page on GoFundMe, where people can donate money towards the Native Animal Rescue Group in Braidwood.
More than 150 people have donated, raising more than $4,500 (£3,424) of the $5,000 (£3,804) target.
"A group of amazing people in Braidwood are helping Australian wildlife from the Australian bush fires. We need to help these people as much as we can!" McGlone wrote in the fundraiser's description.
"Your money will go towards helping injured wildlife. Thank you for helping."
Several celebrities at the Golden Globes used their platforms on stage to raise awareness of Australia's wildfire crisis, including Joaquin Phoenix and Cate Blanchett.
The fires have killed 24 people and have destroyed more than 1,500 homes, ravaging through more than four million hectares of land.
Last week, ecologists at the University of Sydney estimated that around 480 million animals had been killed in the wildfires, including 8,000 koalas.
Join our new commenting forum
Join thought-provoking conversations, follow other Independent readers and see their replies