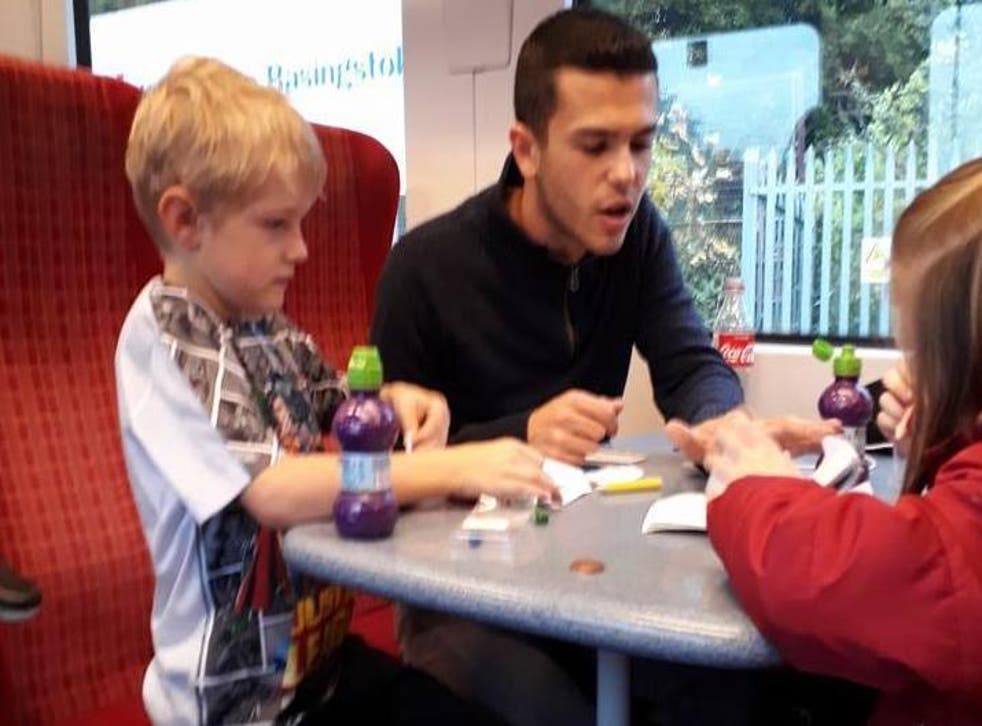 Mum hails stranger a 'hero' after helping calm down her autistic son
'People assume you're a bad parent'
Sarah Young
Saturday 07 October 2017 14:22 Comments
The mother of a five-year-old boy with autism and ADHD has hailed a man her 'hero' after he stepped in to help calm her son down during a train journey.
Gayna Pealling was travelling home to Farnborough from Portsmouth with Jack, and four-year-old daughter Amy, when her son "started to have a meltdown."
But in the midst of people who were tutting and staring, one kind passenger came to her rescue.
"This random lovely stranger called Dan took over and was talking to both my children," the mum wrote on Facebook accompanying an image of the heartwarming moment.
"He calmed my son down and the train journey was perfect... thank you to this man, you really don't know how much I appreciated your help.
"This guy is my hero."
Pealling revealed that she had asked the other passengers to bear with her son's tantrum explaining that he has autism and ADHD.
And, at one point when she was particularly struggling to get Jack to take his medication, Dan Ball, 21, from Farringdon, kindly stepped in before sitting with the family for the rest of the journey – 55 minutes.
"Dan shouted out: 'I take tablets so how about you show me how to take them'. Jack said alright I'll take the tablets. Dan started talking to my daughter and colouring, and after a while Jack wanted to sit with him, too," the mother told HuffPost UK.
"I put it on a 'Spotted in London' group afterwards and that's how I found Dan, and messaged him to say thank you again.
"Unsd. People assume you're a bad parent or it's a bad child."
The pair have since set up a campaign to help raise awareness of the condition with the help of Mr Ball's mother Barbara, who has worked in the special needs sector since 1976.
In addition, Mr Ball also has a fundraising page for the National Autistic Society which has already exceeded its £1,000 target.
Register for free to continue reading
Registration is a free and easy way to support our truly independent journalism
By registering, you will also enjoy limited access to Premium articles, exclusive newsletters, commenting, and virtual events with our leading journalists
Already have an account? sign in
Join our new commenting forum
Join thought-provoking conversations, follow other Independent readers and see their replies