Barbie wears 'Love Wins' t-shirt to support LGBT rights
Needless to say, people are loving it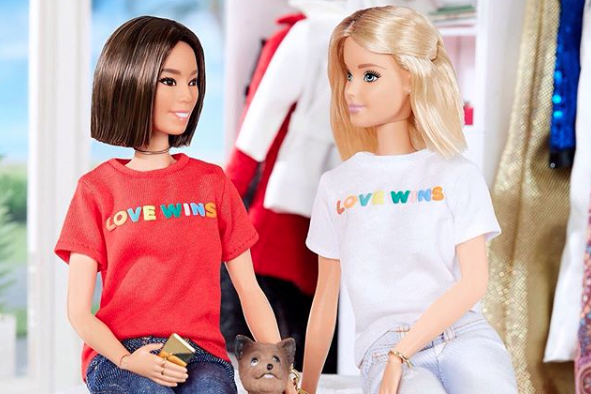 Ever since the first-ever Barbie was created in 1959, the doll has stuck to a formulaic look with cascades of bleach blonde hair and unrealistic body proportions.
However, over the past few years Mattel has made an effort to make Barbie more inclusive with a range of different body types, ethnicities and the launch of its latest figurine that is the first to ever wear a hijab.
In keeping with those efforts, now Barbie is coming out to make a statement in support of LGBT rights, and people are loving it.
Taking to Instagram, Barbie posted a photo wearing a "Love Wins" t-shirt alongside the new doll of fashion blogger Aimee Song, otherwise known as Song of Style.
"Proud to wear this "Love Wins" shirt with @songofstyle!" the post reads.
"Did you know that her exclusive t-shirts benefit different causes and non-profits? Such an inspiring initiative and fabulous few days I have spent with Aimee, she's a doll!"
A phrase that been a rallying cry for the LGBT community, the t-shirt Barbie is wearing is an exact replica of those available on Song's website with half the proceeds going directly to The Trevor Project, a non-profit organisation that works to prevent suicides among LGBT youth.
Needless to say the Internet is thrilled with Barbie's latest venture with the post being flooded with positive comments and liked more than 38,000 times.
"I grew up playing with Barbie dolls and as a member of the LGBT+ community my heart is full with this amazing step towards equality in the media," one person wrote.
Another added, "Thank you for showing us how to win with love and acceptance."
Shortly after Song reposted the same image to her own Instagram account adding, "Me and @BarbieStyle supporting equal rights because #LOVEWINS. Or as some of you have speculated, maybe we're secretly dating."
Join our commenting forum
Join thought-provoking conversations, follow other Independent readers and see their replies