Cosmetics firm apologises for 'adjusting' skin colour of dark-skinned model
Brand says it is 'deeply sorry for missing the mark'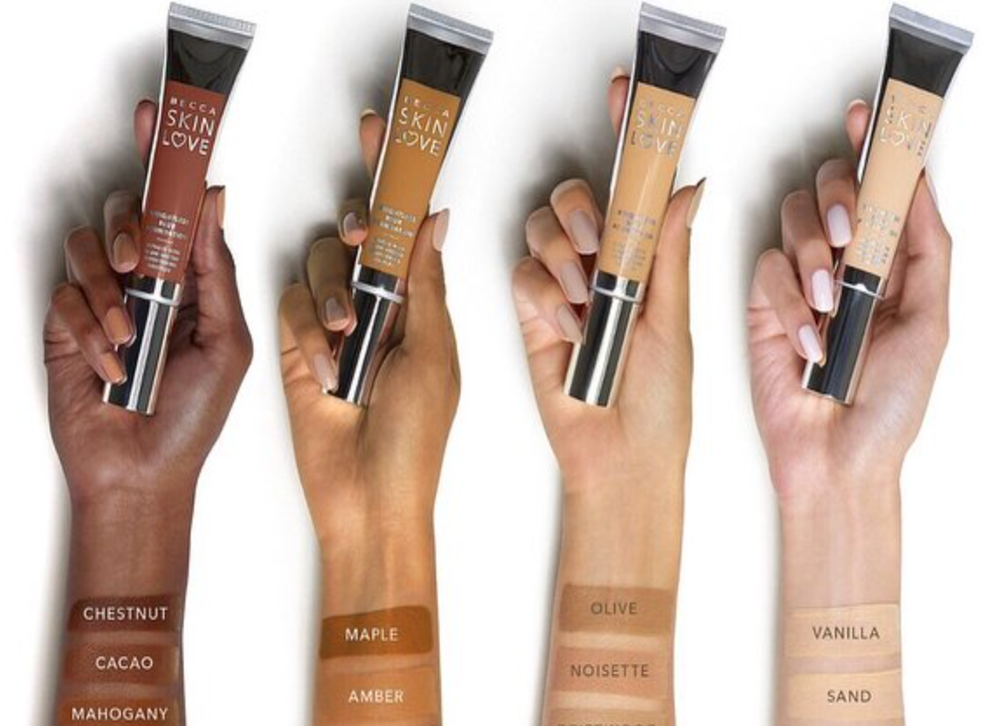 Cosmetics brand Becca has apologised after a recent makeup campaign featuring the skin colour of a model was "adjusted" to appear darker.
As part of the launch of their Skin Love collection, the company released a new foundation called Skin Love Weightless Blur Foundation, which it swatched on four different skin tones.
In the photo, four hands show the various colours available in the new line – however, fans soon noticed that the darker hands looked unrealistic.
As people on social media pointed out, palms are often lighter or a different complexion than actual skin colour, which is not the case in the campaign.
"So did Becca cosmetics really refuse to hire black women for these swatches? They just edited a white hand darker? Look at the two darker hand's palms," one person wrote on Twitter.
Others accused the brand of using the same hand and editing it darker for each shade, comparing it to the obvious difference seen in a photo on the brand's Instagram, which appears to show an unedited darker-skinned hand.
"Not only is this an issue of race, but if you're editing the colour to match your swatches, I'd say that's a little like being dishonest about how well your products match different skin colours," someone tweeted to the brand.
In response to the backlash, the company released a new photo of swatches of the shade range.
Best Foundation Tools

Show all 9
"Thanks to everyone who shared feedback on our recent arm swatch image, we hear you and want you to know that we remain committed to continually representing our inclusive Becca beauties," the brand wrote on Twitter.
"To demonstrate this commitment, we've re-shot with real girls from the Becca office."
On Instagram, the brand also apologised for "missing the mark" – and admitted that it had "adjusted" the photos.
"Some insights: Truth: The image featured four models of different ethnicities. Truth: We acknowledge the way we adjusted the image missed the mark and are deeply sorry for the oversight," the apology read.
It continued: "Truth: Becca is committed to showcasing the lightest to the deepest skin tones and hiring inclusive models for our campaigns."
Register for free to continue reading
Registration is a free and easy way to support our truly independent journalism
By registering, you will also enjoy limited access to Premium articles, exclusive newsletters, commenting, and virtual events with our leading journalists
Already have an account? sign in
Register for free to continue reading
Registration is a free and easy way to support our truly independent journalism
By registering, you will also enjoy limited access to Premium articles, exclusive newsletters, commenting, and virtual events with our leading journalists
Already have an account? sign in
Join our new commenting forum
Join thought-provoking conversations, follow other Independent readers and see their replies