Bella Hadid asks for help identifying photographer who offered her a hand after NYFW runway fall
'I want to thank him personally'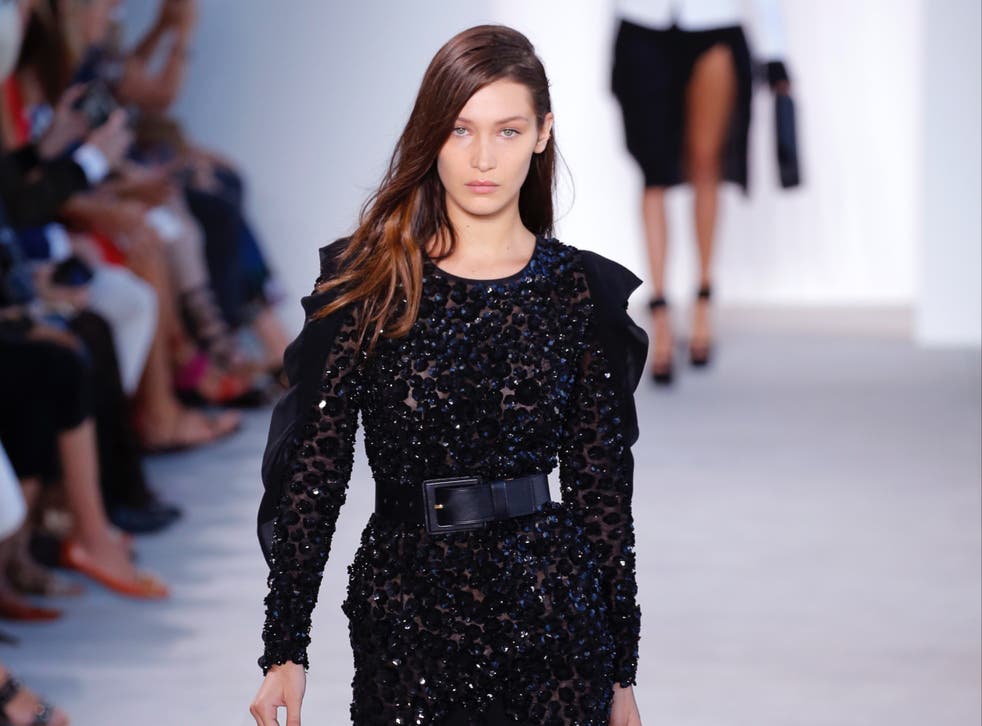 Bella Hadid has asked her Instagram followers for help finding a photographer who offered her a hand when she fell on the runway during New York Fashion Week.
On Thursday, the supermodel reflected on the accident, which took place in 2016 while she was walking the runway for Michael Kors' Spring 2017 show, on her Instagram Stories, where she shared a photo of herself on her hands and knees dressed in a black beaded dress and high black heels.
In the photo, one of the many photographers can be seen reaching a hand out to help Hadid, who was 19 at the time, up from the runway.
"Can someone find me this man? God bless his soul," the 24-year-old wrote on the photo, along with an arrow pointing at the photographer in question. "I want to thank him personally for being the only one to offer a hand in a time of need."
Hadid then posted a close-up version of the same photo, where she had placed a crown emoji on the photographer's head.
While searching for the photographer, Hadid also joked that another photographer, who appeared to continue taking photos of her fall, had only thought about the outcome.
"She said: 'This is gonna be a great pic,'" Hadid wrote above the photographer in question.
This is not the first time the model, who was able to pick herself up from the fall and recover during the runway show, has addressed the situation with humour.
In 2016, just one day after stumbling in her stilettos, Hadid wrote in a since-deleted tweet: "Guys I'm a professional break dancer now I forgot to tell you," according to Teen Vogue.
Register for free to continue reading
Registration is a free and easy way to support our truly independent journalism
By registering, you will also enjoy limited access to Premium articles, exclusive newsletters, commenting, and virtual events with our leading journalists
Already have an account? sign in
Register for free to continue reading
Registration is a free and easy way to support our truly independent journalism
By registering, you will also enjoy limited access to Premium articles, exclusive newsletters, commenting, and virtual events with our leading journalists
Already have an account? sign in
Join our new commenting forum
Join thought-provoking conversations, follow other Independent readers and see their replies