The Independent's journalism is supported by our readers. When you purchase through links on our site, we may earn commission.
Bella Thorne's skincare routine is horrifying her fans
Former Disney star uses just 'one-ish thing' for her skin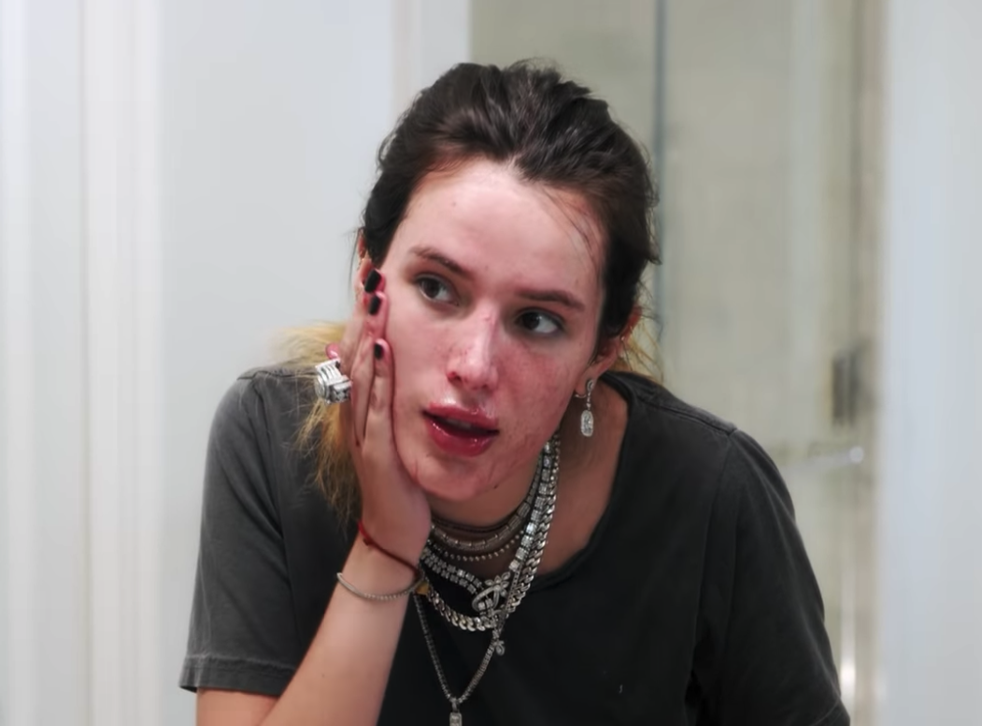 Bella Thorne has shared her unconventional skincare routine - to the horror of her fans who are concerned the all-natural approach could be causing more harm than good.
In a 10-minute video for Harper's Bazaar's #GoToBedWithMe YouTube series, the former Disney star explains that her skincare routine consists of "basically one-ish thing" and that she mostly focuses her efforts on the texture of her skin.
After revealing that she suffered from years of cystic acne and that her skin is "very oily underneath and dry on top," the 21-year-old showed viewers how she washes her face - using only a homemade scrub consisting of lemon, olive oil, and sugar.
"It makes the skin so smooth and actually takes away the indents," Thorne said, before explaining that she rubs the abrasive scrub in a circular motion to "help me activate the skin to become alive again in a sense".
The actress then slaps her face, a technique she says she learned from a makeup artist, that is "supposed to kind of wake everything up".
Thorne finished off her routine, which included scrubbing the delicate skin beneath her eyes, by making a homemade mask containing coconut oil, honey and cherries.
"When it comes to measurements I'm pretty much eyeballing it," she explained, before using a cherry as a lip stain.
According to Thorne, the mask is an extra step for when her skin is particularly dry. She then added: "I don't do anything extra, I don't use moisturiser or anything crazy."
On Reddit and social media, the actress's skincare routine has been met with reactions ranging from confusion and concern to panic.
"I watched the first five seconds of Bella Thorne's skincare routine and started to panic omg," one person wrote on Twitter.
One of the main issues with Thorne's routine is the inclusion of lemon, which is dermatologist Ava Shamban previously told Allure is "one of the most common irritation-causing ingredients due to [the] fact that with sun exposure it makes your skin photosensitive" and that it can also be "irritating on its own".
"Sugar and lemon scrub on dry skin? Yikes", one person wrote.
Another said: "I used to put lemon on my face when I was a teen and it ruined my skin. My young and naive days."
"I'm horrified, this might be the worst routine I've ever seen," someone else commented.
Others pointed out the issue with Thorne omitting a moisturiser from her skincare routine - especially if she suffers from dry skin.
"This is atrocious advice for actual skincare," one person commented on YouTube. "Please do not blindly follow this advice - you will almost positively do more harm than any semblance of help."
According to dermatologist Dr Michele Farber of Schweiger Dermatology Group in New York City, at the absolute minimum, your skincare routine should include a sunscreen to protect against skin cancer and environmental damage.
Natural makeup and skincare

Show all 13
"It is important to never skip your sunscreen – if you do nothing else for your skin, this is very important for not only skin cancer prevention but also anti-ageing," she previously told The Independent.
In addition to sunscreen, she recommends chemical exfoliants such as alpha and beta hydroxy acids for issues such as skin tone and blemishes.
Support free-thinking journalism and attend Independent events
"The right moisturisers are also crucial - choosing a product with hyaluronic acid, ceramides, and glycerin can help repair the skin barrier," she said.
Register for free to continue reading
Registration is a free and easy way to support our truly independent journalism
By registering, you will also enjoy limited access to Premium articles, exclusive newsletters, commenting, and virtual events with our leading journalists
Already have an account? sign in
Register for free to continue reading
Registration is a free and easy way to support our truly independent journalism
By registering, you will also enjoy limited access to Premium articles, exclusive newsletters, commenting, and virtual events with our leading journalists
Already have an account? sign in
Join our new commenting forum
Join thought-provoking conversations, follow other Independent readers and see their replies