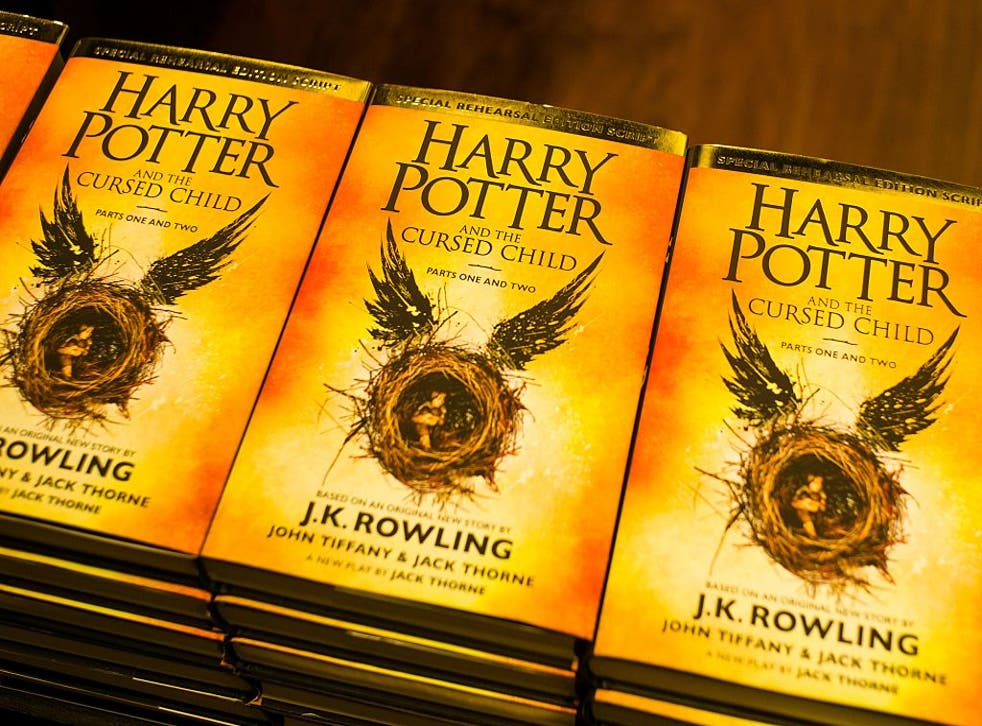 These are the top 100 books of the year, according to Google
Harry Potter reigned supreme in 2016.
The series remains among the most popular books, and the latest edition of the canon, "Harry Potter and the Cursed Child," nabbed the top spot, according to Google's ranking of the top books of the year.
The books and graphic novels were ranked based on their popularity in the Google Play store. But they weren't necessarily published this year — in fact, Dale Carnegie's "How To Win Friends and Influence People" still made the list, despite being first published in 1936.
See below are the 100 most popular books of 2016. All the descriptions of the books below are provided by Google.
100. Batman vs. Superman: The Greatest Battles
Authors: Geoff Johns, Frank Miller, Scott Snyder, Jeph Loeb, Joe Kelly, and Mark Verheiden
Plot: "The Man of Steel against the Dark Knight! Superman and Batman are usually allies, but when they do have to go toe-to-toe, it's the ultimate battle of brains versus brawn! Can an ordinary man take down an opponent with the power of a god? Can even superpowers prevail against a tactical genius who is never less than ten steps ahead?"
99. Find Her​
Author: Lisa Gardner
Plot: "Flora Dane is a victim. Seven years ago, carefree college student Flora was kidnapped while on spring break. For 472 days, Flora learned just how much one person can endure.
"Flora Dane is a survivor. Miraculously alive after her ordeal, Flora has spent the past five years reacquainting herself with the rhythms of normal life, working with her FBI victim advocate, Samuel Keynes. She has a mother who's never stopped loving her, a brother who is scared of the person she's become, and a bedroom wall covered with photos of other girls who've never made it home.
"Flora Dane is reckless...or is she? When Boston detective D. D. Warren is called to the scene of a crime — a dead man and the bound, naked woman who killed him — she learns that Flora has tangled with three other suspects since her return to society. Is Flora a victim or a vigilante? And with her firsthand knowledge of criminal behavior, could she hold the key to rescuing a missing college student whose abduction has rocked Boston? When Flora herself disappears, D.D. realizes a far more sinister predator is out there. One who's determined that this time, Flora Dane will never escape. And now it is all up to D.D. Warren to find her."
98. The Bazaar of Bad Dreams
Author: Stephen King
Plot: "Since 'Nightshift,' published 35 years ago, Stephen King has dazzled an entire generation of readers with his genius as a prominent writer of short fiction. Now in his latest collection, he once again assembles a generous array of unforgettable, tantalizing tales — including those that, until recently, have never been published in a book (such as the story 'Cookie Jar,' which is exclusive to this edition). There are thrilling connections between these works — themes of mortality, the afterlife, guilt, and what we would do differently if we could see into the future or correct the mistakes of the past. Magnificent, eerie, and utterly compelling, 'The Bazaar of Bad Dreams' is one of Stephen King's finest gifts to readers everywhere — a master storyteller at his very best."
97. Harry Potter and the Half-Blood Prince
Author: J.K. Rowling
Plot: "When Dumbledore arrives at Privet Drive one summer night to collect Harry Potter, his wand hand is blackened and shrivelled, but he does not reveal why. Secrets and suspicion are spreading through the wizarding world, and Hogwarts itself is not safe. Harry is convinced that Malfoy bears the Dark Mark: there is a Death Eater amongst them. Harry will need powerful magic and true friends as he explores Voldemort's darkest secrets, and Dumbledore prepares him to face his destiny..."
96. The Light Between Oceans
Author: M.L. Stedman
Plot: "After four harrowing years on the Western Front, Tom Sherbourne returns to Australia and takes a job as the lighthouse keeper on Janus Rock, nearly half a day's journey from the coast. To this isolated island, where the supply boat comes once a season, Tom brings a young, bold, and loving wife, Isabel. Years later, after two miscarriages and one stillbirth, the grieving Isabel hears a baby's cries on the wind. A boat has washed up onshore carrying a dead man and a living baby. Tom, who keeps meticulous records and whose moral principles have withstood a horrific war, wants to report the man and infant immediately. But Isabel insists the baby is a 'gift from God,' and against Tom's judgment, they claim her as their own and name her Lucy. When she is two, Tom and Isabel return to the mainland and are reminded that there are other people in the world. Their choice has devastated one of them."
95. The Cartel 6: The Demise
Author: Ashley & JaQuavis
Plot: "'The Cartel' series is back...and more deadly than ever. Las Vegas. A city built on obscene wealth and corrupt deals, cunning entrepreneurs, and the ruthless mob. The Cartel's plan to open a casino will rake in cash, but comes with great sacrifice. The stakes have never been this high, and rules of the game have never been this hard to manipulate. And when one dead girl, one scorned wife, and one hole in the desert launch a chain of catastrophic events, The Cartel is sent on a downward spiral as they battle the Arabian mob and fight traitors within their circle. Will the Cartel prevail...or fall victim to the city's black cloud? And if there's one rule in the town of Vegas, it's that when the dust settles, there can only be one winner..."
94. Miracles from Heaven: A Little Girl and Her Amazing Story of Healing
Author: Christy Wilson Beam
Plot: "In a remarkable true story of faith and blessings, a mother tells of her sickly young daughter, how she survived a dangerous accident, her visit to Heaven and the inexplicable disappearance of the symptoms of her chronic disease. Annabel Beam spent most of her childhood in and out of hospitals with a rare and incurable digestive disorder that prevented her from ever living a normal, healthy life. One sunny day when she was able to go outside and play with her sisters, she fell three stories headfirst inside an old, hollowed-out tree, a fall that may well have caused death or paralysis. Implausibly, she survived without a scratch. While unconscious inside the tree, with rescue workers struggling to get to her, she visited heaven. After being released from the hospital, she defied science and was inexplicably cured of her chronic ailment. Miracles from Heaven will change how we look at the world around us and reinforce our belief in God and the afterlife."
93. Magnus Chase and the Gods of Asgard, Book 2: The Hammer of Thor
Author: Rick Riordan
Plot: "Thor's hammer is missing again. The thunder god has a disturbing habit of misplacing his weapon — the mightiest force in the Nine Worlds. But this time the hammer isn't just lost. It has fallen into enemy hands. If Magnus Chase and his friends can't retrieve the hammer quickly, the mortal worlds will be defenseless against an onslaught of giants. Ragnarok will begin. The Nine Worlds will burn. Unfortunately, the only person who can broker a deal for the hammer's return is the gods' worst enemy, Loki — and the price he wants is very high."
92. Shadows of Self
Author: Brandon Sanderson
Plot: "Three hundred years after the events of the Mistborn trilogy, Scadrial is now on the verge of modernity, with railroads to supplement the canals, electric lighting in the streets and the homes of the wealthy, and the first steel-framed skyscrapers racing for the clouds.
"When family obligations forced Waxillium Ladrian to forsake the frontier lands and return to the metropolis of his birth to take his place as head of a noble House, he little imagined that the crime-fighting skills acquired during twenty years in the dusty plains would be just as applicable in the big city. He soon learned that there too, just being a talented Twinborn — one who can use both Allomancy and Feruchemy, the dominant magical modes on Scadrial — would not suffice.
"This bustling, optimistic, but still shaky society will now face its first test by terrorism and assassination, crimes intended to stir up labor strife and religious conflict. Wax, his eccentric sidekick Wayne, and brilliant, beautiful young Marasi, now officially part of the constabulary, must unravel the conspiracy before civil strife can stop Scadrial's progress in its tracks."
91. The Four Agreements: A Practical Guide to Personal Freedom
Authors: Don Miguel Ruiz and Janet Mills
Plot: "In 'The Four Agreements,' bestselling author don Miguel Ruiz reveals the source of self-limiting beliefs that rob us of joy and create needless suffering. Based on ancient Toltec wisdom, The Four Agreements offer a powerful code of conduct that can rapidly transform our lives to a new experience of freedom, true happiness, and love."
90. Tricky Twenty-Two: A Stephanie Plum Novel
Author: Janet Evanovitch
Plot: "Stephanie Plum might not be the world's greatest bounty hunter, but she knows when she's being played. Ken Globovic (aka Gobbles), hailed as the Supreme Exalted Zookeeper of the animal house known as Zeta fraternity, has been arrested for beating up the dean of students at Kiltman College. Gobbles has missed his court date and gone into hiding. People have seen him on campus, but no one will talk. Things just aren't adding up, and Stephanie can't shake the feeling that something funny is going on at the college—and it's not just Zeta fraternity pranks.
As much as people love Gobbles, they hate Doug Linken. When Linken is gunned down in his backyard it's good riddance, and the list of possible murder suspects is long. The only people who care about finding Linken's killer are Trenton cop Joe Morelli, who has been assigned the case, security expert Ranger, who was hired to protect Linken, and Stephanie, who has her eye on a cash prize and hopefully has some tricks up her sleeve."
89. Harry Potter and the Deathly Hallows
Author: J.K. Rowling
Plot: "As he climbs into the sidecar of Hagrid's motorbike and takes to the skies, leaving Privet Drive for the last time, Harry Potter knows that Lord Voldemort and the Death Eaters are not far behind. The protective charm that has kept Harry safe until now is broken, but he cannot keep hiding. The Dark Lord is breathing fear into everything Harry loves and to stop him Harry will have to find and destroy the remaining Horcruxes. The final battle must begin — Harry must stand and face his enemy..."
88. Pretty Girls
Author: Karin Slaughter
Plot: "More than 20 years ago, Claire and Lydia's teenaged sister Julia vanished without a trace. The two women have not spoken since, and now their lives could not be more different. Claire is the glamorous trophy wife of an Atlanta millionaire. Lydia, a single mother, dates an ex-con and struggles to make ends meet. But neither has recovered from the horror and heartbreak of their shared loss — a devastating wound that's cruelly ripped open when Claire's husband is killed.
The disappearance of a teenage girl and the murder of a middle-aged man, almost a quarter-century apart: what could connect them? Forming a wary truce, the surviving sisters look to the past to find the truth, unearthing the secrets that destroyed their family all those years ago...and uncovering the possibility of redemption, and revenge, where they least expect it."
87. Harry Potter and the Order of the Phoenix
Author: J.K. Rowling
Plot: "Dark times have come to Hogwarts. After the Dementors' attack on his cousin Dudley, Harry Potter knows that Voldemort will stop at nothing to find him. There are many who deny the Dark Lord's return, but Harry is not alone: a secret order gathers at Grimmauld Place to fight against the Dark forces. Harry must allow Professor Snape to teach him how to protect himself from Voldemort's savage assaults on his mind. But they are growing stronger by the day and Harry is running out of time..."
86. 11/22/63
Author: Stephen King
Plot: "It begins with Jake Epping, a 35-year-old English teacher in Lisbon Falls, Maine, who makes extra money teaching GED classes. He asks his students to write about an event that changed their lives, and one essay blows him away — a gruesome, harrowing story about the night more than 50 years ago when Harry Dunning's father came home and killed his mother, his sister, and his brother with a sledgehammer. Reading the essay is a watershed moment for Jake, his life — like Harry's, like America's in 1963 — turning on a dime. Not much later his friend Al, who owns the local diner, divulges a secret: his storeroom is a portal to the past, a particular day in 1958. And Al enlists Jake to take over the mission that has become his obsession — to prevent the Kennedy assassination.
"So begins Jake's new life as George Amberson, in a different world of Ike and JFK and Elvis, of big American cars and sock hops and cigarette smoke everywhere. From the dank little city of Derry, Maine (where there's Dunning business to conduct), to the warmhearted small town of Jodie, Texas, where Jake falls dangerously in love, every turn is leading eventually, of course, to a troubled loner named Lee Harvey Oswald and to Dallas, where the past becomes heart-stoppingly suspenseful, and where history might not be history anymore. Time-travel has never been so believable. Or so terrifying."
85. The Mistborn Trilogy
Author: Brandon Sanderson
Plot: "For a thousand years the ash fell and no flowers bloomed. For a thousand years the Skaa slaved in misery and lived in fear. For a thousand years the Lord Ruler, the 'Sliver of Infinity,' reigned with absolute power and ultimate terror, divinely invincible. This saga dares to ask a simple question: What if the hero of prophecy fails?"
84. The Walking Dead: Compendium 2
Author: Robert Kirkman
Plot: "This is the perfect collection for any fan of the Emmy Award-winning television series on AMC: over one-thousand pages chronicling the next chapter of Robert Kirkman's Eisner Award-winning continuing story of survival horror — beginning with Rick Grimes' struggle to survive after the prison raid, to the group's finding short solace in The Community, and the devastation that follows. In a world ruled by the dead, we are finally forced to finally start living."
83. Obsession
Author: Helen Hardt
Plot: "Jade Roberts is in love with Talon Steel but no longer welcome in his home. While she resolves to move on, she still longs for the passion she and Talon shared…and when her boss asks her to dig up information on the Steels, she's only too happy to comply. Talon and his brothers are hiding something, and Jade is determined to find out what it is.
"The moment Talon saw Jade he wanted her, ached for her, craved her…and now his desire has become his obsession. He knows she deserves better than his broken soul, but he can't stay away from her, and he finally confesses his love. If he and Jade are to have a future, he knows he must make peace with the dark shadows and horrors of his past.
"But as Talon begins his journey of healing, Jade uncovers some startling secrets..."
82. When Breath Becomes Air
Author: Paul Kalanithi
Plot: "At the age of 36, on the verge of completing a decade's worth of training as a neurosurgeon, Paul Kalanithi was diagnosed with stage IV lung cancer. One day he was a doctor treating the dying, and the next he was a patient struggling to live. And just like that, the future he and his wife had imagined evaporated. 'When Breath Becomes Air' chronicles Kalanithi's transformation from a naïve medical student 'possessed,' as he wrote, 'by the question of what, given that all organisms die, makes a virtuous and meaningful life' into a neurosurgeon at Stanford working in the brain, the most critical place for human identity, and finally into a patient and new father confronting his own mortality.
"What makes life worth living in the face of death? What do you do when the future, no longer a ladder toward your goals in life, flattens out into a perpetual present? What does it mean to have a child, to nurture a new life as another fades away? These are some of the questions Kalanithi wrestles with in this profoundly moving, exquisitely observed memoir."
81. One Small Step Can Change Your Life: The Kaizen Way
Author: Robert Maurer
Plot: "Written by Dr. Robert Maurer, a psychologist on the staff of both the University of Washington School of Medicine and Santa Monica UCLA Medical Center, and an expert on kaizen who speaks and consults nationally, 'One Small Step Can Change Your Life' is the gentle but potent way to effect change. It is for anyone who wants to lose weight. Or quit smoking. Or write a novel, start an exercise program, get out of debt, or conquer shyness and meet new people.
"Beginning by outlining the all-important role that fear plays in every type of change — and kaizen's ability to neutralize it by circumventing the brain's built-in resistance to new behavior — Dr. Maurer then explains the 7 Small Steps: how to Think Small Thoughts, Take Small Actions, Solve Small Problems, and more. He shows how to perform mind sculpture—visualizing virtual change so that real change comes more naturally. Why small rewards lead to big returns by internalizing motivation. How great discoveries are made by paying attention to the little details most of us overlook. Rooted in the two-thousand-year-old wisdom of the Tao Te Ching — 'The journey of a thousand miles begins with a single step' — here is the way to change your life without fear, without failure, and to begin a new, easy regimen of continuous improvement."
80. Room
Author: Emma Donoghue
Plot: "To 5-year-old Jack, Room is the world...It's where he was born, it's where he and his Ma eat and sleep and play and learn. At night, his Ma shuts him safely in the wardrobe, where he is meant to be asleep when Old Nick visits.
Room is home to Jack, but to Ma it's the prison where she has been held for 7 years. Through her fierce love for her son, she has created a life for him in this 11-by-11-foot space. But with Jack's curiosity building alongside her own desperation, she knows that Room cannot contain either much longer."
79. The Secret
Author: Rhonda Byrne
Plot: "Fragments of a Great Secret have been found in the oral traditions, in literature, in religions and philosophies throughout the centuries. For the first time, all the pieces of The Secret come together in an incredible revelation that will be life-transforming for all who experience it.
"In this book, you'll learn how to use The Secret in every aspect of your life—money, health, relationships, happiness, and in every interaction you have in the world. You'll begin to understand the hidden, untapped power that's within you, and this revelation can bring joy to every aspect of your life.
"The Secret contains wisdom from modern-day teachers—men and women who have used it to achieve health, wealth, and happiness. By applying the knowledge of The Secret, they bring to light compelling stories of eradicating disease, acquiring massive wealth, overcoming obstacles, and achieving what many would regard as impossible."
78. One Second After
Author: William R. Forstchen
Plot: "New York Times best-selling author William R. Forstchen now brings us a story which can be all too terrifyingly real...a story in which one man struggles to save his family and his small North Carolina town after America loses a war, in one second, a war that will send America back to the Dark Ages...A war based upon a weapon, an Electro Magnetic Pulse (EMP). A weapon that may already be in the hands of our enemies.
"Months before publication, 'One Second After' has already been cited on the floor of Congress as a book all Americans should read, a book already being discussed in the corridors of the Pentagon as a truly realistic look at a weapon and its awesome power to destroy the entire United States, literally within one second. It is a weapon that The Wall Street Journal warns could shatter America. In the tradition of 'On the Beach,' 'Fail Safe' and 'Testament,' this book, set in a typical American town, is a dire warning of what might be our future...and our end."
77. The Inheritance Cycle Complete Collection: Eragon, Eldest, Brisingr, Inheritance​
Author: Christopher Paolini
Plot: "The No. 1 New York Times bestselling Inheritance Cycle about the dragon rider Eragon has sold over 35 million copies and is an international fantasy sensation. For the first time, here are all four books in one ebook collection."
76. The Nightingale
Author: Kristin Hannah
Plot: "In the quiet village of Carriveau, Vianne Mauriac says goodbye to her husband, Antoine, as he heads for the Front. She doesn't believe that the Nazis will invade France...but invade they do, in droves of marching soldiers, in caravans of trucks and tanks, in planes that fill the skies and drop bombs upon the innocent. When a German captain requisitions Vianne's home, she and her daughter must live with the enemy or lose everything. Without food or money or hope, as danger escalates all around them, she is forced to make one impossible choice after another to keep her family alive.
"Vianne's sister, Isabelle, is a rebellious 18-year-old girl, searching for purpose with all the reckless passion of youth. While thousands of Parisians march into the unknown terrors of war, she meets Gäetan, a partisan who believes the French can fight the Nazis from within France, and she falls in love as only the young can...completely. But when he betrays her, Isabelle joins the Resistance and never looks back, risking her life time and again to save others.
"With courage, grace and powerful insight, bestselling author Kristin Hannah captures the epic panorama of WWII and illuminates an intimate part of history seldom seen: the women's war. 'The Nightingale' tells the stories of two sisters, separated by years and experience, by ideals, passion and circumstance, each embarking on her own dangerous path toward survival, love, and freedom in German-occupied, war-torn France — a heartbreakingly beautiful novel that celebrates the resilience of the human spirit and the durability of women. It is a novel for everyone, a novel for a lifetime."
75. The Crown
Author: Kiera Cass
Plot: "Prepare to be swept off your feet by 'The Crown' — the eagerly awaited, wonderfully romantic fifth and final book in the Selection series.
"In 'The Heir,' a new era dawned in the world of The Selection. Twenty years have passed since America Singer and Prince Maxon fell in love, and their daughter is the first princess to hold a Selection of her own.
"Eadlyn didn't think she would find a real partner among the Selection's 35 suitors, let alone true love. But sometimes the heart has a way of surprising you…and now Eadlyn must make a choice that feels more difficult — and more important — than she ever expected."
74. Harry Potter and the Goblet of Fire
Author: J.K. Rowling
Plot: "The Triwizard Tournament is to be held at Hogwarts. Only wizards who are over seventeen are allowed to enter — but that doesn't stop Harry dreaming that he will win the competition. Then at Hallowe'en, when the Goblet of Fire makes its selection, Harry is amazed to find his name is one of those that the magical cup picks out. He will face death-defying tasks, dragons and Dark wizards, but with the help of his best friends, Ron and Hermione, he might just make it through — alive!"
73. All the Light We Cannot See
Author: Anthony Doerr
Plot: "Marie-Laure lives with her father in Paris near the Museum of Natural History, where he works as the master of its thousands of locks. When she is six, Marie-Laure goes blind and her father builds a perfect miniature of their neighborhood so she can memorize it by touch and navigate her way home. When she is 12, the Nazis occupy Paris and father and daughter flee to the walled citadel of Saint-Malo, where Marie-Laure's reclusive great-uncle lives in a tall house by the sea. With them they carry what might be the museum's most valuable and dangerous jewel.
"In a mining town in Germany, the orphan Werner grows up with his younger sister, enchanted by a crude radio they find. Werner becomes an expert at building and fixing these crucial new instruments, a talent that wins him a place at a brutal academy for Hitler Youth, then a special assignment to track the resistance. More and more aware of the human cost of his intelligence, Werner travels through the heart of the war and, finally, into Saint-Malo, where his story and Marie-Laure's converge."
72. The 5 Love Languages: The Secret to Love that Lasts
Author: Gary Chapman
Plot: "Falling in love is easy. Staying in love — that's the challenge! How can you keep your relationship fresh and growing amid the demands, conflicts, and just plain boredom of everyday life?
"In the No. 1 New York Times bestseller 'The 5 Love Languages,' you'll discover the secret that has transformed millions of relationships worldwide. Whether your relationship is flourishing or failing, Dr. Gary Chapman's proven approach to showing and receiving love will help you experience deeper and richer levels of intimacy with your partner — starting today.
"'The 5 Love Languages' is as practical as it is insightful. Updated to reflect the complexities of relationships today, this new edition reveals intrinsic truths and applies relevant, actionable wisdom in ways that work."
71. The Last Star
Author: Rick Yancey
Plot: "The enemy is Other. The enemy is us. They're down here, they're up there, they're nowhere. They want the Earth, they want us to have it. They came to wipe us out, they came to save us.
"But beneath these riddles lies one truth: Cassie has been betrayed. So has Ringer. Zombie. Nugget. And all 7.5 billion people who used to live on our planet. Betrayed first by the Others, and now by ourselves.
"In these last days, Earth's remaining survivors will need to decide what's more important: saving themselves...or saving what makes us human."
70. Diary of a Wimpy Kid: Old School
Author: Jeff Kinney
Plot: "Life was better in the old days. Or was it? That's the question Greg Heffley is asking as his town voluntarily unplugs and goes electronics-free. But modern life has its conveniences, and Greg isn't cut out for an old-fashioned world. With tension building inside and outside the Heffley home, will Greg find a way to survive? Or is going 'old school' just too hard for a kid like Greg?"
69. The Ultimate Hitchhiker's Guide to the Galaxy
Author: Douglas Adams
Plot: "At last in paperback in one complete volume, here are the five classic novels from Douglas Adams's beloved Hitchiker series:
'The Hitchhiker's Guide to the Galaxy'
Seconds before the Earth is demolished for a galactic freeway, Arthur Dent is saved by Ford Prefect, a researcher for the revised Guide. Together they stick out their thumbs to the stars and begin a wild journey through time and space.
'The Restaurant at the End of the Universe'
Facing annihilation at the hands of warmongers is a curious time to crave tea. It could only happen to the cosmically displaced Arthur Dent and his comrades as they hurtle across the galaxy in a desperate search for a place to eat.
'Life, the Universe and Everything'
The unhappy inhabitants of planet Krikkit are sick of looking at the night sky — so they plan to destroy it. The universe, that is. Now only five individuals can avert Armageddon: mild-mannered Arthur Dent and his stalwart crew.
'So Long, and Thanks for All the Fish'
Back on Earth, Arthur Dent is ready to believe that the past eight years were all just a figment of his stressed-out imagination. But a gift-wrapped fishbowl with a cryptic inscription conspires to thrust him back to reality. So to speak.
'Mostly Harmless'
Just when Arthur Dent makes the terrible mistake of starting to enjoy life, all hell breaks loose. Can he save the Earth from total obliteration? Can he save the Guide from a hostile alien takeover? Can he save his daughter from herself?"
68. Harry Potter and the Prisoner of Azkaban
Author: J.K. Rowling
Plot: "When the Knight Bus crashes through the darkness and screeches to a halt in front of him, it's the start of another far from ordinary year at Hogwarts for Harry Potter. Sirius Black, escaped mass-murderer and follower of Lord Voldemort, is on the run — and they say he is coming after Harry. In his first ever Divination class, Professor Trelawney sees an omen of death in Harry's tea leaves... But perhaps most terrifying of all are the Dementors patrolling the school grounds, with their soul-sucking kiss..."
67. The Revenant: A Novel of Revenge
Author: Michael Punke
Plot: "The year is 1823, and the trappers of the Rocky Mountain Fur Company live a brutal frontier life. Hugh Glass is among the company's finest men, an experienced frontiersman and an expert tracker. But when a scouting mission puts him face-to-face with a grizzly bear, he is viciously mauled and not expected to survive. Two company men are dispatched to stay behind and tend to Glass before he dies. When the men abandon him instead, Glass is driven to survive by one desire: revenge. With shocking grit and determination, Glass sets out, crawling at first, across hundreds of miles of uncharted American frontier. Based on a true story, 'The Revenant' is a remarkable tale of obsession, the human will stretched to its limits, and the lengths that one man will go to for retribution."
66. The Murder House
Authors: James Patterson and David Ellis
Plot: "No. 7 Ocean Drive is a gorgeous, multi-million-dollar beachfront estate in the Hamptons, where money and privilege know no bounds. But its beautiful gothic exterior hides a horrific past: it was the scene of a series of depraved killings that have never been solved. Neglected, empty, and rumored to be cursed, it's known as the Murder House, and locals keep their distance.
"Detective Jenna Murphy used to consider herself a local, but she hasn't been back since she was a girl. Trying to escape her troubled past and rehabilitate a career on the rocks, the former New York City cop hardly expects her lush and wealthy surroundings to be a hotbed of grisly depravity. But when a Hollywood power broker and his mistress are found dead in the abandoned Murder House, the gruesome crime scene rivals anything Jenna experienced in Manhattan. And what at first seems like an open and shut case turns out to have as many shocking secrets as the Murder House itself, as Jenna quickly realizes that the mansion's history is much darker than even the town's most salacious gossips could have imagined. As more bodies surface, and the secret that Jenna has tried desperately to escape closes in on her, she must risk her own life to expose the truth--before the Murder House claims another victim."
65. A Stolen Life
Author: Jaycee Dugard
Plot: "In the summer of 1991 I was a normal kid. I did normal things. I had friends and a mother who loved me. I was just like you. Until the day my life was stolen.
"For 18 years I was a prisoner. I was an object for someone to use and abuse.
"For 18 years I was not allowed to speak my own name. I became a mother and was forced to be a sister. For eighteen years I survived an impossible situation.
"On August 26, 2009, I took my name back. My name is Jaycee Lee Dugard. I don't think of myself as a victim. I survived.
"'A Stolen Life' is my story — in my own words, in my own way, exactly as I remember it."
64. Rich Dad Poor Dad: What The Rich Teach Their Kids About Money That the Poor and Middle Class Do Not!
Author: Robert Kiyosaki
Plot: "'Rich Dad Poor Dad,' the No. 1 personal finance book of all time, tells the story of Robert Kiyosaki and his two dads — his real father and the father of his best friend, his rich dad — and the ways in which both men shaped his thoughts about money and investing. The book explodes the myth that you need to earn a high income to be rich and explains the difference between working for money and having your money work for you."
63. Lady Midnight
Author: Cassandra Clare
Plot: "It's been five years since the events of 'City of Heavenly Fire' that brought the Shadowhunters to the brink of oblivion. Emma Carstairs is no longer a child in mourning, but a young woman bent on discovering what killed her parents and avenging her losses.
"Together with her parabatai Julian Blackthorn, Emma must learn to trust her head and her heart as she investigates a demonic plot that stretches across Los Angeles, from the Sunset Strip to the enchanted sea that pounds the beaches of Santa Monica. If only her heart didn't lead her in treacherous directions…
"Making things even more complicated, Julian's brother Mark — who was captured by the faeries five years ago — has been returned as a bargaining chip. The faeries are desperate to find out who is murdering their kind — and they need the Shadowhunters' help to do it. But time works differently in faerie, so Mark has barely aged and doesn't recognize his family. Can he ever truly return to them? Will the faeries really allow it?"
62. The Life-Changing Magic of Tidying Up: The Japanese Art of Decluttering and Organising
Author: Maria Kondo
Plot: "Despite constant efforts to declutter your home, do papers still accumulate like snowdrifts and clothes pile up like a tangled mess of noodles?
"Japanese cleaning consultant Marie Kondo takes tidying to a whole new level, promising that if you properly simplify and organize your home once, you'll never have to do it again. Most methods advocate a room-by-room or little-by-little approach, which doom you to pick away at your piles of stuff forever. The KonMari Method, with its revolutionary category-by-category system, leads to lasting results. In fact, none of Kondo's clients have lapsed (and she still has a three-month waiting list).
"With detailed guidance for determining which items in your house 'spark joy' (and which don't), this international bestseller featuring Tokyo's newest lifestyle phenomenon will help you clear your clutter and enjoy the unique magic of a tidy home — and the calm, motivated mindset it can inspire."
61. The Sword of Shannara Trilogy
Author: Terry Brooks
Plot: "Twenty-five years ago, New York Times bestselling author Terry Brooks wrote a novel that brought to life a dazzling world that would become one of the most popular fantasy epics of all time, beloved by millions of fans around the world. Ten more Shannara books would follow. Now, for the first time in one elegant collector's edition hardcover, and featuring an introduction by the author, here are the first three novels of that classic series: 'The Sword of Shannara,' 'The Elfstones of Shannara,' and 'The Wishsong of Shannara' — the beginning of a phenomenal epic of good and evil."
60. After Anna
Author: Alex Lake
Plot: "A girl is missing. Five years old, taken from outside her school. She has vanished, traceless.
"The police are at a loss; her parents are beyond grief. Their daughter is lost forever, perhaps dead, perhaps enslaved.
"But the biggest mystery is yet to come: one week after she was abducted, their daughter is returned.
"She has no memory of where she has been. And this, for her mother, is just the beginning of the nightmare."
59. The Walking Dead: Compendium 1
Author: Robert Kirkman
Plot: "Since 2003, Robert Kirkman's 'The Walking Dead' has been redefining the survival horror genre with its unique and vivid account of life after the end of the world. Although the cast is diverse and often changing (including, of course, a great number of zombies), at the heart of every tale is Rick Grimes: former police officer, husband, father, and de facto leader of a ragtag band of survivors looking to make a future for themselves in a world that no longer has one. To call The Walking Dead a zombie tale is accurate to a point, but it touches on only one facet of a story that asks timeless questions about what it means to live. It also asks whether or not this is possible in a world full of the dead. This is a great opportunity to experience this gripping read for the first time or catch up on the tale with the first four years worth of material, collected in one volume for the first time."
58. The Wait: A Powerful Practice for Finding the Love of Your Life and the Life You Love
Authors: DeVon Franklin and Meagan Good
Plot: "President/CEO of Franklin Entertainment and former Sony Pictures executive DeVon Franklin and award-winning actress Meagan Good have learned sometimes all we can do is wait for 'the one' to come into our lives. They spent years crossing paths but it wasn't until they were thrown together while working on the film 'Jumping the Broom' that their storybook romance began.
"Faced with starting a new relationship and wanting to avoid potentially devastating relationship pitfalls, DeVon and Meagan chose to do something almost unheard of in today's society — abstain from sex until they were married.
"In 'The Wait,' DeVon and Meagan share the life-changing message that waiting — rather than rushing a relationship — can help you find the person you're meant to be with. Filled with candid his-and-hers accounts of the most important moments of their relationship, and practical advice on how waiting for everything—from dating to sex—can transform relationships, allowing you to find a deep connection based on patience, trust, and faith."
57. End of Watch
Author: Stephen King
From Google: "In Room 217 of the Lakes Region Traumatic Brain Injury Clinic, something has awakened. Something evil. Brady Hartsfield, perpetrator of the Mercedes Massacre, where eight people were killed and many more were badly injured, has been in the clinic for five years, in a vegetative state. According to his doctors, anything approaching a complete recovery is unlikely. But behind the drool and stare, Brady is awake, and in possession of deadly new powers that allow him to wreak unimaginable havoc without ever leaving his hospital room.
"Retired police detective Bill Hodges, the unlikely hero of 'Mr. Mercedes' and 'Finders Keepers,' now runs an investigation agency with his partner, Holly Gibney — the woman who delivered the blow to Hartsfield's head that put him on the brain injury ward. When Bill and Holly are called to a suicide scene with ties to the Mercedes Massacre, they find themselves pulled into their most dangerous case yet, one that will put their lives at risk, as well as those of Bill's heroic young friend Jerome Robinson and his teenage sister, Barbara. Brady Hartsfield is back, and planning revenge not just on Hodges and his friends, but on an entire city."
56. The Force Awakens
Author: Alan Dean Foster
Plot: "More than 30 years ago, 'Star Wars' burst onto the big screen and became a cultural phenomenon. Now the next adventures in this blockbuster saga are poised to captivate old and new fans alike—beginning with the highly anticipated 'Star Wars: The Force Awakens.' And alongside the cinematic debut comes the thrilling novel adaptation by New York Times bestselling science fiction master Alan Dean Foster.
"Set years after 'Return of the Jedi,' this stunning new action-packed adventure rockets us back into the world of Princess Leia, Han Solo, Chewbacca, C-3PO, R2-D2, and Luke Skywalker, while introducing a host of exciting new characters. Darth Vader may have been redeemed and the Emperor vanquished, but peace can be fleeting, and evil does not easily relent. Yet the simple belief in good can still empower ordinary individuals to rise and meet the greatest challenges.
"So return to that galaxy far, far away, and prepare yourself for what happens when the Force awakens."
55. You Are a Bad---: How to Stop Doubting Your Greatness and Start Living an Awesome Life
Author: Jen Sincero
Plot: "In this refreshingly entertaining how-to guide, bestselling author and world-traveling success coach, Jen Sincero, serves up 27 bitesized chapters full of hilariously inspiring stories, sage advice, easy exercises, and the occasional swear word, helping you to: Identify and change the self-sabotaging beliefs and behaviors that stop you from getting what you want, create a life you totally love. And create it NOW, make some d--- money already. The kind you've never made before.
"By the end of 'You Are a Bad---,' you'll understand why you are how you are, how to love what you can't change, how to change what you don't love, and how to use The Force to kick some serious a--."
54. 100 Deadly Skills: The SEAL Operative's Guide to Eluding Pursuers, Evading Capture, and Surviving Any Dangerous Situation
Author: Clint Emerson
Plot: "This complete course in survival teaches you how to prevent tracking, evade a kidnapping, elude an active shooter, rappel down the side of a building, immobilize a bad guy, protect yourself against cyber-criminals, and much more — all using low-tech to 'no-tech' methods. Clear, detailed, and presented in an easy-to-understand and execute format, '100 Deadly Skills' is an invaluable resource. Because let's face it, when danger is imminent, you don't have time for complicated instructions."
53. The Silent Girls
Author: Eric Rickstad
From Google: "Frank Rath thought he was done with murder when he turned in his detective's badge to become a private investigator and raise a daughter alone. Then the police in his remote rural community of Canaan find an '89 Monte Carlo abandoned by the side of the road, and the beautiful teenage girl who owned the car seems to have disappeared without a trace.
"Soon Rath's investigation brings him face-to-face with the darkest abominations of the human soul.
"With the consequences of his violent and painful past plaguing him, and young women with secrets vanishing one by one, he discovers once again that even in the smallest towns on the map, evil lurks everywhere — and no one is safe."
52. Act Like a Lady, Think Like a Man, Expanded Edition: What Men Really Think About Love, Relationships, Intimacy, and Commitment
Author: Steve Harvey
From Google: "Steve Harvey can't count the number of impressive women he's met over the years — the many incredible women who can run a business, have three kids, maintain a household in tiptop shape, and chair a church group all at the same time. So, when it comes to relationships, why can't these same women figure out what makes men commit? According to Steve, it's because they're asking other women for advice when they should be going directly to the source. In this expanded edition, Steve includes an added section of all new advice, with tips on dealing with your partner's exes, spicing up your relationship, ensuring you're ready for that walk down the aisle, and much more."
51. Suicide Squad Volume 1: Kicked in the Teeth
Author: Adam Glass
Plot: "The story begins with the Suicide Squad defeated, imprisoned and being interrogated about their newest mission. Harley Quinn, King Shark, Deadshot and company must make it out alive without revealing who's pulling the strings behind their illegal operations. Who will be the first to crack under the pressure? More importantly will they make it all out alive?"
50. The Last Mile
Author: David Baldacci
Plot: "Convicted murderer Melvin Mars is counting down the last hours before his execution — for the violent killing of his parents twenty years earlier — when he's granted an unexpected reprieve. Another man has confessed to the crime.
"Amos Decker, newly hired on an FBI special task force, takes an interest in Mars's case after discovering the striking similarities to his own life: Both men were talented football players with promising careers cut short by tragedy. Both men's families were brutally murdered. And in both cases, another suspect came forward, years after the killing, to confess to the crime. A suspect who may or may not have been telling the truth.
"The confession has the potential to make Melvin Mars — guilty or not — a free man. Who wants Mars out of prison? And why now?
"But when a member of Decker's team disappears, it becomes clear that something much larger--and more sinister--than just one convicted criminal's life hangs in the balance. Decker will need all of his extraordinary brainpower to stop an innocent man from being executed."
49. A Knight of the Seven Kingdoms
Author: George R.R. Martin
Plot: "Before Tyrion Lannister and Podrick Payne, there was Dunk and Egg. A young, naïve but ultimately courageous hedge knight, Ser Duncan the Tall towers above his rivals — in stature if not experience. Tagging along is his diminutive squire, a boy called Egg — whose true name is hidden from all he and Dunk encounter. Though more improbable heroes may not be found in all of Westeros, great destinies lay ahead for these two...as do powerful foes, royal intrigue, and outrageous exploits."
48. The Good Girl
Author: Mary Kubica
Plot: "One night, Mia Dennett enters a bar to meet her on-again, off-again boyfriend. But when he doesn't show, she unwisely leaves with an enigmatic stranger. At first Colin Thatcher seems like a safe one-night stand. But following Colin home will turn out to be the worst mistake of Mia's life. When Colin decides to hide Mia in a secluded cabin in rural Minnesota instead of delivering her to his employers, Mia's mother, Eve, and detective Gabe Hoffman will stop at nothing to find them. But no one could have predicted the emotional entanglements that eventually cause this family's world to shatter."
47. The Infinite Sea
Author: Rick Yancey
Plot: "How do you rid the Earth of seven billion humans? Rid the humans of their humanity.
"Surviving the first four waves was nearly impossible. Now Cassie Sullivan finds herself in a new world, a world in which the fundamental trust that binds us together is gone. As the 5th Wave rolls across the landscape, Cassie, Ben, and Ringer are forced to confront the Others' ultimate goal: the extermination of the human race.
"Cassie and her friends haven't seen the depths to which the Others will sink, nor have the Others seen the heights to which humanity will rise, in the ultimate battle between life and death, hope and despair, love and hate."
46. Craving
Author: Helen Hardt
Plot: "After being left at the altar, Jade Roberts seeks solace at her best friend's ranch on the Colorado western slope. Her humiliation still ripe, she doesn't expect to be attracted to her friend's reticent brother, but when the gorgeous cowboy kisses her, all bets are off.
"Talon Steel is broken. Having never fully healed from a horrific childhood trauma, he simply exists, taking from women what is offered and giving nothing in return...until Jade Roberts catapults into his life. She is beautiful, sweet, and giving, and his desire for her becomes a craving he fears he'll never be able to satisfy.
"Passion sizzles between the two lovers...but long-buried secrets haunt them both and may eventually tear them apart."
45. Between the World and Me
Author: Ta-Nehisi Coates
Plot: "In a profound work that pivots from the biggest questions about American history and ideals to the most intimate concerns of a father for his son, Ta-Nehisi Coates offers a powerful new framework for understanding our nation's history and current crisis. Americans have built an empire on the idea of 'race,' a falsehood that damages us all but falls most heavily on the bodies of black women and men — bodies exploited through slavery and segregation, and, today, threatened, locked up, and murdered out of all proportion. What is it like to inhabit a black body and find a way to live within it? And how can we all honestly reckon with this fraught history and free ourselves from its burden?
"'Between the World and Me' is Ta-Nehisi Coates's attempt to answer these questions in a letter to his adolescent son. Coates shares with his son — and readers — the story of his awakening to the truth about his place in the world through a series of revelatory experiences, from Howard University to Civil War battlefields, from the South Side of Chicago to Paris, from his childhood home to the living rooms of mothers whose children's lives were taken as American plunder."
44. Rogue Lawyer
Author: John Grisham
Plot: "On the right side of the law — sort of — Sebastian Rudd is not your typical street lawyer. His office is a customized bulletproof van, complete with Wi-Fi, a bar, a small fridge, and fine leather chairs. He has no firm, no partners, and only one employee: his heavily armed driver, who also so happens to be his bodyguard, law clerk, confidant, and golf caddie. Sebastian drinks small-batch bourbon and carries a gun. He defends people other lawyers won't go near: a drug-addled, tattooed kid rumored to be in a satanic cult; a vicious crime lord on death row; a homeowner arrested for shooting at a SWAT team that mistakenly invaded his house. Why these clients? Because Sebastian believes everyone is entitled to a fair trial — even if he has to bend the law to secure one."
43. Behind Closed Doors
Author: B. A. Paris
Plot: "Everyone knows a couple like Jack and Grace. He has looks and wealth; she has charm and elegance. He's a dedicated attorney who has never lost a case; she is a flawless homemaker, a masterful gardener and cook, and dotes on her disabled younger sister. Though they are still newlyweds, they seem to have it all. You might not want to like them, but you do. You're hopelessly charmed by the ease and comfort of their home, by the graciousness of the dinner parties they throw. You'd like to get to know Grace better.
"But it's difficult, because you realize Jack and Grace are inseparable.
"Some might call this true love. Others might wonder why Grace never answers the phone. Or why she can never meet for coffee, even though she doesn't work. How she can cook such elaborate meals but remain so slim. Or why she never seems to take anything with her when she leaves the house, not even a pen. Or why there are such high-security metal shutters on all the downstairs windows.
"Some might wonder what's really going on once the dinner party is over, and the front door has closed."
42. The Choice
Author: Nicholas Sparks
Plot: "Travis Parker has everything a man could want: a good job, loyal friends, even a waterfront home in small-town North Carolina. In full pursuit of the good life - boating, swimming , and regular barbecues with his good-natured buddies -- he holds the vague conviction that a serious relationship with a woman would only cramp his style. That is, until Gabby Holland moves in next door."
41. A Good Marriage
Author: Stephen King
Plot: "Darcy Anderson's husband of more than 20 years is away on one of his routine business trips when the unsuspecting Darcy looks for batteries in the garage. Her toe knocks up against a hidden box under a worktable and in it she discovers a trove of horrific evidence that her husband is two men — one, the benign father of her children, the other, a raging rapist and murderer. It's a horrifying discovery, rendered with bristling intensity, and it definitively ends 'A Good Marriage.'"
40. Hollow City: The Second Novel of Miss Peregrine's Home for Peculiar Children
Author: Ransom Riggs
Plot: "Ten peculiar children flee an army of deadly monsters. And only one person can help them — but she's trapped in the body of a bird. The extraordinary journey that began in 'Miss Peregrine's Home for Peculiar Children' continues as Jacob Portman and his newfound friends journey to London, the peculiar capital of the world. There, they hope to find a cure for their beloved headmistress, Miss Peregrine. But in this war-torn city, hideous surprises lurk around every corner. And before Jacob can deliver the peculiar children to safety, he must make an important decision about his love for Emma Bloom. Like its predecessor, this second novel in the Peculiar Children series blends thrilling fantasy with vintage photography to create a one-of-a-kind reading experience."
39. Library of Souls: The Third Novel of Miss Peregrine's Home for Peculiar Children
Author: Ransom Riggs
Plot: "A boy with extraordinary powers. An army of deadly monsters. An epic battle for the future of peculiardom.
"The adventure that began with 'Miss Peregrine's Home for Peculiar Children' and continued in 'Hollow City' comes to a thrilling conclusion with 'Library of Souls.' As the story opens, 16-year-old Jacob discovers a powerful new ability, and soon he's diving through history to rescue his peculiar companions from a heavily guarded fortress. Accompanying Jacob on his journey are Emma Bloom, a girl with fire at her fingertips, and Addison MacHenry, a dog with a nose for sniffing out lost children.
"They'll travel from modern-day London to the labyrinthine alleys of Devil's Acre, the most wretched slum in all of Victorian England. It's a place where the fate of peculiar children everywhere will be decided once and for all. Like its predecessors, 'Library of Souls' blends thrilling fantasy with never-before-published vintage photography to create a one-of-a-kind reading experience."
38. 15th Affair
Author: James Patterson, Maxine Paetro
Plot: "Lindsay Boxer has a beautiful baby daughter and a husband she loves unconditionally. She'd always been too focused on her career as a San Francisco police detective to wonder what domestic bliss might feel like, but now she knows, and she's never been happier. She can't imagine that a brutal murder at a luxury hotel, and the disappearance of a gorgeous blond woman from the scene, could have anything to do with her own life and marriage — yet soon both are unraveling, and Lindsay can't ignore disturbing clues that hit very close to home.
"Just as bombs are starting to go off in her personal life, an explosive tragedy rocks San Francisco, plunging the city into chaos. Pressed into duty to investigate a criminal plot that stretches around the globe, Lindsay again finds herself following signs that lead to her own front door. Thrown into a tailspin and fighting against powerful enemies trying to protect their operatives and conceal the truth at all costs, Lindsay turns to the Women's Murder Club for help as she desperately searches for the elusive, and deadly, blonde before she loses Joe for good."
37. Harry Potter and the Chamber of Secrets
Author: J.K. Rowling
Plot: "Harry Potter's summer has included the worst birthday ever, doomy warnings from a house-elf called Dobby, and rescue from the Dursleys by his friend Ron Weasley in a magical flying car! Back at Hogwarts School of Witchcraft and Wizardry for his second year, Harry hears strange whispers echo through empty corridors - and then the attacks start. Students are found as though turned to stone...Dobby's sinister predictions seem to be coming true."
36. Calendar Girl: Volume One
Author: Audrey Carlan
Plot: "Mia Saunders just barely escaped a paltry life back home in Las Vegas until she gets the call that her father has been beaten to within an inch of his life for not paying his gambling debt. Problem is, the lone shark is her lousy, ruthless ex-boyfriend. Another guy in a long line of men she'd fallen head over heels for. Not anymore. Mia's mission is simple. Serve as a high-priced escort for her aunt's company and pay monthly against her father's bad debt. A month with a rich man who she doesn't have to sleep with if she doesn't want to? Easy money. At least that's the way it was supposed to go."
35. 13 Hours: The Inside Account of What Really Happened In Benghazi
Author: Mitchell Zuckoff
Plot: "'13 Hours' presents, for the first time ever, the true account of the events of September 11, 2012, when terrorists attacked the US State Department Special Mission Compound and a nearby CIA station called the Annex in Benghazi, Libya. A team of six American security operators fought to repel the attackers and protect the Americans stationed there. Those men went beyond the call of duty, performing extraordinary acts of courage and heroism, to avert tragedy on a much larger scale. This is their personal account, never before told, of what happened during the 13 hours of that now-infamous attack."
34. How to Talk to Anyone: 92 Little Tricks for Big Success in Relationships
Author: Leil Lowndes
Plot: "What is that magic quality makes some people instantly loved and respected? Everyone wants to be their friend (or, if single, their lover!) In business, they rise swiftly to the top of the corporate ladder. What is their 'Midas touch?'
"What it boils down to is a more skillful way of dealing with people.
"The author has spent her career teaching people how to communicate for success. In her book 'How to Talk to Anyone,' Lowndes offers 92 easy and effective sure-fire success techniques — she takes the reader from first meeting all the way up to sophisticated techniques used by the big winners in life."
33. Calamity
Author: Brandon Sanderson
Plot: "When Calamity lit up the sky, the Epics were born. David's fate has been tied to their villainy ever since that historic night. Steelheart killed his father. Firefight stole his heart. And now Regalia has turned his closest ally into a dangerous enemy.
"David knew Prof's secret, and kept it even when Prof struggled to control the effects of his Epic powers. But facing Obliteration in Babilar was too much. Once the Reckoners' leader, Prof has now embraced his Epic destiny. He's disappeared into those murky shadows of menace Epics are infamous for the world over, and everyone knows there's no turning back...
"But everyone is wrong. Redemption is possible for Epics — Megan proved it. They're not lost. Not completely. And David is just about crazy enough to face down the most powerful High Epic of all to get his friend back. Or die trying."
32. The 48 Laws of Power
Author: Robert Greene
Plot: "In the book that People magazine proclaimed 'beguiling' and 'fascinating,' Robert Greene and Joost Elffers have distilled 3,000 years of the history of power into 48 essential laws by drawing from the philosophies of Machiavelli, Sun Tzu, and Carl Von Clausewitz and also from the lives of figures ranging from Henry Kissinger to P.T. Barnum.
"Some laws teach the need for prudence ('Law 1: Never Outshine the Master'), others teach the value of confidence ('Law 28: Enter Action with Boldness'), and many recommend absolute self-preservation ('Law 15: Crush Your Enemy Totally'). Every law, though, has one thing in common: an interest in total domination. In a bold and arresting two-color package, 'The 48 Laws of Power' is ideal whether your aim is conquest, self-defense, or simply to understand the rules of the game."
31. The Obsession
Author: Nora Roberts
Plot: "Naomi Bowes lost her innocence the night she followed her father into the woods. In freeing the girl trapped in the root cellar, Naomi revealed the horrible extent of her father's crimes and made him infamous. No matter how close she gets to happiness, she can't outrun the sins of Thomas David Bowes.
"Now a successful photographer living under the name Naomi Carson, she has found a place that calls to her, a rambling old house in need of repair, thousands of miles away from everything she's ever known. Naomi wants to embrace the solitude, but the kindly residents of Sunrise Cove keep forcing her to open up — especially the determined Xander Keaton.
"Naomi can feel her defenses failing, and knows that the connection her new life offers is something she's always secretly craved. But the sins of her father can become an obsession, and, as she's learned time and again, her past is never more than a nightmare away."
30. The Walking Dead: Compendium 3
Author: Robert Kirkman
Plot: "Just in time for the new season of 'The Walking Dead' on AMC, the fan-favorite, New York Times bestselling series returns with its third massive paperback collection! With over 1,000 pages, this volume contains the next chapter of Robert Kirman's Eisner Award-winning continuing story of survival horror. Rick Grimes's dream of rebuilding civilization is tested as the people of Alexandria come into contact with other communities that have developed their own methods of survival."
29. Morning Star
Author: Pierce Brown
Plot: "Darrow would have lived in peace, but his enemies brought him war. The Gold overlords demanded his obedience, hanged his wife, and enslaved his people. But Darrow is determined to fight back. Risking everything to transform himself and breach Gold society, Darrow has battled to survive the cutthroat rivalries that breed Society's mightiest warriors, climbed the ranks, and waited patiently to unleash the revolution that will tear the hierarchy apart from within.
"Finally, the time has come.
"But devotion to honor and hunger for vengeance run deep on both sides. Darrow and his comrades-in-arms face powerful enemies without scruple or mercy. Among them are some Darrow once considered friends. To win, Darrow will need to inspire those shackled in darkness to break their chains, unmake the world their cruel masters have built, and claim a destiny too long denied — and too glorious to surrender."
28. How To Win Friends and Influence People
Author: Dale Carnegie
Plot: "You can go after the job you want...and get it! You can take the job you have...and improve it! You can take any situation you're in...and make it work for you!
"Since its release in 1936, 'How to Win Friends and Influence People' has sold more than 15 million copies. Dale Carnegie's first book is a timeless bestseller, packed with rock-solid advice that has carried thousands of now famous people up the ladder of success in their business and personal lives.
"As relevant as ever before, Dale Carnegie's principles endure, and will help you achieve your maximum potential in the complex and competitive modern age.
"Learn the six ways to make people like you, the 12 ways to win people to your way of thinking, and the nine ways to change people without arousing resentment."
27. Civil War
Author: Mark Millar
Plot: "The landscape of the Marvel Universe is changing; and it's time to choose: Whose side are you on? A conflict has been brewing; threatening to pit friend against friend; brother against brother — and all it will take is a single misstep to cost thousands their lives and ignite the fuse! As the war claims its first victims; no one is safe as teams; friendships and families begin to fall apart. The crossover that rewrites the rules; Civil War stars Spider-Man; the New Avengers; the Fantastic Four; the X-Men and the entirety of the Marvel pantheon!"
26. The Bands of Mourning
Author: Brandon Sanderson
Plot: "Three hundred years after the events of the Mistborn trilogy, Scadrial is now on the verge of modernity, with railroads to supplement the canals, electric lighting in the streets and the homes of the wealthy, and the first steel-framed skyscrapers racing for the clouds.
"The Bands of Mourning are the mythical metal minds owned by the Lord Ruler, said to grant anyone who wears them the powers that the Lord Ruler had at his command. Hardly anyone thinks they really exist. A kandra researcher has returned to Elendel with images that seem to depict the Bands, as well as writings in a language that no one can read. Waxillium Ladrian is recruited to travel south to the city of New Seran to investigate. Along the way he discovers hints that point to the true goals of his uncle Edwarn and the shadowy organization known as The Set."
25. Fifty Shades Freed
Author: E L James
Plot: "When unworldly student Anastasia Steele first encountered the driven and dazzling young entrepreneur Christian Grey it sparked a sensual affair that changed both of their lives irrevocably. Shocked, intrigued, and, ultimately, repelled by Christian's singular erotic tastes, Ana demands a deeper commitment. Determined to keep her, Christian agrees.
"Now, Ana and Christian have it all — love, passion, intimacy, wealth, and a world of possibilities for their future. But Ana knows that loving her Fifty Shades will not be easy, and that being together will pose challenges that neither of them would anticipate. Ana must somehow learn to share Christian's opulent lifestyle without sacrificing her own identity. And Christian must overcome his compulsion to control as he wrestles with the demons of a tormented past.
"Just when it seems that their strength together will eclipse any obstacle, misfortune, malice, and fate conspire to make Ana's deepest fears turn to reality."
24. See Me
Author: Nicholas Sparks
Plot: "Colin Hancock is giving his second chance his best shot. With a history of violence and bad decisions behind him and the threat of prison dogging his every step, he's determined to walk a straight line. To Colin, that means applying himself single-mindedly toward his teaching degree and avoiding everything that proved destructive in his earlier life. Reminding himself daily of his hard-earned lessons, the last thing he is looking for is a serious relationship.
"Maria Sanchez, the hardworking daughter of Mexican immigrants, is the picture of conventional success. With a degree from Duke Law School and a job at a prestigious firm in Wilmington, she is a dark-haired beauty with a seemingly flawless professional track record. And yet Maria has a traumatic history of her own, one that compelled her to return to her hometown and left her questioning so much of what she once believed.
"A chance encounter on a rain-swept road will alter the course of both Colin and Maria's lives, challenging deeply held assumptions about each other and ultimately, themselves. As love unexpectedly takes hold between them, they dare to envision what a future together could possibly look like...until menacing reminders of events in Maria's past begin to surface.
"As a series of threatening incidents wreaks chaos in Maria's life, Maria and Colin will be tested in increasingly terrifying ways. Will demons from their past destroy the tenuous relationship they've begun to build, or will their love protect them, even in the darkest hour?"
23. The Alchemist
Author: Paulo Coelho
Plot: "Combining magic, mysticism, wisdom and wonder into an inspiring tale of self-discovery, The Alchemist has become a modern classic, selling millions of copies around the world and transforming the lives of countless readers across generations.
"Paulo Coelho's masterpiece tells the mystical story of Santiago, an Andalusian shepherd boy who yearns to travel in search of a worldly treasure. His quest will lead him to riches far different — and far more satisfying — than he ever imagined. Santiago's journey teaches us about the essential wisdom of listening to our hearts, of recognizing opportunity and learning to read the omens strewn along life's path, and, most importantly, to follow our dreams."
22. The Trials of Apollo, Book One: The Hidden Oracle
Author: Rick Riordan
Plot: "How do you punish an immortal? By making him human. After angering his father Zeus, the god Apollo is cast down from Olympus. Weak and disoriented, he lands in New York City as a regular teenage boy. Now, without his godly powers, the four-thousand-year-old deity must learn to survive in the modern world until he can somehow find a way to regain Zeus's favor. But Apollo has many enemies — gods, monsters, and mortals who would love to see the former Olympian permanently destroyed. Apollo needs help, and he can think of only one place to go...an enclave of modern demigods known as Camp Half-Blood."
21. Fifty Shades of Grey
Author: E L James
Plot: "When literature student Anastasia Steele goes to interview young entrepreneur Christian Grey, she encounters a man who is beautiful, brilliant, and intimidating. The unworldly, innocent Ana is startled to realize she wants this man and, despite his enigmatic reserve, finds she is desperate to get close to him. Unable to resist Ana's quiet beauty, wit, and independent spirit, Grey admits he wants her, too — but on his own terms.
"Shocked yet thrilled by Grey's singular erotic tastes, Ana hesitates. For all the trappings of success — his multinational businesses, his vast wealth, his loving family — Grey is a man tormented by demons and consumed by the need to control. When the couple embarks on a daring, passionately physical affair, Ana discovers Christian Grey's secrets and explores her own dark desires."
20. The 5th Wave
Author: Rick Yancey
Plot: "After the 1st wave, only darkness remains. After the 2nd, only the lucky escape. And after the 3rd, only the unlucky survive. After the 4th wave, only one rule applies: trust no one.
"Now, it's the dawn of the 5th wave, and on a lonely stretch of highway, Cassie runs from Them. The beings who only look human, who roam the countryside killing anyone they see. Who have scattered Earth's last survivors. To stay alone is to stay alive, Cassie believes, until she meets Evan Walker. Beguiling and mysterious, Evan Walker may be Cassie's only hope for rescuing her brother — or even saving herself. But Cassie must choose: between trust and despair, between defiance and surrender, between life and death. To give up or to get up."
19. Fifty Shades Darker
Author: E L James
Plot: "Daunted by the singular tastes and dark secrets of the beautiful, tormented young entrepreneur Christian Grey, Anastasia Steele has broken off their relationship to start a new career with a Seattle publishing house.
"But desire for Christian still dominates her every waking thought, and when he proposes a new arrangement, Anastasia cannot resist. They rekindle their searing sensual affair, and Anastasia learns more about the harrowing past of her damaged, driven and demanding Fifty Shades.
"While Christian wrestles with his inner demons, Anastasia must confront the anger and envy of the women who came before her, and make the most important decision of her life."
18. Batman: The Killing Joke
Author: Alan Moore, Brian Bolland
Plot: "One of the most famous Batman stories of all time is offered for the first time in hardcover in this special twentieth-anniversary edition. This is the unforgettable that forever changed Batman's world, adding a new element of darkness with its unflinching portrayal of The Joker's twisted psyche. Writer Alan Moore, acclaimed author of 'Watchmen' and 'V For Vendetta,' offers his take on the disturbing relationship between The Dark Knight and his greatest foe. The Clown Prince of Crime has never been more ruthless than in this brutal tale. This special new edition also includes a story written and exquisitely illustrated by Brian Bolland."
17. The Inquisition: Summoner - Book Two
Author: Taran Matharu
Plot: "A year has passed since the Tournament. Fletcher and Ignatius have been locked away in Pelt's dungeons, but now they must face trial at the hands of the Inquisition, a powerful institution controlled by those who would delight in Fletcher's downfall.
"The trial is haunted by ghosts from the past with shocking revelations about Fletcher's origins, but he has little time to dwell on them; the graduating students of Vocans are to be sent deep into the orc jungles to complete a dangerous mission for the king and his council. If they fail, the orcish armies will rise to power beyond anything the Empire has ever seen.
"With loyal friends Othello and Sylva by his side, Fletcher must battle his way to the heart of Orcdom and save Hominum from destruction...or die trying, in this sequel to 'The Novice' by Taran Matharu."
16. The Novice: Summoner - Book One
Author: Taran Matharu
Plot: "Fletcher is working as a blacksmith's apprentice when he discovers he has the rare ability to summon demons from another world. Chased from his village for a crime he did not commit, Fletcher must travel with his demon, Ignatius, to an academy for adepts, where the gifted are taught the art of summoning.
"Along with nobles and commoners, Fletcher endures grueling lessons that will prepare him to serve as a Battlemage in the Empire's war against the savage Orcs. But sinister forces infect new friendships and rivalries grow. With no one but Ignatius by his side, Fletcher must decide where his loyalties lie. The fate of the Empire is in his hands."
15. After You
Author: Jojo Moyes
Plot: "How do you move on after losing the person you loved? How do you build a life worth living?
"Louisa Clark is no longer just an ordinary girl living an ordinary life. After the transformative six months spent with Will Traynor, she is struggling without him. When an extraordinary accident forces Lou to return home to her family, she can't help but feel she's right back where she started.
"Her body heals, but Lou herself knows that she needs to be kick-started back to life. Which is how she ends up in a church basement with the members of the Moving On support group, who share insights, laughter, frustrations, and terrible cookies. They will also lead her to the strong, capable Sam Fielding — the paramedic, whose business is life and death, and the one man who might be able to understand her. Then a figure from Will's past appears and hijacks all her plans, propelling her into a very different future...
"For Lou Clark, life after Will Traynor means learning to fall in love again, with all the risks that brings. But here Jojo Moyes gives us two families, as real as our own, whose joys and sorrows will touch you deeply, and where both changes and surprises await."
14. Harry Potter and the Sorcerer's Stone
Author: J.K. Rowling
Plot: "Harry Potter has never even heard of Hogwarts when the letters start dropping on the doormat at number four, Privet Drive. Addressed in green ink on yellowish parchment with a purple seal, they are swiftly confiscated by his grisly aunt and uncle. Then, on Harry's 11th birthday, a great beetle-eyed giant of a man called Rubeus Hagrid bursts in with some astonishing news: Harry Potter is a wizard, and he has a place at Hogwarts School of Witchcraft and Wizardry. An incredible adventure is about to begin!"
13. Ready Player One
Author: Ernest Cline
Plot: "In the year 2044, reality is an ugly place. The only time teenage Wade Watts really feels alive is when he's jacked into the virtual utopia known as the OASIS. Wade's devoted his life to studying the puzzles hidden within this world's digital confines — puzzles that are based on their creator's obsession with the pop culture of decades past and that promise massive power and fortune to whoever can unlock them.
"But when Wade stumbles upon the first clue, he finds himself beset by players willing to kill to take this ultimate prize. The race is on, and if Wade's going to survive, he'll have to win — and confront the real world he's always been so desperate to escape."
12. Harry Potter: The Complete Collection
Author: J.K. Rowling
Plot: "All seven eBooks in the multi-award winning, internationally bestselling Harry Potter series, available as one download with stunning cover art by Olly Moss. Enjoy the stories that have captured the imagination of millions worldwide."
11. Milk and Honey
Author: Rupi Kaur
Plot: "The book is divided into four chapters, and each chapter serves a different purpose. Deals with a different pain. Heals a different heartache. 'Milk and Honey' takes readers through a journey of the most bitter moments in life and finds sweetness in them because there is sweetness everywhere if you are just willing to look."
10. A Game of Thrones: A Song of Ice and Fire - Book One
Author: George R.R. Martin
Plot: "Long ago, in a time forgotten, a preternatural event threw the seasons out of balance. In a land where summers can last decades and winters a lifetime, trouble is brewing. The cold is returning, and in the frozen wastes to the north of Winterfell, sinister forces are massing beyond the kingdom's protective Wall. To the south, the king's powers are failing — his most trusted adviser dead under mysterious circumstances and his enemies emerging from the shadows of the throne. At the center of the conflict lie the Starks of Winterfell, a family as harsh and unyielding as the frozen land they were born to. Now Lord Eddard Stark is reluctantly summoned to serve as the king's new Hand, an appointment that threatens to sunder not only his family but the kingdom itself.
"Sweeping from a harsh land of cold to a summertime kingdom of epicurean plenty, 'A Game of Thrones' tells a tale of lords and ladies, soldiers and sorcerers, assassins and bastards, who come together in a time of grim omens. Here an enigmatic band of warriors bear swords of no human metal; a tribe of fierce wildlings carry men off into madness; a cruel young dragon prince barters his sister to win back his throne; a child is lost in the twilight between life and death; and a determined woman undertakes a treacherous journey to protect all she holds dear. Amid plots and counter-plots, tragedy and betrayal, victory and terror, allies and enemies, the fate of the Starks hangs perilously in the balance, as each side endeavors to win that deadliest of conflicts: the game of thrones."
9. 10-Day Green Smoothie Cleanse
Author: JJ Smith
Plot: "The New York Times bestselling '10-Day Green Smoothie Cleanse' will jump-start your weight loss, increase your energy level, clear your mind, and improve your overall health.
"Made up of supernutrients from leafy greens and fruits, green smoothies are filling and healthy and you will enjoy drinking them. Your body will also thank you for drinking them as your health and energy improve to levels you never thought possible. It is an experience that could change your life if you stick with it!
"This book provides a shopping list, recipes, and detailed instructions for the 10-day cleanse, along with suggestions for getting the best results. It also offers advice on how to continue to lose weight and maintain good health afterwards.
"Are you ready to look slimmer, healthier, and sexier than you have in years? Then get ready to begin the 10-Day Green Smoothie Cleanse!"
8. The Martian
Author: Andy Weir
Plot: "Six days ago, astronaut Mark Watney became one of the first people to walk on Mars.
"Now, he's sure he'll be the first person to die there.
"After a dust storm nearly kills him and forces his crew to evacuate while thinking him dead, Mark finds himself stranded and completely alone with no way to even signal Earth that he's alive — and even if he could get word out, his supplies would be gone long before a rescue could arrive.
"Chances are, though, he won't have time to starve to death. The damaged machinery, unforgiving environment, or plain-old "human error" are much more likely to kill him first.
"But Mark isn't ready to give up yet. Drawing on his ingenuity, his engineering skills — and a relentless, dogged refusal to quit — he steadfastly confronts one seemingly insurmountable obstacle after the next. Will his resourcefulness be enough to overcome the impossible odds against him?"
7. One with You: A Crossfire Novel
Author: Sylvia Day
Plot: "Gideon Cross. Falling in love with him was the easiest thing I've ever done. It happened instantly. Completely. Irrevocably.
"Marrying him was a dream come true. Staying married to him is the fight of my life. Love transforms. Ours is both a refuge from the storm and the most violent of tempests. Two damaged souls entwined as one.
"We have bared our deepest, ugliest secrets to one another. Gideon is the mirror that reflects all my flaws...and all the beauty I couldn't see. He has given me everything. Now, I must prove I can be the rock, the shelter for him that he is for me. Together, we could stand against those who work so viciously to come between us.
"But our greatest battle may lie within the very vows that give us strength. Committing to love was only the beginning. Fighting for it will either set us free...or break us apart.
"Heartbreakingly and seductively poignant, "One with You" is the breathlessly awaited finale to the Crossfire saga, the searing love story that has captivated millions of readers worldwide."
6. Miss Peregrine's Home for Peculiar Children
Author: Ransom Riggs
Plot: "A mysterious island.
"An abandoned orphanage.
"A strange collection of very curious photographs.
"It all waits to be discovered in 'Miss Peregrine's Home for Peculiar Children,' an unforgettable novel that mixes fiction and photography in a thrilling reading experience. As our story opens, a horrific family tragedy sets sixteen-year-old Jacob journeying to a remote island off the coast of Wales, where he discovers the crumbling ruins of Miss Peregrine's Home for Peculiar Children. As Jacob explores its abandoned bedrooms and hallways, it becomes clear that the children were more than just peculiar. They may have been dangerous. They may have been quarantined on a deserted island for good reason. And somehow — impossible though it seems — they may still be alive. A spine-tingling fantasy illustrated with haunting vintage photography, 'Miss Peregrine's Home for Peculiar Children' will delight adults, teens, and anyone who relishes an adventure in the shadows."
5. Grey: Fifty Shades of Grey as Told by Christian
Author: E L James
Plot: "Christian Grey exercises control in all things; his world is neat, disciplined, and utterly empty — until the day that Anastasia Steele falls into his office, in a tangle of shapely limbs and tumbling brown hair. He tries to forget her, but instead is swept up in a storm of emotion he cannot comprehend and cannot resist. Unlike any woman he has known before, shy, unworldly Ana seems to see right through him — past the business prodigy and the penthouse lifestyle to Christian's cold, wounded heart.
"Will being with Ana dispel the horrors of his childhood that haunt Christian every night? Or will his dark sexual desires, his compulsion to control, and the self-loathing that fills his soul drive this girl away and destroy the fragile hope she offers him?"
4. Deadpool Kills the Marvel Universe
Authors: Cullen Bunn, Dalibor Talajic
Plot: "Collects Deadpool Kills the Marvel Universe No. 1-4. What if everything you thought was funny about Deadpool was actually just disturbing? What if he decided to kill everyone and everything that makes up the Marvel Universe? What if he actually pulled it off? Would that be FUN for you? The Merc with a Mouth takes a turn for the twisted in a horror comic like no other!"
3. Me Before You
Author: Jojo Moyes
Plot: "Louisa Clark is an ordinary girl living an exceedingly ordinary life — steady boyfriend, close family — who has barely been farther afield than their tiny village. She takes a badly needed job working for ex–Master of the Universe Will Traynor, who is wheelchair bound after an accident. Will has always lived a huge life — big deals, extreme sports, worldwide travel — and now he's pretty sure he cannot live the way he is.
"Will is acerbic, moody, bossy — but Lou refuses to treat him with kid gloves, and soon his happiness means more to her than she expected. When she learns that Will has shocking plans of his own, she sets out to show him that life is still worth living.
"'A Love Story' for this generation and perfect for fans of John Green's 'The Fault in Our Stars,' 'Me Before You' brings to life two people who couldn't have less in common — a heartbreakingly romantic novel that asks, What do you do when making the person you love happy also means breaking your own heart?"
2. The Girl on the Train
Author: Paula Hawkins
Plot: "Rachel takes the same commuter train every morning and night. Every day she rattles down the track, flashes past a stretch of cozy suburban homes, and stops at the signal that allows her to daily watch the same couple breakfasting on their deck. She's even started to feel like she knows them. Jess and Jason, she calls them. Their life — as she sees it — is perfect. Not unlike the life she recently lost.
"And then she sees something shocking. It's only a minute until the train moves on, but it's enough. Now everything's changed. Unable to keep it to herself, Rachel goes to the police. But is she really as unreliable as they say? Soon she is deeply entangled not only in the investigation but in the lives of everyone involved. Has she done more harm than good?"
1. Harry Potter and the Cursed Child – Parts One and Two
Author: J.K Rowling, John Tiffany, Jack Thorne
Plot: "It was always difficult being Harry Potter and it isn't much easier now that he is an overworked employee of the Ministry of Magic, a husband and father of three school-age children.
"While Harry grapples with a past that refuses to stay where it belongs, his youngest son Albus must struggle with the weight of a family legacy he never wanted. As past and present fuse ominously, both father and son learn the uncomfortable truth: sometimes, darkness comes from unexpected places."
Read more:
• This chart is easy to interpret: It says we're screwed
• How Uber became the world's most valuable startup
• These 4 things could trigger the next crisis in Europe
Read the original article on Business Insider UK. © 2016. Follow Business Insider UK on Twitter.
Join our new commenting forum
Join thought-provoking conversations, follow other Independent readers and see their replies