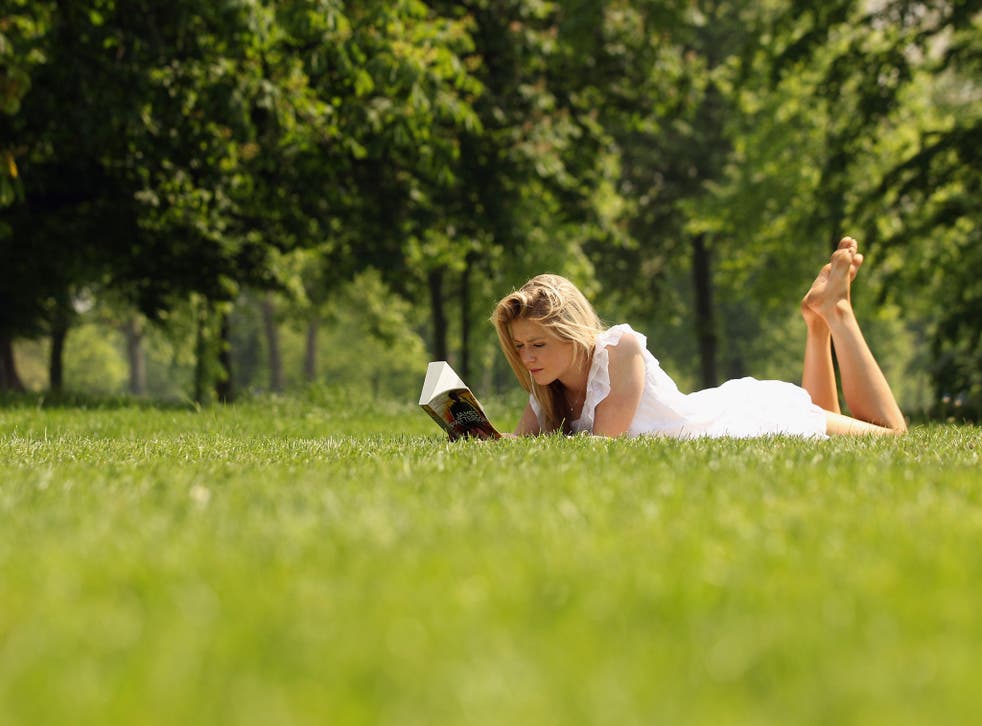 These are the 20 best-selling books of the year
A great place to look if you want to read the next "Kane and Abel" or "Bossypants" is to check out which books made it onto Amazon's best-seller list.
Amazon released its list of the 20 best-selling books of 2016 this week.
"This year's best-selling list showcases the variety of Amazon readers' tastes, from literary fiction to thrillers to memoirs," said Chris Schluep, Amazon senior book editor, in a press release. "The power of Potter is still strong, and readers of all ages can't get enough of Hogwarts. "Harry Potter and the Cursed Child" was the most anticipated book of the year, breaking pre-order records months before its release."
Keep scrolling to see the best-selling books on Amazon from 2016.
1. "Harry Potter and the Cursed Child, Parts 1 & 2"
"Harry Potter and the Cursed Child" is the eighth story in J.K. Rowling's spellbinding series and our Portkey back to the magical wizarding world. The play — conceived by J.K Rowling, John Tiffany, and playwright Jack Thorne — picks up 19 years later. The Boy Who Lived is now an overworked employee of the Ministry of Magic. And his son, Albus Severus Potter, is at Hogwarts struggling with the weight of a family legacy he never wanted.
2. "When Breath Becomes Air"
Paul Kalanithi was a doctor on the verge of completing his training as a neurosurgeon at 36. There was so much to look forward to: raising his infant daughter, sharing his life with his wife, and making meaningful contributions to the medical field. But his aspirations came to a screeching halt when he was diagnosed with stage IV lung cancer.
In his profoundly mesmerising memoir, Kalanithi chronicles his experiences while confronting his own mortality and what it means to be fully alive. He died before he could finish writing his autobiography. The book, which was published posthumously, has spent nearly a year on "The New York Times" best-seller list.
3. "The Whistler"
From the description: "We expect our judges to be honest and wise. Their integrity and impartiality are the bedrock of the entire judicial system. We trust them to ensure fair trials, to protect the rights of all litigants, to punish those who do wrong, and to oversee the orderly and efficient flow of justice. But what happens when a judge bends the law or takes a bribe?"
4. "The Last Mile"
Melvin Mars was convicted of murdering his parents 20 years ago. Now he's just counting down the last hours before his execution. That is until someone else confesses to the crime Mars was convicted of committing. Amos Decker is a newly hired detective on an FBI special task force who, after learning about the odd turn of events, is immediately drawn to Mars' case. Things start to get dicey after Decker convinces the task force to review the case and enlists Mars' help to find out the truth.
5. "Killing the Rising Sun: How America Vanquished World War II Japan"
"Killing the Rising Sun" details the final moments of World War II and the U.S.'s controversial decision to drop atomic bombs over the Japanese cities of Hiroshima and Nagasaki. It's the sixth book in Bill O'Reilly's best-selling "Killings" franchise.
6. "Hillbilly Elegy: A Memoir of a Family and Culture in Crisis"
In "Hillbilly Elegy," Silicon Valley investment manager and Yale Law School graduate J.D. Vance examines a culture in crisis — that of the white working class. His experiences growing up in a poor Rust Belt town conjure a compelling narrative that addresses issues related to economic insecurity and the ascent of President-elect Donald Trump.
It's a modern-day wake up call to a disintegrating age-old ideal, the American Dream. "The New York Times" listed it as a best-seller and one of "Six Books to Help Understand Trump's Win."
7. "Truly Madly Guilty"
Australian author Liane Moriarty scored her first Goodreads Choice Award win this year with her book, "Truly Madly Guilty." The runaway best-seller is about three couples, three kids, and a traumatizing Sunday afternoon BBQ.
8. "Night School: A Jack Reacher Novel"
Set in 1996, Lee Child's cryptic hero, Jack Reacher, is still in the military. After being called to a secret meeting, Reacher is shown a mysterious message: "The American wants a hundred million dollars." It's up to him to find the American. If he doesn't, the world will suffer an epic act of terrorism.
9. "The Black Widow"
Author Daniel Silva returns with another thriller. "The Black Widow" is about Gabriel Allon, a legendary spy and art restorer, who is poised to become the chief of Israel's secret intelligence service. However, on the night of his promotion, ISIS detonates a bomb in Paris. Desperate and afraid, the French government begs Gabriel to find the terrorist responsible for the attack before he strikes again.
10. "Diary of a Wimpy Kid: Double Down"
"Double Down" is the 11th book in Jeff Kinney's "Diary of a Wimpy Kid" series. Of course, Greg Heffley hasn't changed. He's still hatching plans that are doomed from the start and caring about what people think of him. In this tale, Heffley finds an old video camera in his basement and decides to make a scary movie. Can he double down on the movie-making plan and prove to everybody that he has what it takes?
11. "The 15th Affair: The New Women's Murder Club Novel"
Just when she thinks she can happily enjoy domestic life, detective Lindsay Boxer is called to a crime scene at the Four Seasons Hotel. Now Boxer must find this beautiful blonde woman who fled the crime scene. But before she can track down the woman for questioning, Boxer's husband disappears. The more Boxer digs, the more she fears that her husband shares a secret past with this elusive woman.
12 "Before the Fall"
A chartered plane crashes into the Atlantic Ocean, killing all but two passengers — JJ, the son of a media mogul, and Scott Burroughs, a struggling, middle-aged painter. Burroughs rescues four-year-old JJ and swims to dry land. But why did the plane crash? As the story unfolds, the readers will learn the backstories of each doomed passenger and see how Burroughs copes with survivor's guilt.
13. "Fool Me Once"
From the description: "Former special ops pilot Maya, home from the war, sees an unthinkable image captured by her nanny cam while she is at work: her two-year-old daughter playing with Maya's husband, Joe — who was brutally murdered two weeks earlier. The provocative question at the heart of the mystery: Can you believe everything you see with your own eyes, even when you desperately want to? To find the answer, Maya must finally come to terms with deep secrets and deceit in her own past before she can face the unbelievable truth about her husband — and herself."
14. "Crisis of Character"
Ever wonder what the most powerful leader of the free world is like in person? Former secret service officer Gary Byrne can tell you a thing or two. "In Crisis of Character," Byrne, who was posted directly outside President Clinton's oval office, reveals what it's like protecting the First Family.
15. "The Wrong Side of Goodbye"
In the sphere of crime thrillers, Michael Connelly writes some of the best. This unpredictable, well-written novel introduces readers to Harry Bosch, California's newest private investigator. His current assignment: find a person who might not even exist.
16. "The Magnolia Story"
Chip and Joanna Gaines, stars of HGTV's massive hit "Fixer Upper," can now say they are best-selling authors. "The Magnolia Story" gives readers a glimpse into the life the husband-and-wife team share — everything from the childhood memories that shaped them and the moment they met, to their very first home-renovation project and the time they almost lost it all.
17. "The Nest"
"The Nest" by Cynthia D'Aprix Sweeney is the best-selling debut novel of 2016. From the description: "A warm, funny and acutely perceptive debut novel about four adult siblings and the fate of the shared inheritance that has shaped their choices and their lives."
18. "One With You: A Crossfire Novel"
"One With You" is the fifth and final installment in the Crossfire series. It's about two troubled people and their tumultuous and searing love story. One reviewer said that reading this book was "like having a crisp and full-bodied wine after a delicious steak dinner. We are left sated, buzzed, and with a smile on our faces."
19. "The Obsession"
From the description: "Naomi Bowes lost her innocence the night she followed her father into the woods. In freeing the girl trapped in the root cellar, Naomi revealed the horrible extent of her father's crimes and made him infamous. No matter how close she gets to happiness, she can't outrun the sins of Thomas David Bowes."
20. "Everything We Keep"
Aimee Tierney had it all figured out: She was going to marry her childhood sweetheart, start a family, and, hopefully, open her very own restaurant. That was until her fiancé mysteriously vanished. Instead of wearing white and walking down the aisle on her wedding day, she's cloaked in black and attending her fiancé's funeral. The details of his disappearance are sketchy, so, naturally, she tries to learn the truth. But as she delves deeper into her fiancé's disappearance, she uncovers some information that makes her question her relationship.
Read more:
• This chart is easy to interpret: It says we're screwed
• How Uber became the world's most valuable startup
• These 4 things could trigger the next crisis in Europe
Read the original article on Business Insider UK. © 2016. Follow Business Insider UK on Twitter.
Join our new commenting forum
Join thought-provoking conversations, follow other Independent readers and see their replies