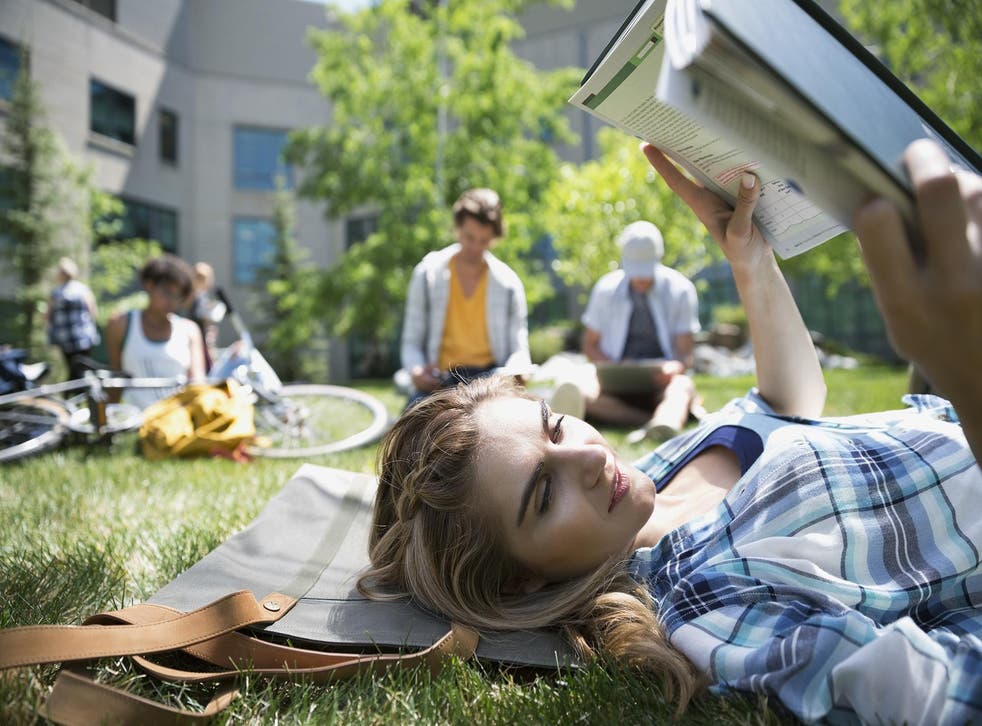 The 20 best books of the year, according to readers
No one knows good books better than the people who read them.
Book recommendation sharing website Goodreads just released its 2016 Goodreads Choice Awards, the only major book awards chosen by readers themselves.
Goodreads users rated books that were published this year in a number of genres; the highest-rated book in each was declared the winner.
Keep scrolling to see the 20 best books from 2016.
FANTASY: "Harry Potter and the Cursed Child" by Jack Thorne
Harry Potter returns! Garnering more votes than any other nominee in Goodreads Choice Awards history, this original play conceived by J.K Rowling, John Tiffany, and playwright Jack Thorne, has taken both the UK (where the play is sold out through February 2018) and the world (Cursed Child is Amazon's best selling book of 2016) by storm. As for the plot: The action takes place nineteen years after Deathly Hallows and follows Harry's son, Albus Severus Potter, as he navigates Hogwarts and life under Harry's spotlight. Is he, too, cursed?
FICTION: "Truly Madly Guilty" by Liane Moriarty
Though she's been nominated before for "Big Little Lies" and "The Husband's Secret," Liane Moriarty scored her first Goodreads Choice Award win this year with "Truly Madly Guilty" —narrowly beating out Bryn Greenwood's debut novel, "All the Ugly and Wonderful Things." It's been a big year for Moriarty, as "Truly Madly Guilty" rose to the top of "The New York Times" bestseller list and the "Big Little Lies" miniseries (starring Nicole Kidman and Reese Witherspoon) began filming. "Truly Madly Guilty" portrays the impact an invitation to an old friend's barbecue has on a newlywed couple.
NONFICTION: "Hamilton: The Revolution" by Lin-Manuel Miranda
The blockbuster musical and cultural phenomenon "Hamilton" has won both a Pulitzer Prize and a Grammy Award. And the book about the musical, "Hamilton: The Revolution," from creator Lin-Manuel Miranda and co-writer Jeremy McCarter, is also a smash hit (its initial publication sold out on Amazon and second-hand copies were selling for hundreds of dollars) and is the clear winner in the Goodreads Choice Awards for best nonfiction book of the year.
MEMOIR/AUTOBIOGRAPHY: "When Breath Becomes Air" by Paul Kalanithi
What makes a life worth living? That's the question Paul Kalanithi set out to answer in "When Breath Becomes Air," the heartbreaking, autobiographical account of a doctor who, on the verge of completing his training as a neurosurgeon at 36, is diagnosed with stage IV lung cancer. The book, which has spent nearly a year on "The New York Times" bestseller list, was published posthumously and has struck a chord with readers. "The Washington Post" called it "an emotional investment worth making….It is, despite its grim undertone, accidentally inspiring."
HUMOUR: "The Girl With the Lower Back Tattoo" by Amy Schumer
With more than 41 thousand votes cast, Amy Schumer's debut memoir took in more votes in the humor category than any prior nominee. It's no surprise considering how popular Schumer is. In 2016 alone, she embarked on a national comedy tour, filmed two movies as well as season four of "Inside Amy Schumer," and released her Goodreads Choice Award-winning autobiography "The Girl with the Lower Back Tattoo" — which recounts both her pre-fame family life and her meteoric rise to the top, all with Amy's signature wit and sass.
MYSTERY/THRILLER: "End of Watch" by Stephen King
Stephen King's Bill Hodges Trilogy ("Mr. Mercedes," "Finders Keepers," and "End of Watch") has won many fans amongst Goodreads members. The first of the series won the mystery & thriller category in 2014, while the second installment took second place the following year (it was knocked out by the unstoppable "The Girl on the Train"). The final book, "End of Watch," earned the top spot again; it follows Bill Hodges and his team of misfit "detectives" as they try to stop Brady Hartsfield—the villain from book one—from wreaking havoc again.
HISTORICAL FICTION: "The Underground Railroad" by Colson Whitehead
"The Underground Railroad" is a literary powerhouse. A National Book Award winner and a #1 "The New York Times" bestseller (not to mention an Oprah's Book Club selection), the novel is as riveting as it is important. Whitehead takes us back to pre-Civil War America, to a slave named Cora who dreams of escape. While Whitehead's addition to history—a non-metaphorical network of tracks and tunnels beneath Southern soil—intrigues, the heart of the story is about hope, promise, and the history we all share.
HISTORY/BIOGRAPHY: "Leonard: My Fifty-Year Friendship with a Remarkable Man" by William Shatner
The Goodreads Choice Awards winner for best biography is a story told through the lens of actor William Shatner's 50-year friendship with his "Star Trek" co-star, Leonard Nimoy. The book delves into the two actors' shared backgrounds from their orthodox kosher Yiddish-speaking Jewish families to their "Star Trek" careers that spanned seventy-nine television episodes, six feature films, and an eventual falling out. It's an essential read for any Trekkie.
SCIENCE/TECHNOLOGY: "Are We Smart Enough to Know How Smart Animals Are?" by Frans de Waal
Frans de Waal, a primatologist and ethologist who has been studying animal intelligence for 30 years, closely examines how many of our beliefs about other species are based on falsehoods and how what we think of as "uniquely human" attributes (including empathy, self-recognition, and cooperation) are found throughout the animal kingdom. The book captured the imagination of our readers, earning the Goodreads Choice Award in the science and technology category.
FOOD/COOKBOOKS: "Cravings: Recipes for All the Food You Want to Eat" by Chrissy Teigen
Chrissy Teigen's love of making meals and messes in the kitchen infuses "Cravings," her first foray into publishing, with down-to-earth charm and irresistible exuberance. While the American model is known for her appearances in "Sports Illustrated" Swimsuits Issues, her co-hosting gig on "Lip Sync Battle," and her popular social media accounts, it's her obsession with food which endeared her to Goodreads voters. Readers praised her scrumptious recipes, foodie odes, and cheeky takedowns of her husband, John Legend. (Sorry, John, but Chrissy thinks her Mac and Cheese is better than yours).
HORROR: "The Fireman" by Joe Hill
Like father, like son! This year, both Stephen King and his son Joe Hill are Goodreads Choice Award winners. While Hill has been nominated before—for "Horns," "NOS4A2," and "Locke & Key" — this is his first win. He dominated the Best Horror race with "The Fireman," an apocalyptic thriller about a pandemic of spontaneous combustion. At the center of the story is Harper, a pregnant nurse desperate to keep her unborn child's future from the flames. Earlier this year, Fox announced plans to develop "The Fireman" into a movie with Louis Leterrier ("Now You See Me," "The Brothers Grimsby") signed on to direct.
ROMANCE: "It Ends with Us" by Colleen Hoover
With a second consecutive Goodreads Choice Awards win for best romance, Colleen Hoover clearly has a direct line to readers' hearts. "It Ends with Us" taps into the same vein of love as her 2015 winner, "Confess." However, here the heartbreak is intensified. Spanning years and tackling first loves and costly mistakes, this is Lily's story...and it's not an easy one. As the small-town girl moves to Boston to start her own business, she learns the price of love as she falls for one man and re-connects with another. Goodreads members fell under the spell of Hoover's writing, applauding the raw beauty of this unforgettable romance.
SCIENCE FICTION: "Morning Star" by Pierce Brown
For the third year in a row, Pierce Brown is a Goodreads Choice Award winner. After winning Best Debut Author for Red Rising in 2014, Brown won Best Science Fiction for the next two books in the series, "Golden Son" and now "Morning Star." With shades of "Game of Thrones," the trilogy follows hero Darrow's quest for revenge, a journey that takes him from a battle training school to a war that stretches across the galaxy. Now that the trilogy has concluded, can readers expect Brown to relinquish his Best Science Fiction title? Not without a fight. "Iron Gold," the first in a new series set in the same universe as "Red Rising," is on its way.
GRAPHIC NOVELS/COMICS: "Adulthood Is a Myth (Sarah's Scribbles, #1)" by Sarah Andersen
Newcomer Sarah Andersen is the winner of this year's best graphic novels & comics category. The 24-year-old cartoonist and illustrator wins for her debut book, "Adulthood is a Myth," a collection of hilarious, relatable comics capturing the dilemmas of a bug-eyed millennial who feels ill-equipped for grown-up life. Andersen started her "Sarah Scribbles" webcomic while at art college and soon attracted a following. She describes her comics as "semi-autobiographical," following her adventures and those of her friends and pets. Andersen's second book is due out in March.
YOUNG ADULT FICTION: "Salt to the Sea" by Ruta Sepetys
Third time's a charm for YA fiction winner Ruta Sepetys, who has been nominated in this category twice before: in 2011 for her debut, "Between Shades of Grey," and in 2013 for "Out of the Easy." This year, readers voted "Salt to the Sea" number one. Inspired by a World War II maritime disaster that claimed 9,000 lives, Sepetys's bestselling historical novel focuses on four teenagers fleeing Soviet troops, hoping to secure passage aboard a doomed German ship. Readers praised Sepetys for infusing her story with beauty and hope.
YOUNG ADULT FANTASY: "A Court of Mist and Fury (A Court of Thorns and Roses, #2)" by Sarah J. Maas
Sarah J. Maas continues her domination of the YA fantasy & science fiction category with two nominations and a win for "A Court of Mist and Fury," part two of her charged, hit series about a teen huntress in a dark, magical world. In 2015, Maas was also a double nominee in the YA fantasy category, winning for "Queen of Shadows." This year she won with more than 57,000 votes—20,000 more than her 2015 win. Maas has been nominated in this category every year since 2012.
MIDDLE GRADE/CHILDREN'S: "The Hidden Oracle (The Trials of Apollo, #1)" by Rick Riordan
It's another win for the unstoppable Rick Riordan, who has won the Middle Grade & Children's category for six straight years. This year he was a double nominee, winning for "The Hidden Oracle," book one in his series "The Trials of Apollo," about the god recast as a New York teen. "The Hammer of Thor, "book two in his "Magnus Chase and the Gods of Asgard" series, was also nominated. Last year Riordan, who draws inspiration from Egyptian, Norse, and Greco-Roman mythology, won for "The Sword of Summer."
PICTURE BOOKS: "The Thank You Book (Elephant & Piggie, #25)" by Mo Willems
Children's book author Mo Willems ends his long-running and beloved "Elephant & Piggie" series with this 25th book, which captured the Goodreads Choice Awards' prize for best picture book. Willems returns to the careful and worried Gerald the Elephant and his foil, the carefree and upbeat Piggie, as Piggie realises "I am one lucky pig" and sets out to thank "everyone who is important to me." Gerald warns Piggie that she's bound to forget someone as the book reunites readers with the series' entire cast of characters during Piggie's "Thank-o-rama!" And, in the end, those "thank yous" include you, the reader.
POETRY: "The Princess Saves Herself in this One" by Amanda Lovelace
This originally self-published book of poems is divided into four parts: the princess, the damsel, the queen, and you. A self-proclaimed fairy-tale lover, Amanda Lovelace uses the first three parts of the book to piece together aspects of her life and leaves the fourth section as a note to the reader. The 2016 Goodreads Choice Awards winner for best poetry is a great read for anyone looking to be the hero of their own story.
DEBUT GOODREADS AUTHOR: "Rebel of the Sands (Rebel of the Sands, #1)" by Alwyn Hamilton
The critically-adored young adult fantasy that secured Alwyn Hamilton the Goodreads Choice debut author award is a riveting, magical story that crosses Wild West action with the Arabian Nights. In "Rebel of the Sands," part one of a trilogy, Amani Al'Hiza is a headstrong, gun-slinging orphan who enters a shooting contest disguised as a boy in a bid to escape her dead-end life. She meets Jin, a mysterious fugitive, and is soon astride a mythical horse fleeing across the dangerous, djinni-filled desert. Hamilton's sequel is eagerly awaited.
Read more:
• This chart is easy to interpret: It says we're screwed
• How Uber became the world's most valuable startup
• These 4 things could trigger the next crisis in Europe
Read the original article on Business Insider UK. © 2016. Follow Business Insider UK on Twitter.
Register for free to continue reading
Registration is a free and easy way to support our truly independent journalism
By registering, you will also enjoy limited access to Premium articles, exclusive newsletters, commenting, and virtual events with our leading journalists
Already have an account? sign in
Register for free to continue reading
Registration is a free and easy way to support our truly independent journalism
By registering, you will also enjoy limited access to Premium articles, exclusive newsletters, commenting, and virtual events with our leading journalists
Already have an account? sign in
Join our new commenting forum
Join thought-provoking conversations, follow other Independent readers and see their replies