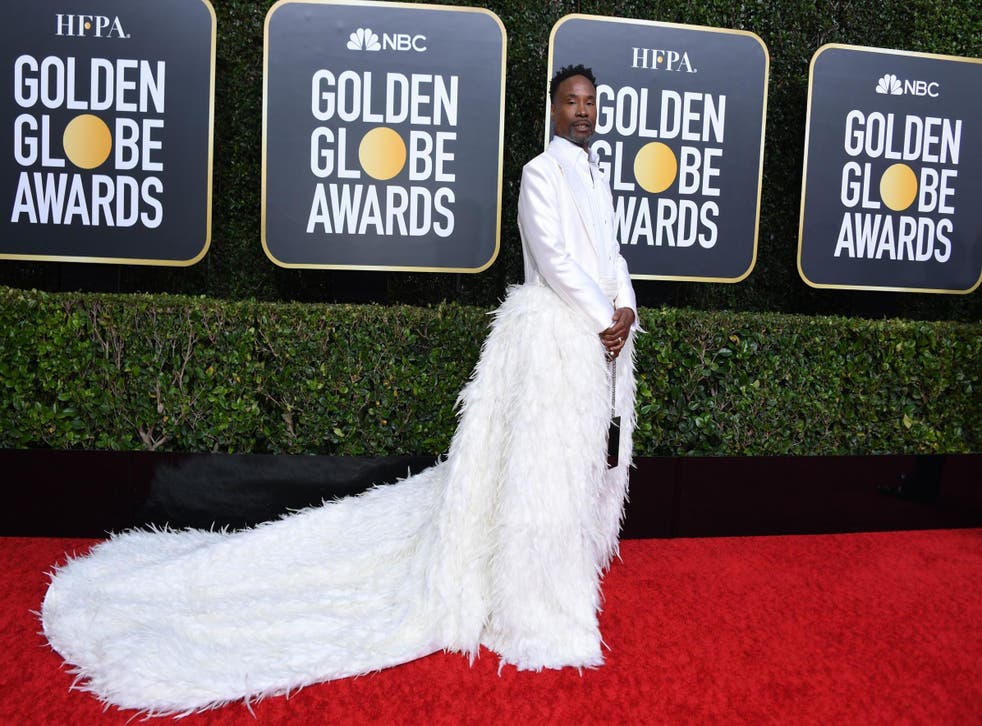 Billy Porter arrives on the Golden Globes red carpet in a white feathered outfit
Actor says 'fashion is activism' 
The Golden Globes haven't officially started yet, but Billy Porter may have already won best-dressed of the night.
The actor arrived on the red carpet wearing a white suit complete with a train of white feathers, which required the help of an assistant to keep in place.
According to Porter, who discussed his look during a red carpet interview with The Hollywood Foreign Press Association (HFPA), the outfit is his way of "disturbing the peace".
"I think that fashion is activism as well, I think that all art can be activism, that's my goal as an artist, to disturb the peace," the Pose actor explained.
On social media, Porter is already being applauded for the memorable outfit, and for the requirement of a feather assistant.
Golden Globes 2020: The best-dressed guests

Show all 82
"Billy Porter looks good in ANYTHING and EVERYTHING," one person tweeted.
Another said: "Billy Porter has someone on feather train duty for him."
This is not the first time Porter has used the red carpet to make a fashion statement. For last year's Golden Globes, the actor wore a hounds tooth suit complete with a pink cape.
During the red carpet interview, Porter also revealed that he has been working hard to get to this moment, explaining: "It didn't happen overnight. It's been 30 years building to this... I have been paying attention."
And while he acknowledged his youthful appearance, Porter admitted: "I'm a lot older than I look, I just turned 50 like JLo."
Join our new commenting forum
Join thought-provoking conversations, follow other Independent readers and see their replies