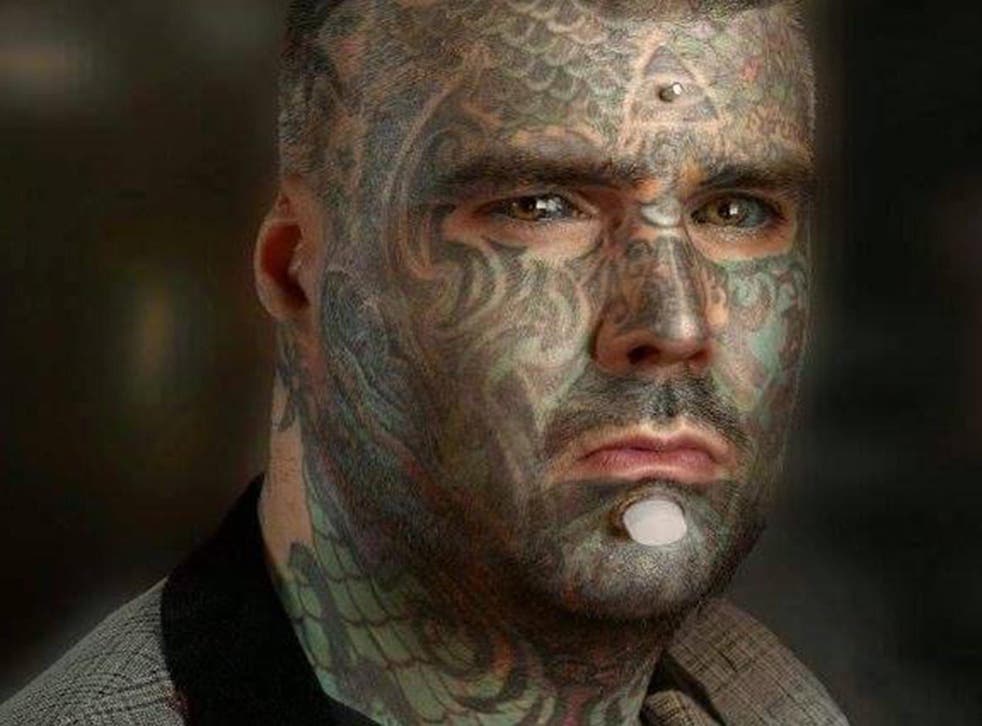 Body Art: UK's most tattoed man who dyed his eyes calls for equal treatment of people with modifications
'I'm evolving into who I want to be and having the ultimate freedom of expression and control over my body'
Body Art, whose full name is King of Ink Land King Body Art The Extreme Ink-Ite, has devoted his life to body modification.
The 37-year-old from Birmingham, who was formerly known as Mathew Whelan, first became fascinated with body art when he was nine-years-old.
"I was visually overwhelmed at nine by tattoos," he tells The Independent. "My dad had a military one because he was in the forces, and my uncle had a union jack flag with a lion and a rose. I have family in Australia and travelled to New Zealand, and it was a learning experience to be made aware of different cultures like the Maori people who have body art," he says referring to the practice known as tā moko.
King of Ink Land King Body Art The Extreme Ink-Ite - In pictures

Show all 7
Now, almost every part of Body Art is has been etched with ink or tweaked. After around 15 years of careful research, he dyed both of his eye whites, or sclera, black. While what is known as sclera tattooing is a recent phenomenon, Body Art points out that eye tattooing can be traced back to Ancient Greece. His nipples have been removed in order to allow tattoo artists to have a smoother canvas to work on. Under the skin on his right hand is an implant in the shape of a crown, alluding to his regal name, and another of a knuckle duster in his left arm in reference to when he used to be a pro wrestler. A bite-shape is carved into his ear, while a titanium disk rests against the bone beneath the skin in his forehead. A flesh tunnel has been burrowed through his chin. He split his tongue in half, but has almost entirely healed on two occasions, so he's given up on that for the moment. "The body is an amazing thing," he says.
He had his first tattoo when he was 16 years old at a parlour that didn't ask questions about his age. It was a union jack with a British bulldog.
"Almost everything that could go wrong did," he says, describing how he developed an infection and suffered from flu-like symptoms but luckily didn't contract life-threatening septicemia. "It was something that almost put me off from ever having them again," he says. "I encourage anyone getting a tattoo to first of all do their research," he adds.
"It was an almost agonising terrifying pain. When I get tattoos now it's very similar but that first time it was more intensified because of the fear of the unknown. It's a needle ripping into your flesh injecting chemical into your flesh you."
"I don't like any form of pain, be it a paper cut or a tattoo which sounds insane but I know to achieve what I want I have to go through it. It's like a job interview in a strange way.
"It's a no pain no gain thing," he says frankly.
Unsurprisingly, Body Art's highly unusual look doesn't go unnoticed in public.
"It's a very mixed reaction," he says. "I find it quite fascinating when I'm with new people because I'm unique people stare, and it's a new experience for them. I'm used to it as it has been happening for years. You don't do something like this and not expect that."
But he's adamant that he didn't transform his appearance for the attention. "I haven't at all. The reactions can go from amazement to hate crime," he says, referring to being stabbed near a Birmingham police station in 2009.
"It showed me that every day is a bonus and humans are only here for a limited period of time."
While some people see their tattoos as individual pieces of artwork, Body Art sees body modification as part of his identity as a whole and his name-change as one aspect of that. He compares his devotion to body modification with how a religious person views their faith. "I have a vast and varied collection of art on my body. It's like a jigsaw."
Asked to name his favourite tattoo, he explains "You can't have a favourite, it's like asking a parent their favourite son or daughter. It's my body. It's everything about me so I can't be specific on that."
"Tattoos are a small part of modification," he explains. "I see it as a journey that I'm on. I'm evolving who I want to be having the ultimate freedom of expression and control over my own body."
Japan's tattoo artist looks to remove crime stigma
As such, he is particularly vocal about the law which classes people who undergo extreme procedures, such as dying the eyeball, as victims of consensual abuse, as laid out in the Offences against the Person Act 1861.
Body Art is currently pushing for barriers against people with tattoos to getting jobs to be brought down.
"Modified people are proud people, we are proud to be modified. They haven't been forced into it, it's something that many people will have thought long and hard about. It doesn't matter what you look like, on the inside every is the same. We are people at the end of the day."
He adds: "Under the law of the land, I'm a consensual victim of abuse. I don't feel like a victim of abuse. everyone I talk to in the body modification world doesn't feel like a victim of abuse. But they say we are consenting to bodily harm. It's ridiculous and it embarrasses us. The law is wrong."
Join our new commenting forum
Join thought-provoking conversations, follow other Independent readers and see their replies