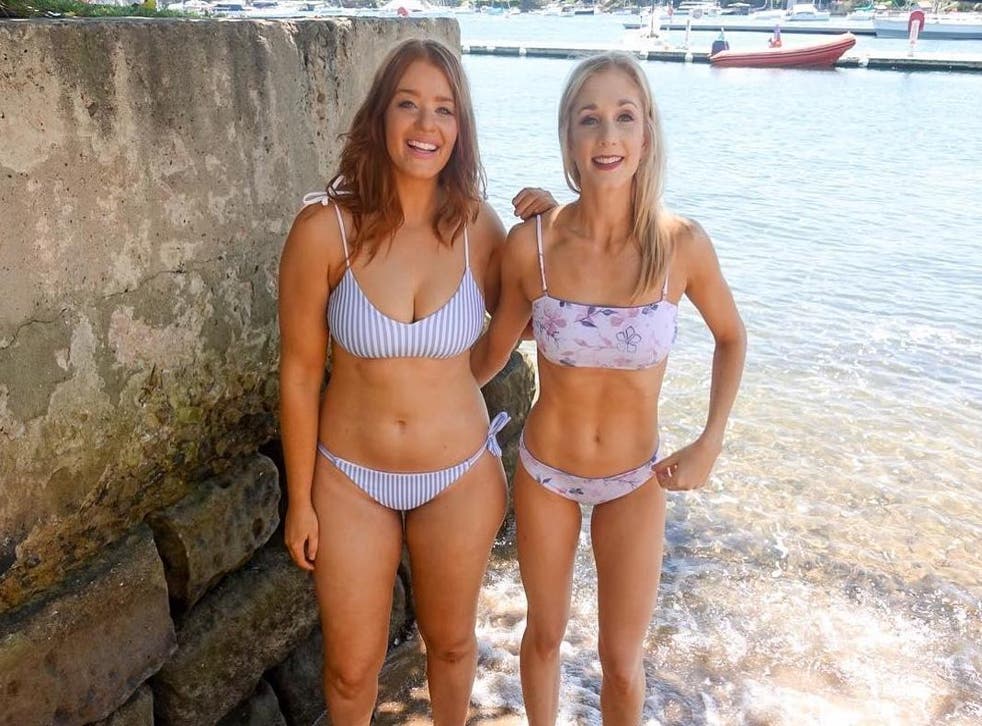 Body positive sisters inspire thousands to embrace their natural size
'Everyone's healthiest version of themselves looks different'
A former ballerina and her ex plus-size model sister have inspired thousands of people across the world to embrace their natural figures with their body positivity Instagram account, which illustrates how health and beauty manifest themselves in different shapes and sizes.
Jess and Alyna Rost launched their joint account, @healthysizeyou, in 2017 after their careers left them with low self-esteem as a result of feeling pressured to look a certain way.
Now, having quit their jobs, they have more than 12,000 followers on Instagram, where they document their gruelling workouts and discuss their own personal journeys with body image.
"We are two sisters that live healthy lifestyles, who LOVE to work out and who are two completely different sizes!" they wrote in their debut post.
"We don't believe there is one stock standard size that defines health or beauty, everyone's healthiest version of themselves looks different.
"We believe in finding the healthy size for you. We love body diversity and want to show beauty is beyond size."
Despite promoting such a positive attitude towards health and fitness on their account, both sisters reveal they haven't always had such a good relationship with their bodies.
Speaking to Mail Online, Alyna, 34, reveals it wasn't until she left her career as a ballerina - a field in which she says "weight and size" were always on people's minds - and gave birth to her child that she started to view her body differently.
"It has definitely taken time for me to look in the mirror and think - this is exactly who I want to be," she writes in a recent Instagram post.
"My body is strong, flexible, it got me through years of ballet, having a baby and countless hours of running, boxing and Pilates.
"Yes, there are flaws, but I'll take them, embrace them and love them because my body like yours is amazing."
Meanwhile, 28-year-old Jess recalls how she was never "the skinny girl" growing up, adding that plus-size modelling enabled her to view her natural curves in a more positive light.
"I think all of us have struggles with the way we look and we all have little insecurities or parts of our body we want to change - mine has always been my butt/thighs," she reveals in a recent post.
"The older I get the more I love my body and appreciate my curves but it took some very confident women to show me to appreciate my body and taught me beauty is not one size."
It took just one conversation for the duo to realise that, despite their different body types, they had very similar experiences in terms of body image, which is the key dichotomy that underlines every post on @healthysizeyou.
"It was our differences that we were really passionate about putting forward," Jess said of launching the account.
"We wanted to show that health and beauty comes in all different shapes and sizes and we all need to embrace our own beauty."
Both women exercise six days a week, mixing pilates, weight training (they can deadlift 105kg), boxing and cardio.
When they can, they like to workout together:
"We love it when we have the opportunity to train together," they write in a recent Instagram post.
"We are pretty competitive so we know we will get a good workout - always pushing each other."
In terms of their diets, Alyna starts her day with a juice before enjoying a large salad with fresh greens at lunch and chicken or fish with vegetables at dinner. Most evenings, she adds, she will indulge in some chocolate or red wine.
For Jess, the plan is fairly similar, beginning with yoghurt and fruit, followed by a protein-rich lunch and a larger meal at dinner, made up of protein, vegetables and some form of carbohydrate.
Like her sister, she also usually indulgences in some chocolate in the evenings - yes, even fitness Instagrammers allow themselves the occasional treat.
Join our new commenting forum
Join thought-provoking conversations, follow other Independent readers and see their replies