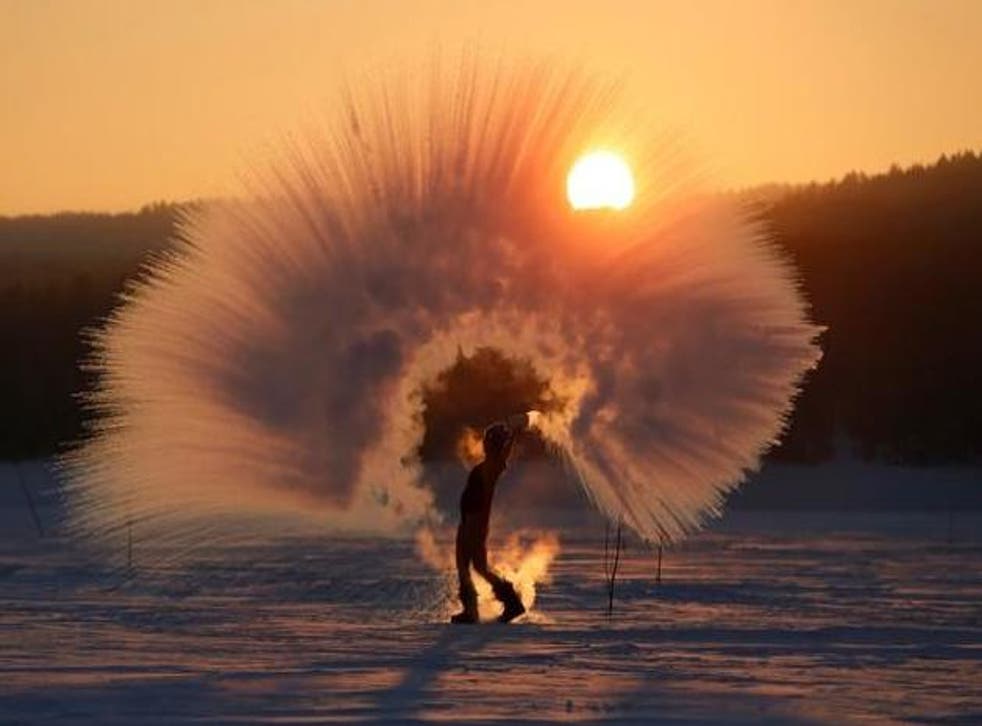 Boiling water challenge is sending people to hospital with burns
Eight people have been treated for burns in Chicago 
A new social media trend that sees people throw boiling water into freezing air has landed several participants in the hospital.
The "boiling water challenge," also known as the cold challenge, became popular during last week's polar vortex in the US, and has since spread to other parts of the globe.
However, hospitals are warning that the challenge is not worth the resulting pictures - after eight people were treated for burns at the burn centre of Loyola University Medical Centre in Chicago.
According to CNN, a spokesperson for the hospital said the participants were treated for injuries to their "feet, arms, hands, face, and varying degrees of burns, as well."
The challenge is done by throwing boiling water into the air, which then instantly condenses - resulting in powdery snowflake shapes.
Polar vortex brings temperatures colder than Antarctica to the US

Show all 52
On Instagram, more than 2,000 pictures of the challenge have been uploaded in the last month under numerous hashtags, including #coldchallenge, #boilingwaterchallenge and #dubakchallenge.
But the challenge can easily go wrong if the water doesn't evaporate into steam quickly enough.
And it isn't just the people throwing the water who are getting injured - bystanders have also been treated after they were exposed to the boiling water, with the youngest patient a three-year-old.
Hennepin County Medical Centre in Minneapolis, Minnesota has also seen injuries requiring emergency attention as a result of the challenge, according to CNN.
A spokesperson for the hospital told the news outlet that parents participating in the challenge have accidentally thrown boiling water on eager children who were too close.
"Or, people throw it in the air just as a gust of wind comes, and [the water] catches the wind and it blows it back on them - so we see some face scald injuries from that," she said.
Support free-thinking journalism and attend Independent events
Apart from completely avoiding the challenge, Dr Arthur Sanford, a burn surgeon at Loyola told ABC News people should seek emergency medical attention if a burn begins to blister or doesn't hurt at all.
If you are seeking more information on burns, you can read more at The Burn Foundation or the American Burn Association.
Join our new commenting forum
Join thought-provoking conversations, follow other Independent readers and see their replies