Boots apologises after store 'refused' to print 'Free the Nipple' photographs because it goes against nudity policies
More than 200 people in Brighton marched to 'free the nipple' last weekend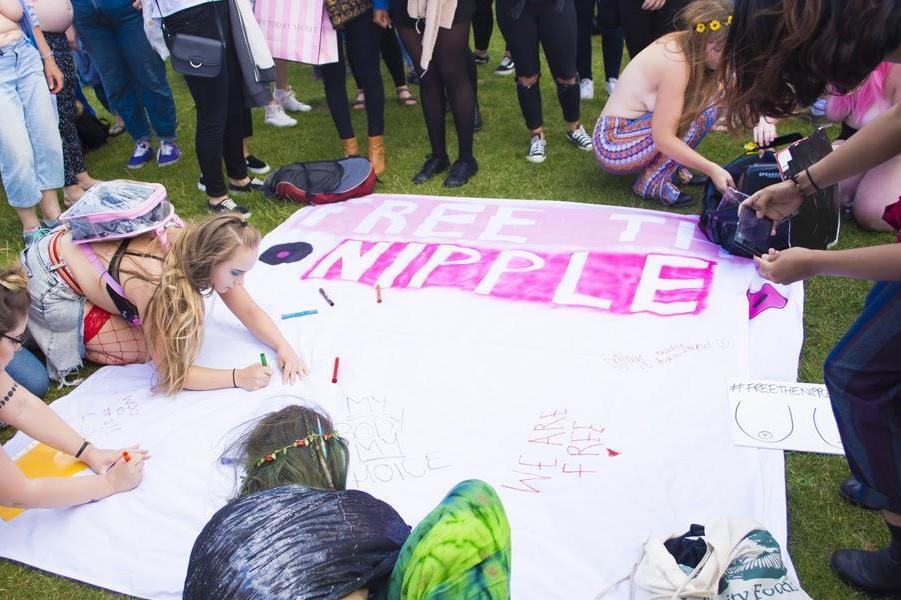 Scores of men and women came together to campaign to "free the nipple" at a march in Brighton last weekend – then high street retailer Boots allegedly refused to develop the photographs.
More than 200 people took to the streets of the city to highlight oppressive double standards which dictate that men may show their chests in public whilst women may not.
But when one participant took the photos to be developed at Boots in Tunbridge Wells, she says she was left feeling embarrassed after staff told her that she could not have "explicit photos" developed in store.
The march took place last Saturday, with protesters of all ages marching for their right to liberate their bodies.
Free the nipple, Brighton 2017
Show all 5
But Bee, the organiser, has since claimed that her unnamed friend was told at a branch of Boots that 12 of her photos from the event couldn't be printed - despite them being taken at a public march which was attended by parents and children.
She said her friend was left feeling humiliated after they explained to her that she couldn't bring "explicit photos" into Boots and tried to hurry her away from the till, whilst in front of a shop full of customers.
However, a spokesperson for Boots has revealed to The Independent that there is no company-wide policy on nudity, and that she would not have been breaking any company regulations.
"Boots UK does not have a policy in place concerning nudity in photos. We would not print any images that contravene any obscenity laws. Clearly, that wasn't the case in this instance and we are sorry that the photos weren't developed in full and for any offense caused to this customer. We will investigate further to ensure that all customers receive the service they expect from Boots UK," they said.
Despite the omissions, the retailer charged her full price for developing the images and the woman in question has since issued a formal complaint to Boots.
Despite sexualised images of breasts being a widespread part of modern culture through advertising and social media, a woman going topless in public remains a contentious issue, and even breastfeeding unnecessarily offends some.
Slogans on pickets at the march included: "My body isn't sexual just because your thoughts are"; "nipples feed kids" and "feminism is equality."
A code of conduct was issued on the day, which required spectators and tourists to ask marchers for permission before taking photographs to ensure that nobody felt uncomfortable.
Bee said: "Women have to risk so much to take part in activism - we live in a world where taking off our clothes to simply be the same as men exposes us to shame, ridicule, danger and hate. Topless equality might seem like an odd thing to protest about to some, but when we talk about Free The Nipple really we are talking about desexualising the female body."
The worldwide Free the Nipple movement began in 2012 when a New York-based woman made a documentary about gender equality and female empowerment.
The film's message quickly resonated with thousands of women and kick-started a slew of campaigns - including one targeting Instagram, which currently prohibits the inclusion female nipples in posted images.
Bee has already been inundated with requests from attendees asking when next year's event will take place.
"To have a neutral body is to be safer and empowered - that is all we are asking for - and events like this one help to challenge perceptions and keep the debate alive," she said.
Join our commenting forum
Join thought-provoking conversations, follow other Independent readers and see their replies