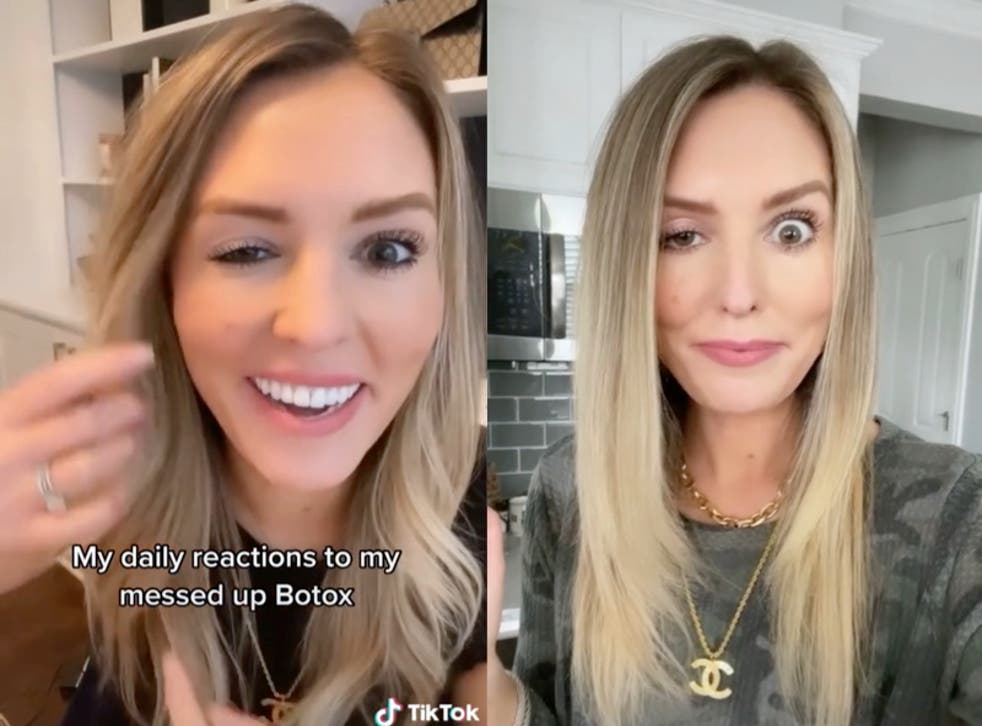 Influencer praised for honesty after documenting Botox incident that left her with drooping eye
She has since had more Botox injected into the drooping eye to fix the condition
An influencer is being praised for her transparency after documenting her experience with botched Botox.
Whitney Buha, a blogger from Chicago who runs the account @somethingwhitty, recently went to a medical spa to have Botox injections around her eyes, a procedure that she gets done twice a year.
However, after the recent procedure, which saw the aesthetician inject Botox underneath her left eyebrow to lift it to match the right eyebrow, Buha, who is in her thirties, said that her eye began to droop.
"Well, wherever she injected the Botox went into the wrong spot, causing my left eye to droop like crazy," Buha explained in a TikTok uploaded this month, after one revealing her drooping eye went viral.
As Buha then went on to explain in the video, if Botox is injected into the wrong muscle, it can cause ptosis, when the upper eyelid droops over the eye, which is what happened to her.
Read more:
"The problem with Botox is you can't dissolve it like you can dissolve filler," Buha continued. "So all you can really do is wait it out for it to go away."
According to Buha, as the days went on, the problem got worse, with the blogger telling BuzzFeed that her other eye eventually began to experience issues because it was compensating for the loss of vision.
At that point, Buha said she was getting scared that the issue could be permanent or that it could affect her vision long-term.
While Buha originally said that she was told certain eye drops can be used to help correct the condition, she also began documenting the process of seeking out other experts for a second opinion.
In a follow-up video, Buha explained that she was eventually given two treatment suggestions, one of which was medicated eye drops, while the other was to get more Botox injections right above her lash line to help lift the muscle back up.
She decided to get the additional injections after a nurse who serves as a medical director at a local med spa said it was what she would do if she was in the situation.
However, as Buha noted on her Instagram, the injections could take two weeks to take effect.
As she has continued to document the incident and update her more than 60,000 Instagram followers, and 14,000 TikTok followers, hundreds of people have praised Buha for being transparent about the condition and her Botox usage.
"I'm so sorry this happened to you but thank you for being so brave and sharing your ordeal with us," one person commented.
Another said: "I give you so much credit for being so open and honest about this journey. You are beautiful inside and out girl!!"
"I've heard this can happen, and appreciate you for sharing and educating us all," someone else wrote.
Regarding the likelihood of the condition occurring in Botox usage, Dr Alan Matarasso, a New York City–based plastic surgeon who served as the president of the American Society of Plastic Surgeons, told BuzzFeed that the problem that Buha experienced is "very rare" and "totally reversible".
However, he did recommend that those interested in getting Botox injections seek out a professional who is qualified and who will know what to do in a situation similar to Buha's if the same problem arises.
As for Buha's reaction to the outpouring of supportive comments, she told the outlet that she's grateful for the response.
She also said that she plans to continue to get Botox in the future, telling BuzzFeed: "If you have Botox and it's done right, I love it. It looks great. It makes me feel better."
Join our new commenting forum
Join thought-provoking conversations, follow other Independent readers and see their replies